Firmware is a software program on hardware devices. It provides the instructions for how the machine should communicate with other hardware and is typically stored in ROM "read-only memory," a type of flash memory.
Moreover, firmware is available on devices like Android, iOS, Windows, and Windows phones. It allows your device to run with advanced operational instructions without upgrading the hardware.
Sometimes, firmware updates are time-consuming and can make your system reboot, which is risky.
However, you can stop firmware updates by following some easy steps. Keep reading, as this article contains all the information regarding firmware updates and how to stop them.
In a hurry? We care about your time, so here's a quick answer to the question you're looking for!
To halt firmware updates on Android devices, navigate to 'Settings', then 'System', followed by 'Advanced'. From there, select 'System Update'. Here, you'll find an option to pause or disable automatic updates. However, remember that by doing so, you might miss out on essential security and feature improvements.
What Is a Firmware Update for Android?
Firmware refers to the applications and operating systems that control an Android smartphone operation.
Android's firmware is known for its close integration with specific hardware components. The primary goal of this update is to either address issues that arose due to earlier upgrades or to add support for brand-new features.
Updating your firmware lets you enjoy the latest parts, functionalities, and software versions, making your device bug-free.
Android-operated phones and tablets are more open than operating systems like iOS, Tizen, or Windows 10. The firmware is impossible to modify, but you can compare.
How Does an Android OS Work for a Firmware Update?
The Android operating system in a writable form of memory called NAND; this is the same memory used in storage devices, such as USB and SD cards.
Android firmware contains two additional closed-source programs that are expensive to replace: bootloader and radio firmware.
A bootloader is a small proprietary code that starts the Android operating system when powered on.
The bootloader also checks whether the operating system is authentic—the authentication using the Original Equipment Manufacturer Keys.
Android smartphones run on an independent processor known as a baseband processor.
Moreover, it is also called RTOS, a real-time operating system; managing the cellular radio capabilities of the device is its responsibility.
It lets your device make calls and connect to wireless technology like 2G, 3G, 4G LTE, and 5G. So Android devices seem small, but their functionalities are too big.
All its tech relies on a firmware update; besides the update, it will try to run all the programs, but they will only last for a while until you update the firmware again.
How Long Does a Firmware Update Take?
There is no specific time for firmware update download or the time it takes to install the device.
Automatic upgrades to software and firmware The firmware update should be available online 24–36 hours after it is to the servers, depending on the speed of your internet connection and the firmware size.
Firmware Update Duration for the Android Devices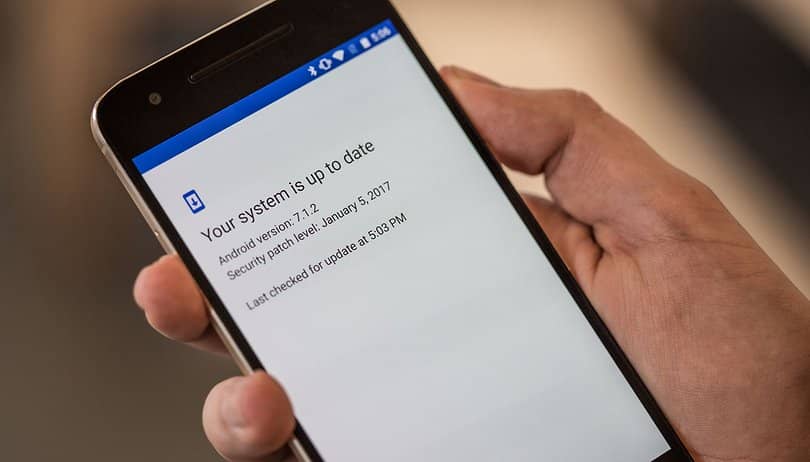 Android software takes a bit of time. Many companies use Android, and every company has a different operating theme or a home screen launcher.
To make it more personal to the user, they adapt different skins for every version, so when the Android is updated, the companies need to adjust the update to run it on their devices.
The firmware update doesn't require much time, but the companies using the firmware in their devices do.
Five significant manufacturers in the market customize the update for their phones. And they carry out tests for a long duration to ensure that the update won't harm people's phones—the tests for months.
The end users can make the updates faster by following a few steps, like backing up the data, installing the update after receiving the notification, resetting the factory settings, and recovering the data from the computer.
If you have a good internet connection, the firmware will take around 20-30 minutes, but in most cases. If the update size isn't that big and falls in MBs, then 10 mins are more than enough.
Therefore, you need to understand that every firmware update depends on the size and internet speed and has no specific time.
What Do I Do If My Phone Is Stuck on a Firmware Update?
It is a standard issue that a phone hangs during firmware updates. You don't need to worry about it. You must perform a few simple steps to escape this situation.
Press and hold the buttons simultaneously to turn down the volume and turn the device off. Keep holding the buttons for 10 seconds, this will restart your mobile, and you can run your phone normally. 
Usually, a firmware update takes around 20-30 mins to complete. Still, your phone takes longer than this.
You must check your USB cable if you are doing it manually or your internet connection if the device performs the update automatically.
If both have no faults, you must follow the steps mentioned earlier to reset the phone. You can go through the updating process again.
You need to Force-Restart the Android device. Get out of here by pressing and holding the power button for 30 seconds.
If the firmware update, like the BIOS update, fails halfway through, you might get in trouble, but still, if the firmware works, the failed attempt might reset some settings you cannot notice. It would help if you were careful with the firmware updates.
Can I Stop the Firmware Updates?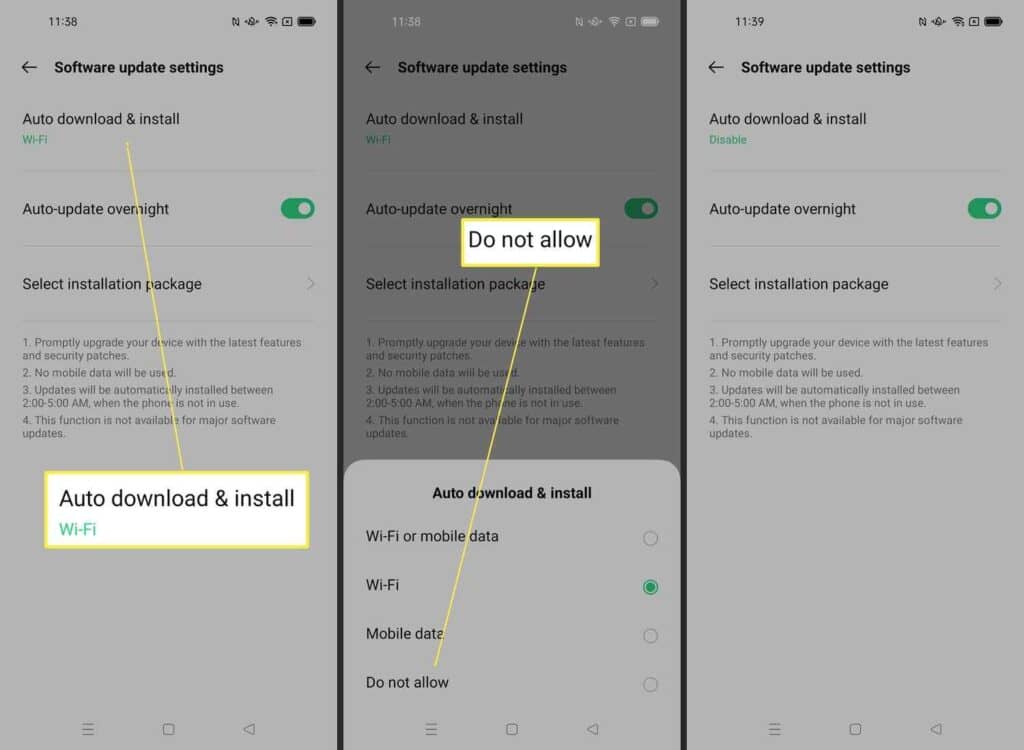 Yes, stopping your firmware updates linked with your BIOS or software is possible. Every device of any company has its settings.
The automatic firmware update option falls in the device settings, and you can turn it off to the update or switch to a manual update.
Taking the example on Android mobile, you need to go to its settings, tap software update, tap cog, tap Auto download, and install, and at the end, you have to tap Do not allow; this will stop your operating system updates.
You should get notified; if the update is too old and you can't run the latest applications, you will face problems and eventually have to update your device.
FAQs
1. Is there any risk in stopping the firmware updates?
Disabling or stopping the update has no point as if your device isn't up to date, you will lack the features and functionalities. Your device will get slow one way or another; therefore, you should keep it up to date to avoid missing the latest features.
2. Is it safe to update your BIOS firmware?
Usually, computer techs recommend not updating the BIOS. They claim that the BIOS update doesn't come with new features; instead, it can cause additional problems to your system. It may be false that BIOS updates make your computer faster.
3. Do printers also have firmware updates?
Yes, Printer Manufacturers control the market by selling inks of printers and firmware updates that need compatible cartridges. When you update your printer's firmware, you may need a compatible cartridge for your printer. Therefore, you will buy it from the market to keep your printer functional.
4. How to stop the firm updates from the printer?
Many companies sell printers with almost the same software and settings. You can go to the setting option of your printer and turn off the firmware updates.
5. Can updating firmware erase my data?
Usually No. Suppose you update the firmware and make your phone functional again. You can do it without the worry of erasing data, as firmware updates do erase the data. The only risks you can face are system reboot requirements, additional or useless features, and time consumption.
6. What will happen when I update the firmware of my device?
When you update your firmware, you can explore the new features and enjoy new apps. At the same time, firmware updates can slow your device or hang your phone. You should only update when necessary for your device's functionality.
Conclusion
The companies of your devices send firmware updates. They only send the updates when they feel it's necessary to update the BIOS or the Software of the cell phones or the computers.
These updates to compete with the market. But they can cause some risks to your mobile phone, consume time for updating, and require a system reboot after every update. You may stop them for a while. Sometimes, they can hang your device too.
Depending on the specification, the updates might slow down your phone, but you will still enjoy the latest applications rotating in the market by creating hype.
However, you can prevent these updates from saving time by going to your phone's settings and turning off the updates.