If you're in the market for a new wallpaper for your screen, perhaps you should consider this new live wallpaper trend.
Regardless of what type of phone you use, having a phone with a live wallpaper is aesthetically pleasing and creative and an excellent way to show your personality and the things that matter to you. 
Some phones come with basic live wallpaper themes, but you can create your own. You can make a live wallpaper out of virtually any video.
It could be a music video, a meme, an anime scene, a pin from Pinterest, or even a TikTok video. There are so many choices, so there's more than enough room to get your creative juices flowing. What's more, live wallpapers are not time-consuming to create.
Most people love creating live wallpapers and take this hobby to the next level by adding sound to a live wallpaper.
Many people are not familiar with doing this and ask the questions: "can a live wallpaper have sound, and how do you do this?"
If you are reading this because you want the answers to these questions, then you've come to the right place. Both questions are answered below.
In a hurry? We care about your time, so here's a quick answer to the question you're looking for!
Yes, live wallpapers can have sound, although it's not a built-in feature on most devices. This is achievable through certain apps, like Video Live Wallpaper. Remember, though, sound-enabled wallpapers may be distracting, and can consume more battery. Always adjust the settings to suit your preferences and environment.
How to Install a Live WallPaper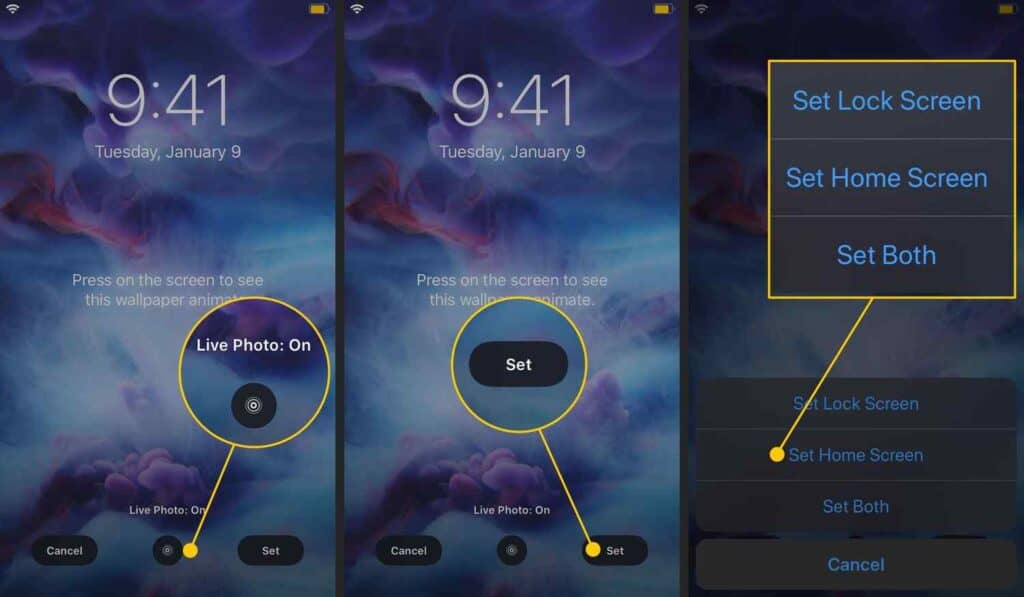 Before you think about making a live wallpaper with sound, you should create or set up your live wallpaper.
Some iPhone models already have preset live wallpaper themes, but this is not available for all phone types.
Luckily, there are so many apps nowadays to help you create a live wallpaper when your phone does not support this feature. 
For iPhones that provide live wallpaper features, go to your phone settings and click on the wallpaper option. Tap the choose a new wallpaper option, then live photos.
Select a picture, activate your live photo, and click on set. The set option allows you to choose if you want the wallpaper on your home screen or if you want to use it for both your home screens and your lock screen. 
Note that only iPhone models from 6S and above provide live themes. If you do not like the live wallpaper options on your iPhone or would like to create your own, you can use the iOS app, Into Live Wallpaper to get started.
The only way to get live wallpapers for Android phones is through third-party apps because android phones don't have live themes.
You can get an app that creates a live wallpaper through your phone's store. Follow the instructions of the app you wish to download, and you are good to go. We recommend the live wallpaper app because it is free and easy to use.
Looking for more smartphone guides? Have a look at these!
How to Get a Live Wallpaper With Sound
Even phones with built-in live wallpaper features do not provide sound for them. However, it is not impossible to have a live wallpaper with sound. Many apps make it feasible to add audio to a live wallpaper.
One of the apps we recommend to provide you with audio is the Video Live Wallpaper App. After downloading this app from your phone's store, open the app, go to your phone's gallery and choose your video.
The app offers you a list of options to set up your live wallpaper based on your taste. Once you do that, click on the play audio option and select set live wallpaper. 
You should know that including audio in your wallpaper can drain your phone's battery and draw attention when you are in a quiet environment.
Some people reconsider adding sound to their live wallpapers as it can be too distracting. If you change your mind, you could always switch off the audio in the app.
Conclusion
If you are into live wallpapers, there is a possibility that your phone already has a bunch at your disposal.
With the directions mentioned here, you can discover, navigate, and set up the live wallpapers within your phone or you can customize it to meet your personal requirements. 
On the other hand, if your phone does not have live wallpapers, many apps make it easy to build your live wallpaper.
As seen in this article, we recommend giving the Video Live(android) and Into Live apps a try. Can a live wallpaper have sound? Yes, simply follow our guide on downloading the necessary apps to get started.