Are you looking to get into PC gaming but don't want to go through the hassle of choosing all the parts individually, spending hours assembling it all, and getting the software up and running?
If that sounds like you, then prebuilt gaming PCs are the way to go. But there is an almost infinite combination of parts you'll find on these prebuilt systems, and all the fancy names don't make much sense to someone new to PC gaming.
To save you the trouble, we're here today with a list of the 7 best prebuilt gaming PCs that you can get directly from Amazon so you can start gaming instantly!
Before we get to the list, though, there are some things to take note of so that you understand what is important and what is a fancy luxury.
In a hurry? To help you save some time, here are our top 3 favorite picks when it comes to the best prebuilt gaming PCs on Amazon in 2023!
Name:

AVGPC Q-Box Series Gaming PC

Name:

Skytech Shiva ST-SHIVA-0128
Best Overall
Name:
AVGPC Q-Box Series Gaming PC
Best 1440p Gaming PC
Name:
Skytech Shiva ST-SHIVA-0128
What To Keep An Eye Out For?
When choosing a PC to game on, the most important factors are the graphics card, the RAM speed and space, and the processor.
It's also good to keep an eye out for the power supply since you don't want an underpowered supply that could damage your components, but for our list, you don't need to worry since we'll check all these basics for you.
If you're someone that's looking to upgrade down the line, it's also worth noting the motherboard used since not all motherboards will allow newer hardware.
Similarly, a beefier power supply will also help with future power-hungrier upgrades. If you just want a full gaming experience out of the box and aren't worried about upgrading right away, then you can safely overlook these aspects.
Sometimes getting the best of one thing isn't good enough since a bad graphics card would bottleneck a top-tier CPU (and vice versa), and you won't get the benefit you're looking to get out of it.
For reference, a bottleneck percentage of within 5% means that the system will run smoothly without any one part holding back the performance. You want to keep a balance between the performance of the GPU and CPU, but what performance is fit for you?
How Much Performance Is Enough?
Now that we know that we need to keep our eyes peeled for the graphics card, RAM, and CPU, the next question is, how much performance do we really need?
For this, you should keep in mind your budget and the kind of games you want to play.
If you're looking to start playing competitive games, then you can easily go to the lowest graphics settings and pump out hundreds of frames a second, even on not-so-great hardware.
Heck, for most competitive games, the lowest settings are often recommended since graphics effects can get in the way.
It's better to go for a medium-end PC in this case and use the extra cash to get better peripherals designed for competitive play.
If visually pleasing single-player adventures are more your type, however, then you don't want to hold back on the GPU.
Do keep in mind that you don't want an overkill GPU that can't be used to its full potential because of other hardware bottlenecking the system, mainly the RAM and CPU, especially since GPUs are now extremely expensive.
It's a good idea to check the minimum and recommended hardware requirements for the kind of games you want to play and get something that can play those titles in your required FPS (go for a target of 60 FPS if you don't have a gaming monitor) and graphics settings.
Now that we know all we need to get our gaming rig let's get right into the list of the 7 best prebuilt PCs on Amazon!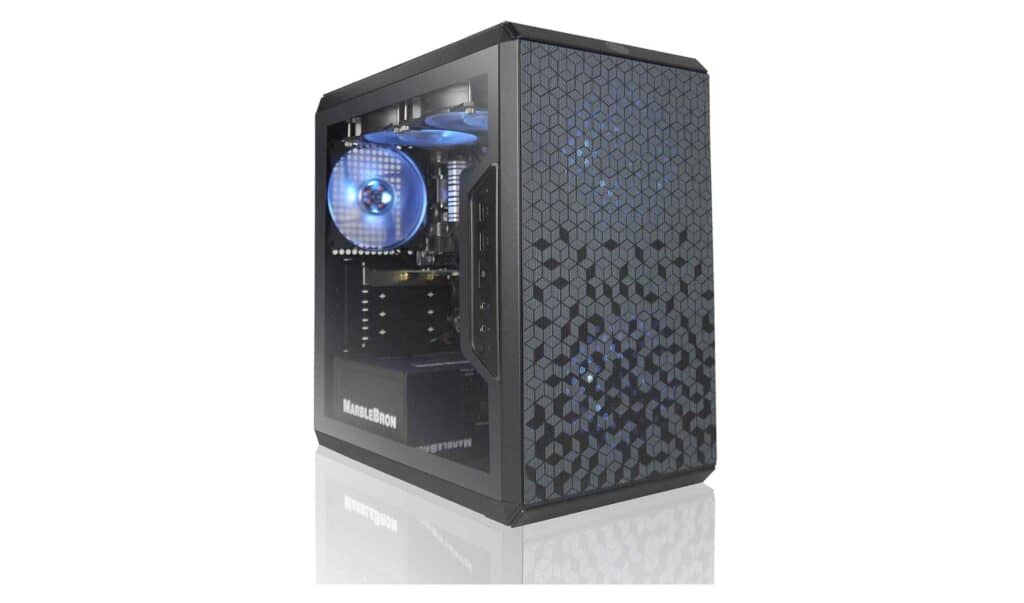 At $600, the AVGPC Q-Box Series Gaming PC is one of the few cheap deals you'll find on Amazon that can actually run most games.
While you won't be running most titles at anything above the lowest settings, this PC allows lots of upgradability down the line without changing any components.
At just $600 on Amazon and with the configuration it ships with, you will be able to run a good amount of games at 60 FPS, save for the demanding AAA and latest titles.
If you're looking for competitive gaming, however, you'll be pleasantly surprised. As an example, this PC can deliver an average of about 250 FPS on Valorant at the lowest 1080p settings, making it an unbeatable deal for players looking for a budget PC for competitive games.
This is thanks to the best-in-class integrated graphics of the Ryzen 5000 series of APUs.
While it can't run games like Cyberpunk or The Last of Us Part 1 at playable FPS, even on the lowest settings, you still have options for the future.
The 650W power supply unit, liquid cooling system, ample airflow, and extremely competitive Ryzen 5 5600G means you can easily upgrade with a graphics card down the line once you save up enough for one.
Any further upgrades besides the graphics card won't be necessary for even the toughest games.
The Ryzen 5 5600G won't bottleneck even with RTX 3000 series graphics cards (0.0% bottleneck with RTX 3060 and 4.4% with RTX 3060 Ti) and is also unlocked for overclocking from the factory.
The AMD motherboards are backward compatible as well, meaning you'll be able to upgrade the processor far into the future, but that won't be a necessity with this beast.
Paired with a graphics card like the RTX 3060, this PC will run the latest AAA title games at a consistent 60 FPS at least.
There would be no issues with overheating thanks to excellent cooling. Overall, this is one of the best deals out there, especially for people looking to upgrade in the future.
Best Upgradeable
AVGPC Q-Box Series Gaming PC
Specifications
Processor: AMD Ryzen 5 5600G (6-Core 3.9 GHz)
Graphics: AMD Radeon Graphics Vega 7 (Integrated)
Memory: 8 GB DDR4 3200 MHz
Storage: 500 GB SSD
PSU: CoolerMaster 650W
Pros:
Good value for money

Runs smoothly

Compact design

Suitable for entry-level gamers
Cons:
Some reported internet connectivity issues

Trouble downloading games

Quality concerns with certain components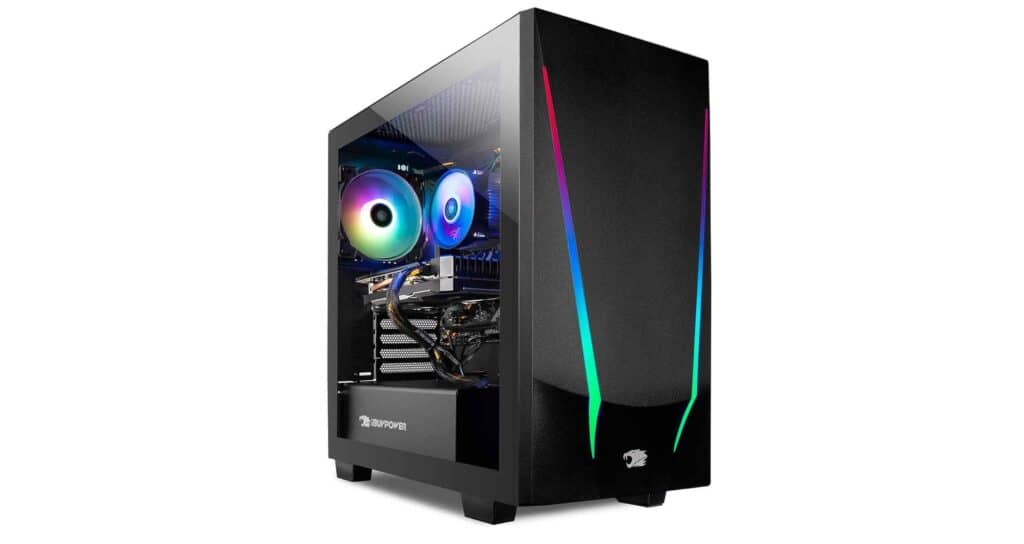 Integrated CPUs are only great if you want to upgrade soon after getting the PC. But if you want a cheap deal that can do it all right out of the box, a dedicated GPU is the obvious way to go.
The iBUYPOWER Trace 4 9310 costs just $490 on Amazon and ships with parts that are a steal at this price point.
Equipped with a Ryzen 5 3600 and a Radeon RX 5500 XT, this is a 60 FPS gaming beast that can easily run the latest AAA titles at medium to high settings but without ray tracing.
While the graphics card is insane for 60 FPS gaming, the processor can handle much greater loads and can be later paired with an even heavier GPU if you want to game at higher resolutions or greater FPS.
The iBUYPOWER Trace 4 9310 also comes with a whopping 3 TB of SSD storage, so you can keep all your games directly on an SSD instead of slower HDDs for much faster loading times.
There is enough space in the motherboard to fit in another drive alongside an NVMe slot for even faster speeds if you wish to upgrade to an M.2 drive.
All in all, this PC is excellent, but only if you're after 60 FPS gaming at 1080p resolution. Unsurprisingly at this price range, you won't find any standout features that would make this PC fit for gaming at QHD or UHD resolutions or at 144 FPS.
You can upgrade the graphics card eventually to make it a lot more powerful and reduce the current bottleneck, but it is still amazing that the PC comes with a graphics card at all since most sub $500 PCs don't offer one anymore.
Runner Up
iBUYPOWER Gaming PC
Specifications
Processor: AMD Ryzen™ 5 3600 (3.6 GHz)
Graphics: Gigabyte Radeon RX 5500 XT OC
Memory: ADATA 8 GB DDR4 2666 MHz
Storage: ADATA SU630 3240 GB
Motherboard: ASROCK A320M/ac
PSU: High Power 500W 80 Plus Bronze
Pros:
Good gaming performance

Quiet operation

Secure packaging for shipping

Great value for the price
Cons:
Lack of customer support

Incompatibility issues with certain accessories

Limited upgradability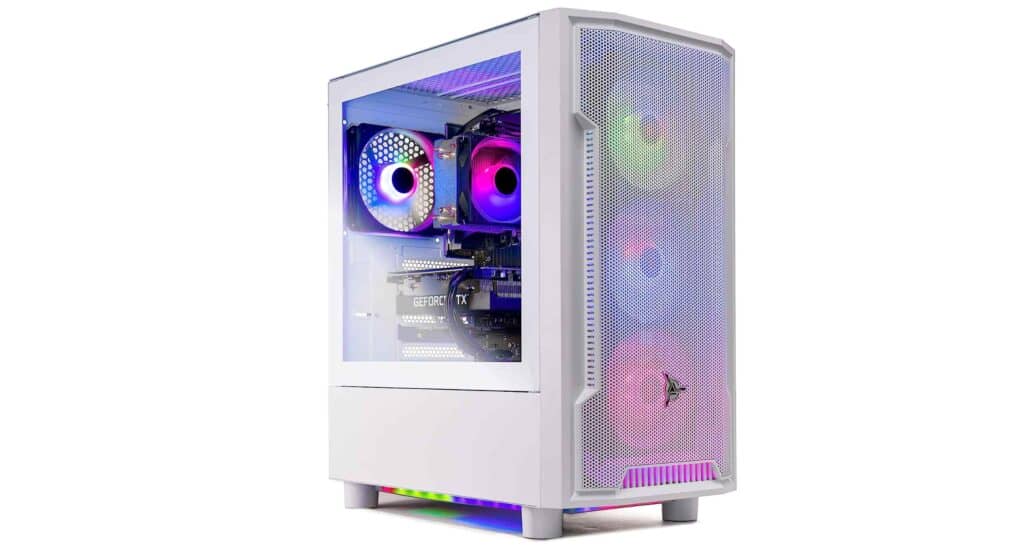 Specs
Processor: AMD Ryzen 5 3600 (3.6 GHz)
Graphics: NVIDIA® GeForce RTX™ 3050 8 GB
Memory: 8 GB DDR4 3200 MHz with Heat Spreader
Storage: 500GB NVME SSD
PSU: 600W Gold Certified
Playing 1080p at medium to high might be fun, but If you want to push your 1080p gaming to its absolute limits, this next one is for you.
This Skytech prebuilt PC can output 100 plus frames a second on any title you can think of with ease.
While the RTX 3050 is currently one of the weakest cards in the RTX lineup, it can do ray tracing at 30 FPS and help push your frames up in newer games with the AI technology of DLSS!
The PC does have an 11% graphics card bottleneck, but it's not that noticeable for 1080p gaming. You can set all your graphics settings to the max without a second thought with this powerful hardware.
The RAM is going to be the main thing that holds back the performance on this otherwise insane PC. The RAM used is great quality, 3200 MHz, and comes with a heat spreader. However, it's only 8 GB.
We recommend upgrading this to 16 GB, which shouldn't be that costly but will drive the performance up by a lot and future-proof this PC for the best 1080p gaming experience.
The PC also comes with a gold-rated PSU, so you can be absolutely sure that your parts won't get damaged. The NVMe storage installed is lightning-fast, like the rest of the system.
Priced at $800, this one is much more expensive than other PCs targeted at 1080p gaming, but the RTX is definitely worth it!
Great Quality
Skytech Archangel Gaming PC
Specifications
Processor:

AMD Ryzen™ 5 3600 (3.6 GHz)

Graphics:

NVIDIA® GeForce RTX™ 3050 8 GB

Memory:

8 GB DDR4 3200 MHz with Heat Spreader

Storage:

500 GB NVME SSD



PSU:

600W Gold Certified
Pros:
Affordable price for the performance

Excellent wiring job and overall build quality

Fast and reliable shipping

Runs games smoothly on high graphics settings
Cons:
Inadequate customer support

Insufficient storage

Some customers found value in upgrading the RAM
Looking for more tech gadgets on Amazon? Have a look at these: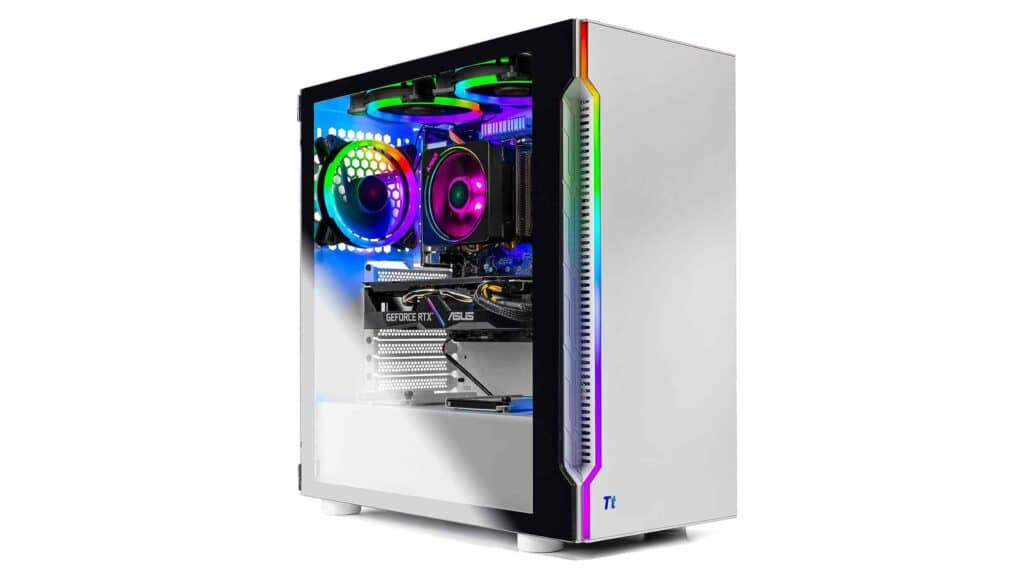 1440p is considered to be the sweet spot for modern gaming. At double the resolution of FHD, switching to 1440p is a game changer, literally!
But most 1440p builds are quite expensive, often crossing the $1000 mark. For people on a tight budget that want to experience QHD gameplay, though, SkyTech has got you covered once again!
The SkyTech Archangel 3.0 gaming PC boasts some excellent hardware for just $900 on Amazon in 2023.
Alongside the Ryzen 5 3600, the RTX 2060, despite being an older RTX graphics card, can deliver smooth 1440p gameplay on AAA games like Red Dead Redemption 2 at medium to high settings with a consistent 50-60 FPS.
DLSS technology is included in the older RTX 2000 series as well, meaning you can benefit from higher frames than would normally be possible.
With competitive titles, you can even push the resolution to 4K and play well above 60 FPS.
One thing we love about SkyTech is that they put 80 PLUS Gold Certified PSUs in their mid-range builds to ensure longevity and no power supply issues, even in the long term. The 600W PSU is more than powerful enough to drive the hardware included.
This time, SkyTech includes 16 GB of RAM out of the box, so you don't have to upgrade anything to have a future-proof smooth gaming experience.
The included RAM comes with heat spreaders, and the case has excellent airflow. The PC also has a whopping 1 TB of SSD storage. Thus, you can put all your games on the SSD instead of just your OS and have insane loading speeds.
If you're looking to get into 1440p gaming, there's no better way to start than this prebuilt insanity! The best part is that you don't have to pay over a thousand bucks to get 60 frames at crisp resolutions.
Best Budget 1440p Gaming PC
SkyTech Archangel 3.0 Gaming PC
Specifications
Processor: AMD Ryzen 5 3600 (3.6 GHz)
Graphics: NVIDIA® GeForce RTX™ 2060 6GB GDDR6
Memory: 16GB DDR4 3000MHz with Heat Spreaders
Storage: 1TB SSD Drive
PSU: 600 Watt 80 PLUS Gold Certified
Pros:
Great for gaming

Fast delivery

Runs smoothly

Good for new gamers
Cons:
Mixed opinions about design and aesthetics

Some customers experienced no issues while others had problems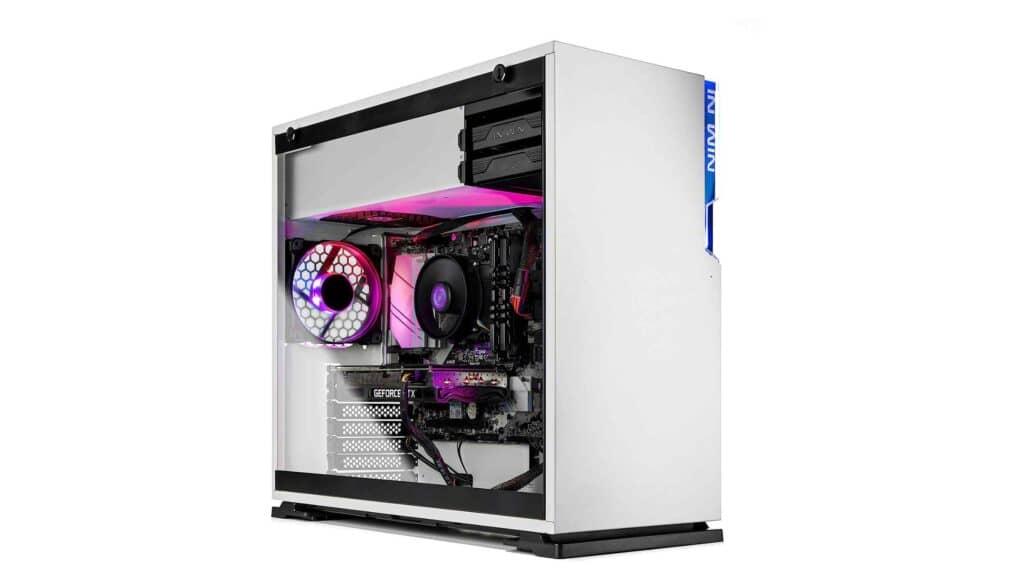 Gaming on 1440p at ultra settings takes your gaming experience to a whole new level. With the Shiva prebuilt PC, you can also elevate your gameplay with one of the best RTX 3000 series cards and an insane processor.
This PC comes with the best processor on this list yet, the Ryzen 5 5600X, and the infamous RTX 3070 GPU.
To give you an idea of what a beast this pairing is, you can get almost 80 FPS on even a badly optimized game like Cyberpunk 2077 with ultra settings on QHD resolution and around 50 FPS at 4K!
At 1080p, the processor would bottleneck the RTX 3070 by about 10%; however, this is not a problem at higher resolutions, and bottlenecking will be a non-issue with these specs.
Paired with 16GB RAM at 3200 MHz, this PC is more than just future-proof and will run upcoming titles at QHD and smooth frames with ease.
At $1400 on Amazon, this is some expensive hardware right here, so you don't want to hold back on the PSU and risk underpowering or burning it up.
Thankfully we once again have a gold-certified 650W PSU, more than capable enough of handling this configuration. We also get to see a 1TB M.2 NVMe storage which is even faster than traditional SSDs!
Unless you want super smooth RTX gaming and 4K resolutions, this PC will be a treat to game on.
4K is only possible at 60 FPS with lighter titles, and the heaviest upcoming AAA games won't be able to run at their best with 4K, so you might want to spend a little more for that.
Best 1440p Gaming PC
Skytech Shiva Gaming PC
Specifications
Processor: AMD Ryzen 5 5600X (3.7 GHz)
Graphics: NVIDIA® GeForce RTX™ 3070 8 GB GDDR6
Memory: 16 GB DDR 4 3200 MHz
Storage: 1TB NVMe
PSU: 650W Gold Certified
Pros:
Powerful performance

No bloatware

Attractive RGB lighting

Fast delivery

Handles demanding games and VR well
Cons:
Difficulties in reaching customer support

High price compared to building a similar PC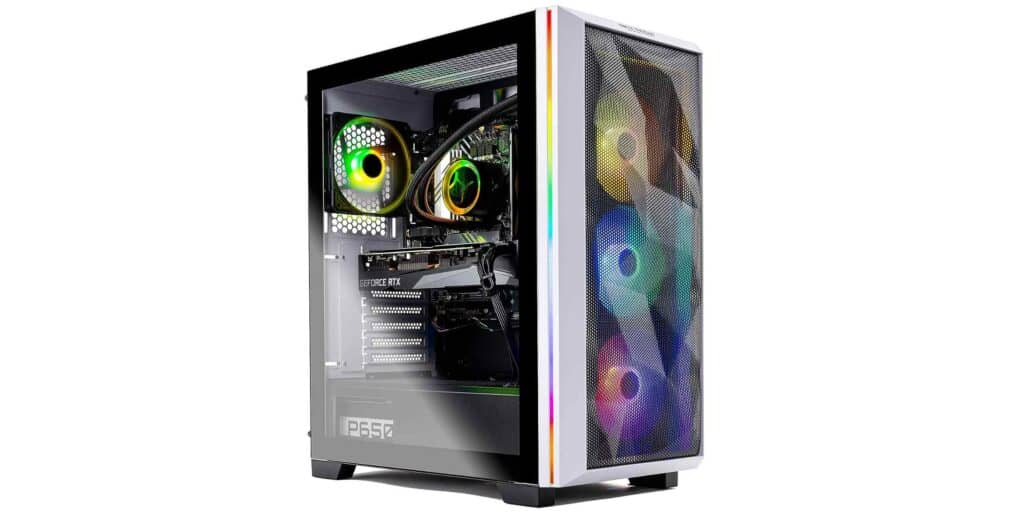 The PCs aimed at 4K gaming have insane hardware packed together, so even budget-oriented offerings are bound to be more premium in cost than some of the best FHD and QHD gaming PCs.
The SkyTech Chronos will set you back by $1900, but it justifies its cost with its performance.
The Chronos combines the power of the 12th Generation i7 12700F CPU and the RTX 3080. This combo averages around 70 FPS at 4K resolution on maximum settings in games like Horizon Zero Dawn and Red Dead Redemption 2.
For the vast majority of games, 4K is not going to be a problem for this build. There is an 11% CPU bottleneck at 1080p; however, seeing that this is more of a 4K gaming build, the bottleneck is not going to be an issue.
NVIDIA lists at least 750W for an RTX 3080 build. Thus, the gold-certified 850W will be more than sufficient.
16 GB of DDR4 are expected at this price, and SkyTech does deliver with its 3200 MHz RAM that won't hold the CPU and GPU back at 4K gaming.
For storage, you get 1 TB of lightning-fast NVMe M.2 storage. The RAM comes with its own heat spreader, and the case comes with 4 RGB fans instead of the usual 3, so you get ample airflow to beat the 4K heat.
For 60 FPS 4K gaming right out of the box, you're not going to get a much better deal than this!
Best Budget 4K Gaming PC
Skytech Chronos Gaming PC
Specifications
Processor: Intel® Core™ i7 12700F
Graphics: NVIDIA® GeForce RTX™ 3080
Memory: 16GB DDR4 3200 MHz with Heat Spreader
Storage: 1TB NVMe
PSU: 850W Gold Certified
Pros:
Affordable price

Smooth performance

Easy setup

Plays games at high graphic settings

Well-protected packaging
Cons:
Technical issues

Dissatisfaction with the operating system (Windows 11)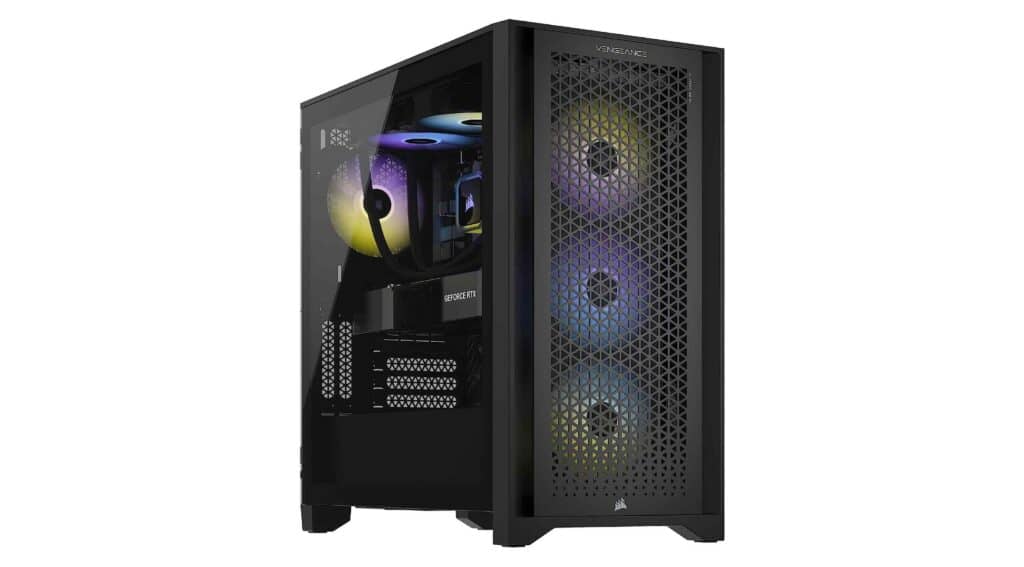 The high-end 4K gaming market has seen some great new releases in recent years. For the ultimate gaming experience, we recommend the Corsair Vengeance i7400 series gaming PC.
This is not just the best PC on Amazon but arguably the best prebuilt PC for gaming in 2023! Unfortunately, the PC comes at an insane price tag of $3800, so it won't be for everyone but for those looking for the absolute best.
The i9 12900K, alongside the RTX 4090 on this beast, averages 144 FPS on the maximum settings with DLSS on in Horizon Zero Dawn, 135 FPS in Red Dead Redemption 2, and 180 FPS in Forza Horizon 5, all in 4K UHD resolution!
The main problem with the i9 12900K builds is the heat that this CPU generates, but with Corsair's build, we see a dedicated iCUE H100i RGB Elite liquid cooler that connects to the top vents and dissipates most of the heat.
Even apart from CPU, GPU, and cooling, the Corsair Vengeance i7400 comes with top-of-the-line specs.
It uses an overkill 64 GB of DDR5 RAM which is much faster than the usual DDR4 memory we see for gaming, 2 TB of NVMe storage with additional NVMe slots and space for 2 additional SATA drives, and a fully modular 1000W Corsair power supply!
Apart from hardware, you also get to benefit from Corsair's support and suite of software for adjusting iCUE lighting, fan speeds, and an easy-to-use BIOS.
This PC is overkill for anything but high-end 4K gaming, in which it absolutely dominates the competition.
If you have the money for this build, it will last you quite a while for 4K gaming without any upgrades at all, and you won't regret the purchase.
Best 4K Gaming PC
Corsair Vengeance Gaming PC
Specifications
Processor: Intel® Core™ i9 12900K
Graphics: NVIDIA® GeForce RTX™ 4090
Memory: 64GB Corsair Dominator RGB DDR5
Storage: 2 TB NVMe
Motherboard: Z690 DDR5
PSU: Corsair 1000W 80+ Gold Certified, Fully Modular
Pros:
Good performance in daily gaming

Preferred GPU over founders edition

Steady 90 fps on max settings at 4K