For avid gamers, it's no doubt that the right mouse, headset, or monitor is not something to overlook, but believe it or not, so is the desk!
A lousy desk that doesn't have the correct ergonomics, shape, and adjustability for gaming can actually hold you back from your true potential in those challenging competitive situations without you even realizing it.
A gaming desk will not only let you outshine the enemies you're up against but also let your setup look the best it possibly can!
To choose a desk to game on, you need to check the height for your optimum viewing, the shape for your preference and room space, and the aesthetics that complement your setup.
It's also important to note that what's a suitable desk for someone else may not be that great for you.
Some players like portability, some like to fit tons of things and need something that can withstand massive loads, and others need colossal space for extended mousepads and multi-monitor setups.
We have a list of the 7 best gaming desks here today that is sure to include something for everyone out there, whether you're a competitive or casual player, like moving around a lot, or need something that can adjust to your preferred ergonomics.
So without wasting any more time, let's see what are some of the best deals you can get right on Amazon in 2023!
In a hurry? Here are our top 3 favorite picks when it comes to the best gaming desks on Amazon in 2023!
Name:

Origami Large Foldout 2-Shelf Desk
Best Overall
Name:
Origami Large Foldout 2-Shelf Desk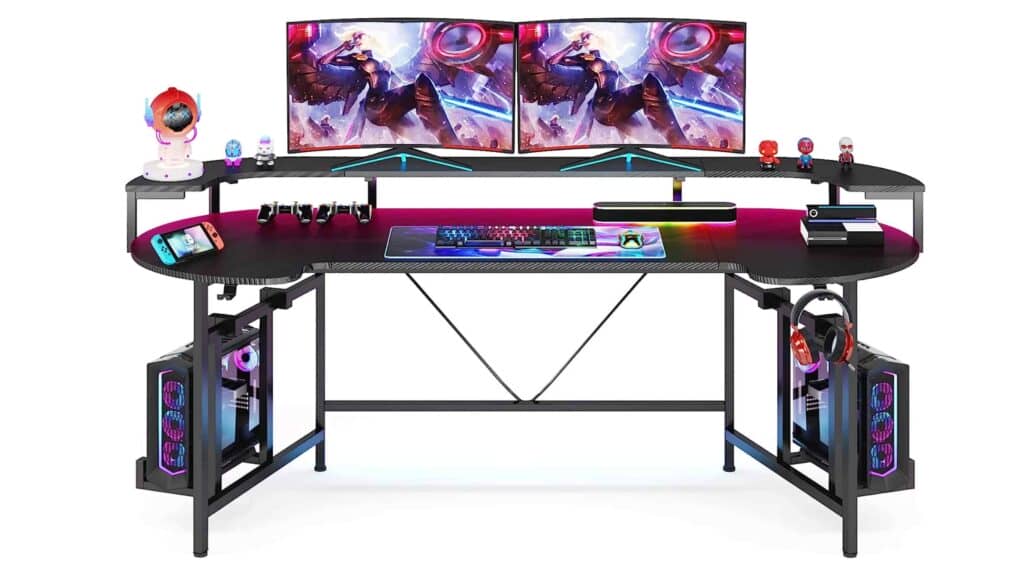 We all know by now that anything labeled "gaming" that comes with even a shred of RGB can cost an arm and a leg, and many times unreasonably so.
It's tough to find a desk that can handle the heavy loads of gaming PCs and monitors with looks to appeal to gamer audiences. The Little Tree 75 Inch Gaming Desk, however, might surprise you with its feature set that sells for just $180 on Amazon!
This 30.31″D x 74.8″W x 35.43″H desk features an ultra-wide table top with an ergonomic middle cutout and an eye-level monitor shelf that curves and stretches to the entire width of the desk.
The ergonomic cutout makes it easier to store and grab stuff at the far ends of the wide desk. A dual monitor setup is also pretty easy to rock with the width of the monitor shelf.
The LED strip attached to the shelf gives the tabletop underneath it the perfect RGB shine. The desk features 2 headset hooks on each end and can house not one but two full tower desktops on the sides!
The table top has a scratch and water-resistant carbon fiber finish that eliminates any keyboard or mousepad skid, and the legs are entirely constructed of steel, so you don't have to worry about durability. The feet of the desk are height-adjustable, meaning it can hold well even on uneven surfaces.
This desk is ultra-wide, sturdy, and there is no wobble whatsoever, even with the most intense gaming sessions you can possibly have. It feels very premium with its carbon fiber and metal finish, which shows that there are no corners cut with this budget offering!
The Little Tree Gaming Desk clearly hits way above its weight class, and there is no other sub $200 gaming desk with as many features fit for gaming as you'll find here.
Budget Pick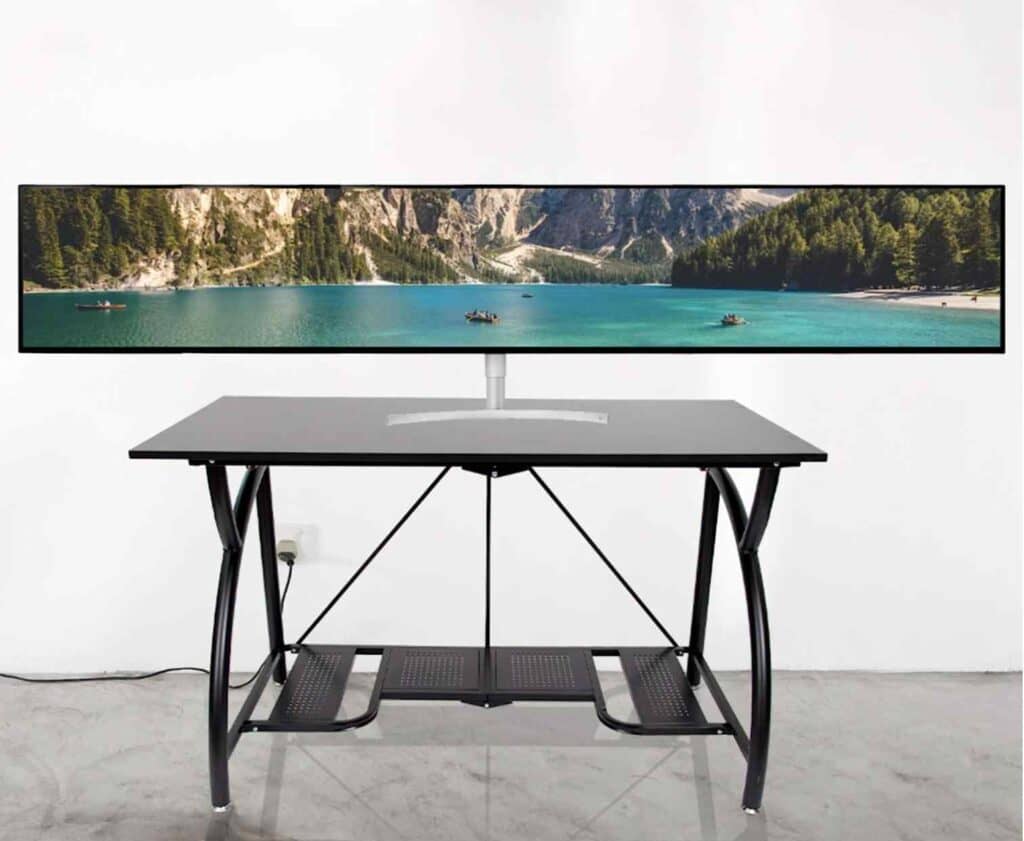 Do you have multiple setups in different places that you wish to use with the same desk? Or maybe you like to study and game in different rooms of your house.
Whatever the case, you need something that's easy to carry around, doesn't require an hour-long assembly, and is fit for all your gaming needs.
Origami Racks has the perfect solution for you with their Large Foldout 2-Shelf Desk. It sells for $220 on Amazon, making it one of the cheaper desks you can comfortably use for gaming. Its dimensions are L 48" x W 23. 5" x H 30".
With the 48" length, you can comfortably fit a large monitor and an extended mousepad! The shells on the bottom can be taken out to allow space for a desktop PC tower which makes the setup look clean and saves space and load on top of the desk.
It will also make it easier to move around since you don't have to take off your heavy PC every time you move the desk.
As the name suggests, the desk can be folded, and the only assembly you need to do is pull the desk sides and lay down the top surface.
Despite weighing only 38 lbs, the desk doesn't move around at all when in use, so you can go as aggressive as you want with your gaming without any desk wobble throwing you off. The open back also makes it a breeze to run any amount of cables around.
Do keep in mind that it has a max load of 100 pounds, which is the minimum we would recommend for a gaming desk.
This max load will comfortably handle most gaming rigs however, even if the size allows for it, we don't recommend running the desk with a multi-monitor setup if you also keep the PC tower on the top of the desk.
For a single monitor setup or dual monitor setup with the desktop kept in the compartment below, though, this will suit all your needs for a long time!
Best Overall
Origami Computer Desk
Opens and folds in less than 60 seconds
Removable tabletop for lightweight moving
No assembly required. No tools required for set up
Pros:
Easy assembly and setup

Sturdy construction

Convenient portability

Space-efficient when folded

Functional as a desk
Cons:
Mixed first impressions

Durability over time varies

Size could be longer for some users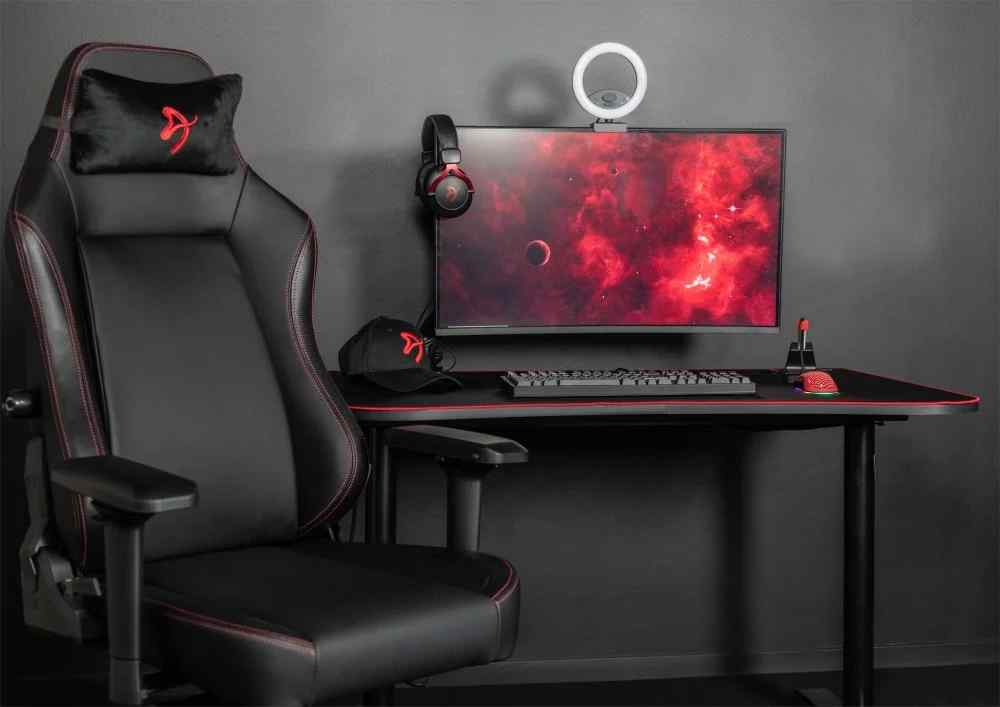 If you're looking to set up a dual or, heck, even a triple small-monitor gaming rig and are in the market for a durable and sturdy desk with an ergonomic curve to go along with it, look no further than the Arozzi Arena Fratello Curved Gaming Desk!
This 30″D x 45″W x 28″H desk will fulfill all your cable management, mousepad, and multi-monitor needs with ease!
The Arozzi Arena Fratello might not look like much but can handle a max load of 143 lbs, which means dual monitors won't be a challenge for this desk.
It also has 3 cutout holes in the desk surface that you can use to install monitor arms or run cables around. Under each cutout is a mesh covering to hold your cables, which can make all your wires disappear from view.
The cables inside the mesh hold can then be hidden under the full covering mousepad on the desk that's not only high quality and built for precision but is also waterproof! Don't worry, though, the mousepad is still machine washable.
You can have one of the cleanest setups with this desk without the need for an additional mousepad so that everything fits together well effortlessly.
The ergonomic curve in the center will not only make it easy to access the whole 45-inch area on the top of the desk but also make it easy to adjust your distance to your keyboard and mouse so you can sit in whatever position you feel most confident to take those gunfights!
This adjustment is further aided by the rubberized finish along the sides of the desk, so you don't feel stabbed each time you move forward.
Alongside the added reach, you can say goodbye to running out of the mousepad when performing 360s on low sensitivities. No back covering or frills in between means extra leg space that adds to the simple yet effective ergonomics of the desk.
At $300 on Amazon, this is a pricey desk considering it doesn't have an adjustable height or RGB, but you definitely get your money's worth with the added cable management, full mousepad covering, monitor support, and well thought-out ergonomics!
Best Ergonomically Curved Gaming Desk
Arozzi Arena Fratello Gaming Desk
Ergonomically Curved Gaming Surface
Full Surface Edge Stitched Desk Mat
Desk Mat is water-resistant and machine washable
Pros:
Compact size

Ideal for gaming

Appealing design

Not bulky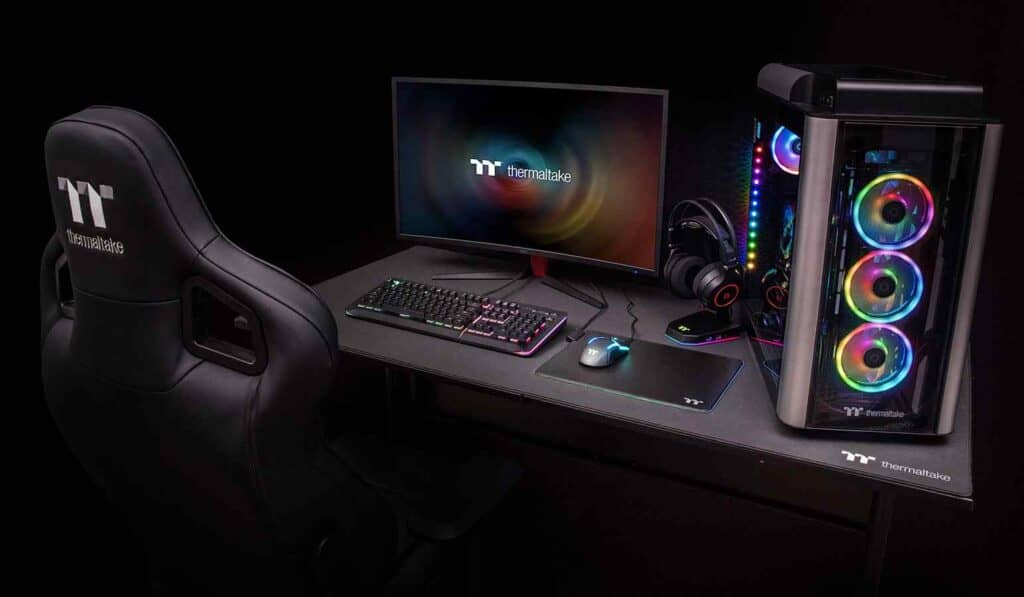 Gamers are often worried about getting bad postures, and rightfully so. Playing games while sitting in front of a computer screen for hours without a break in between can not only be bad for your long-term posture but also introduce neck and back cramps alongside poor blood circulation.
A standing gaming desk with adjustable height is the best workaround for keeping your health in check without ever stopping the grind!
Thermaltake is no newcomer to gaming peripherals, and no one understands gaming needs better than makers of some of the best gaming hardware available today.
The Level 20 GT BattleStation is yet another outstanding product from Thermaltake that can house the gaming setup of your dreams!
This height-adjustable gaming desk can go from a minimum height of 28.9" to a maximum of 40.7" and has a width of 59". But the height adjustment isn't where its feature list ends!
Like the Arozzi Arena lineup of desks, this desk comes with a full covering mousepad that feels more premium than any: it has a medium coarse texture with stitching on the ends alongside an anti-slip bottom finish and can be removed for cleaning.
Clutter-free cable management is a cinch with a full cable tray system built into the desk, and the durability is second to none with a wooden tabletop, premium alloy metal used all around the body, and a max load of a ridiculous 220 lbs! Who even has a rig that can weigh that much?!
Being one of the more premium gaming desks you can get, this desk will set you back by $365 on Amazon, but the solid construction and add-ons are more than enough of a justification for the price.
Not to mention, this purchase will last you years down the line, even with the heaviest of loads. It's time to take your gameplay experience to new hights, literally!
Best Height Adjustable
Thermaltake TT Gaming Desk
11.3 sq. Inches desktop space Allow for multiple monitor setups
Ergonomically designed with 7 level height adjustment from 28.9" To 40.7" Inches (without desktop thickness)
Multi-purpose Cable management/ display panel
Pros:
Strong and sturdy desk with ample space for multiple monitors and PC

High-quality build materials and durable construction

Satisfied customers with previous positive experiences with the brand

Full surface mouse pad provides a convenient and functional gaming experience

Great value for the price
Cons:
Difficult assembly with unclear instructions

Average appearance and design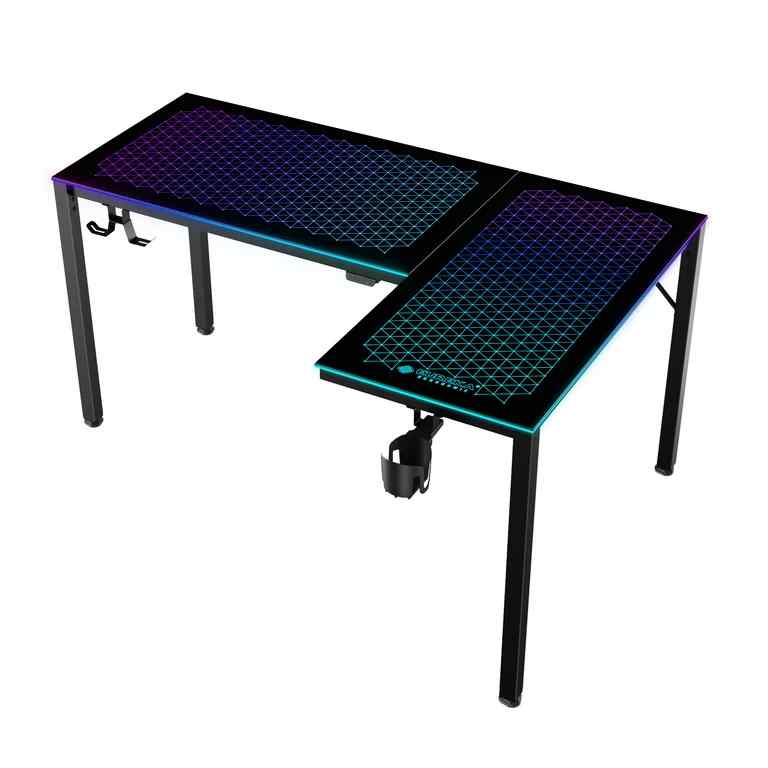 Sometimes, a simple desk is just not enough. The flashiest of desks can be really expensive, but if you can spend a whopping $570 on a gaming desk to get the best possible RGB lighting, you're not gonna get much better than Eureka's GTG L60!
This 60″W x 40″ 2/8″D x 30″H L-shaped desk (or extra wide desk since the desk can be arranged in any way you want) can fit on your entire gaming rig and maybe even a printer on the side. Fortunately for us RGB-hungry folks, the size isn't the only exceptional thing about this desk!
The lighting on here is downright the best in the gaming desk realm and will immediately capture anyone's attention.
It can truly make your entire setup look more stunning than ever with full RGB LED lights under and on the sides of its 6mm thick black tempered glass!
These RGB lights come with a splitter cable that can connect to your devices to react to the music that plays on them, or you can disconnect the cables, and it will use an in-built microphone to react to any sound that plays in your room.
You can cycle through a wide variety of music modes or set it to solid RGB using the control panel on the front.
The best part is that the desk isn't just top-tier RGB with nothing else to offer. The tempered glass is strong, comes with a protective coating, and the rest of the body feels absolutely solid.
The desk can handle loads of up to 155 lbs which is more than enough for just about any gaming rig. It comes with very convenient double headphone holders, a cup holder, and an under-table cable holder that can really help with those dangling wires.
By far, the only downside to this desk is its insane price tag. This is one of the most premium desks that can captivate anyone that looks at it but at the cost of just under $600. If you can dish out the cash, you are not going to regret this purchase!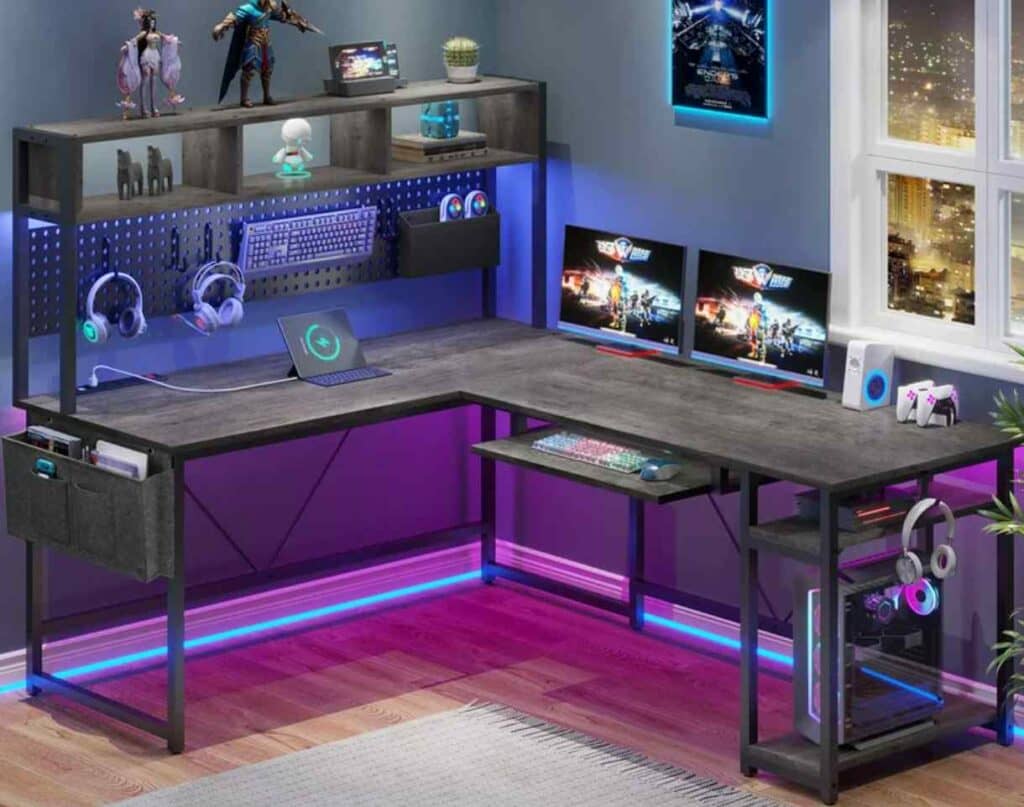 Gaming desks are often minimalistic, with not much other than a couple of headset holders and wide table tops to keep all your stuff on.
For those of us that want more storage compartments, be it for keeping alternative headsets or mice, office supplies, or even decorative items, it can feel like there is absolutely nothing that would be fit for both the gaming aesthetic and storage utility.
Fortunately, the MSmask offers the perfect L-Shaped Gaming Desk that you'll never run out of space on!
The desk can be set up in an L-shape with a 67″ length x 47.2″ width x 57″ height or in a straight ultra-wide fashion with 94.5″ length x 19.7″ width x 57″ height.
If the wide table top isn't enough space yet, it contains a keyboard and mouse tray to free up more desk space, 2 side racks, 3 top shelves, 1 side bag with 2 compartments, 1 side hook perfect for your main headset, and 5 s-hooks on a 42.7-inch long perforated metal pegboard that hangs just beside an LED strip.
It also comes with an extra storage bag that can be hung on any of the 6 hooks on the desk. Good luck trying to fill this one up!
The MSmask L-Shaped Gaming Desk is also quite the looker, and the RGB LED light gives the perfect aesthetic to your battle station: The LED strip will shine a backdropping light on any wall it is placed against, and some of this light pours out from the pegboard holes and the space beneath it onto the tabletop making it a total feast for your eyes.
The RGB can connect to your phone via an app for adjustments and has a built-in microphone to react to sounds around it. It also removes any extension board hassle with a power outlet for your PC and USB cables directly embedded in the surface.
It's impressive how much utility you can get from this desk despite not making it look messy thanks to the RGB that is perfect for not only the desk but even for decorating a whole wall. What's even more impressive is that you can get your hands on this full package for just $220!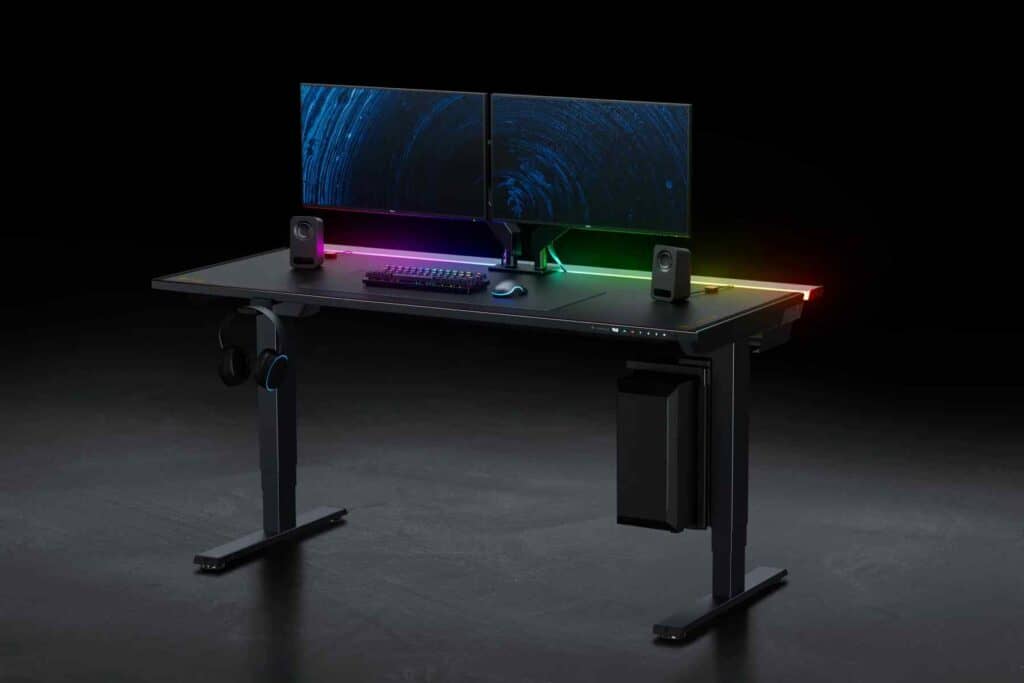 Different gaming desks outshine others in different departments. Some are ultra-wide, some can handle intense loads, some have an adjustable enough height to be used as standing desks, and others have that must-have RGB.
It can be tough to choose one over the other. So what happens when you combine all of this into one gaming desk to rule them all? The answer is the Secretlab MAGNUS Pro XL!
This desk is best purchased directly from the Secretlab website since that is the cheapest you can get it for, but even for the cheapest website, you get the base variant for $800, and with all the add-ons that can make this desk the absolute winner in any competition, it can cost up to an insane $1533!
The Secretlab Magnus Pro XL is excellent on its own, even without the whole magnetic add-on ecosystem. It can handle a gigantic load of upto 260 lbs, has a 70" x 31.5" surface and goes from a height of 25.6" to almost 50".
The height adjustment is the most hassle free in any desk with a control panel built with arrow keys that provide precise control of height and the hydraulic motors used for the functionality are noiseless. The movement is slowed down so nothing on the desk moves an inch during adjustments!
Aside from the best height adjustment system in any desk, the other highlight of the Secretlab MAGNUS Pro XL is the magnetic attachment system.
Attachments can be purchased from a growing variety that can magnetically attach to the desk without any wobble and take your experience with the desk to unprecedented levels.
The Secretlab MAGPAD deskmat can be attached as a full mousepad covering for the desk and several Esports and Special variants are available for purchase to customize it to your liking.
Cable management sheths, anchors and fastening straps can be used to hide all cables from sight and the MAGNUS single or dual monitor arm can be attached to the MAGNUS cable tray.
The MAGRGB XL will give you the full diffused RGB experience powered by Nanoleaf alongside smart control with smart home integration.
The best part is that no effort is required to put these things into place as they will all attach with magnets and can be taken apart with ease!
The sad part is that the headphone hanger and PC mount are also sold separately as magnetic add-ons despite the already heavy price for the base variant, but thankfully the table top is huge and can store the desktop alongside dual monitors without a problem!
The price of this desk puts it beyond the budget most people would keep for a desk but if you can afford it, you won't ever go back to another desk again!