For most gamers, the mouse is the most important peripheral in their system, and selecting a mouse is like selecting your weapon of choice. You cannot afford to go wrong with it!
For players of FPS and tactical shooters, the mouse is of even greater importance as the mouse decides your overall performance. Getting stuck with a bad mouse for any player means that their overall skill is capped at the limits of their mouse.
There is a ridiculous amount of wireless gaming mice out there, from the most reputable premium brands like Razer or Logitech to cheaper Chinese models from Redragon.
They all seem to have the same basic layout most of the time: A high dpi sensor, a couple or more side buttons, and a gamer-ey aesthetic.
Yet there are insane, at times unexplainable, differences in prices. Reviewers will praise some of these mice and roast the hell out of the others even though they look almost the same. So What's the deal?
In a hurry? To help you save some time, here are our top 3 favorite picks when it comes to the best wireless gaming mice on Amazon in 2023!
Get To Know Your Use Case
Many mice are known to be good for some genres of games and bad for others. So how do you figure out whether a mouse is good or bad? What do you need to look at for your specific use case? Let's answer these questions quickly and then see what are some of the best mice for each use case.
When selecting a mouse, you should already have some criteria in your head based on what you plan to do with it. For example, if you're here, you have already decided that you want a wireless mouse.
A lot of people choose to do so for cable management, and others to get rid of the annoying tug on the wire when they're trying to aim in games with precise gunplay.
Just like the cable, there are other factors to consider as well (apart from just your budget!), depending on what you want to get out of your mouse since even the best mice won't work well for every game.
Looking for more good stuff on Amazon? Have a look at these:
Why Isn't One Good Mouse Good For Everything?
For precise gunplay, be it in a battle royale setting or a first-person tactical shooter game, you need a sensor that can handle quick flicks without spinning out.
Another one of the most important things to keep in mind is the weight of the mouse, as a rule of thumb for shooter games: The lighter, the better.
A lighter mouse will strain your wrist and arm lesser compared to a heavier one, especially if you're a low-sensitivity player.
Regardless of your sensitivity settings, lighter mice will also make micro-adjustments much easier to make when you miss your initial flick shots. This dramatically improves aiming performance and accuracy.
MOBA and MMO games, however, are very different from FPS and third-person shooters. In these games, you don't need the precisest, quickest flicks and accurate aim.
Instead, you would benefit much more from programmable and easily accessible macro buttons for the thousands of in-game abilities and commands that MOBA and MMO games tend to have.
The mice recommended for MOBA/MMO games thus tend to have lots and lots of buttons on the sides, which also means that these mice are a little on the heavier side because of all the extra material used. Given the use case, the weight is a non-issue. A stark difference from FPS mice.
This is why not every good mouse is good for everything. But among the mice we have on our list here today, everyone can find their perfect weapon of choice!
So without wasting any more time, let's get into our handpicked list of the top 7 best wireless gaming mice on Amazon as of 2023 for your next gaming partner!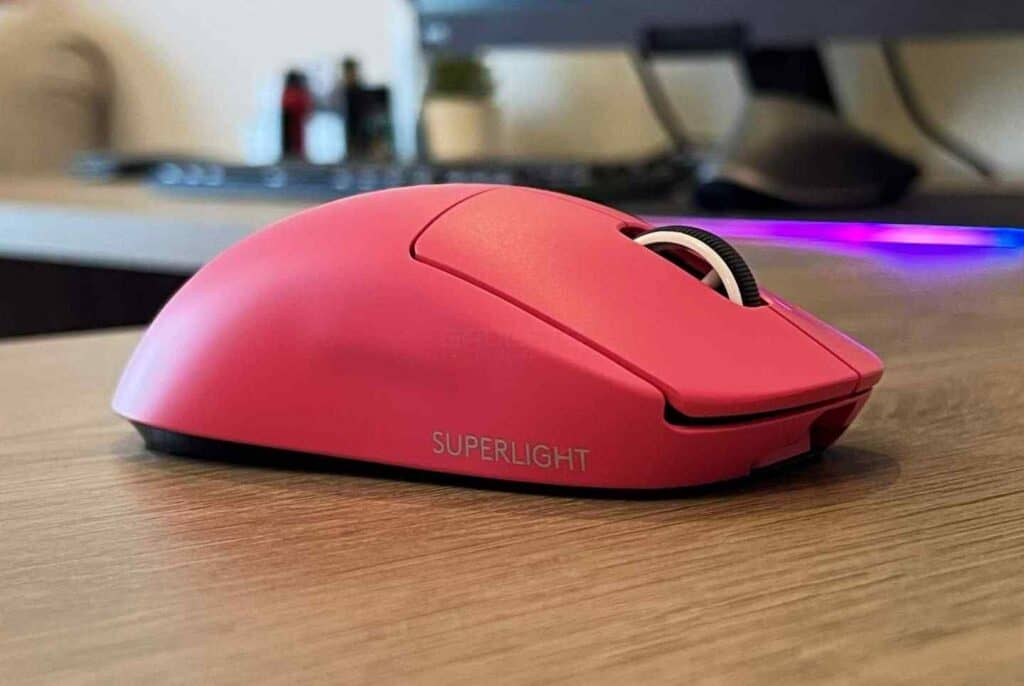 Looking at the cream of the crop of wireless gaming mice in 2023, the Logitech G PRO X stands head and shoulders above the rest.
It's not just a mouse, it's a high-performance gaming partner. With its blend of advanced features and user-friendly design, the G PRO X is a standout, much like a seasoned chess player in a room full of beginners.
The G PRO X is equipped with a high-precision HERO sensor, which offers up to 16,000 DPI sensitivity. It's like having the eyes of a hawk in the gaming world.
You get a smidgen more control, a dash more accuracy, making the difference between victory and defeat.
It's as if the mouse knows your hand's language, translating each movement into the game with minimal latency, thus elevating your gaming experience to a whole new level.
Let's not forget the physical aspect of this beast. Its durable and lightweight design is akin to a finely made sports car, not just beautiful to look at, but efficient and comfortable.
The G PRO X also has an impressive battery life, giving you up to 60 hours of gaming on a single charge. So, in the heat of the battle, this mouse is not going to leave you hanging.
Perhaps one of the G PRO X's shining features is its compatibility with the Logitech G HUB software. It's like having a personal pit crew for your mouse, allowing you to customize button assignments, DPI preferences, and RGB lighting.
The software also tracks your usage data, helping you refine your game strategies. With the G PRO X, you don't just play the game, you conquer it.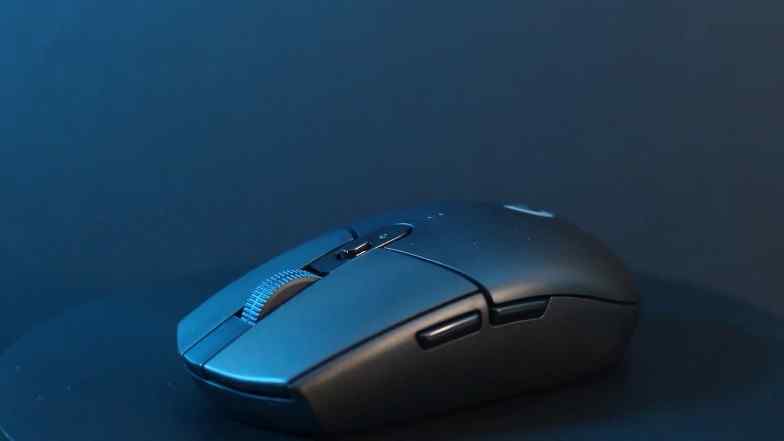 We start off our list with an ambidextrous budget FPS wireless mouse offering from Logitech at $39.6 on Amazon, which is pretty surprising considering the premium brand!
The Logitech G305 Lightspeed is the best budget FPS wireless gaming mouse since it benefits from premium hardware that only Logitech can offer at this price point, e.g., the infamous Logitech HERO sensor!
Wireless connection issues are a problem of the past in 2023, but with budget mice, one should still be careful.
Fortunately, there's nothing to worry about with the G305: It uses the same Lightspeed connectivity technology used in Logitech's most premium offerings, which means uninterrupted, zero latency wireless gameplay at a tiny price!
While we're on the topic of latency, the mechanical switches used in the G305 provide some of the lowest click latency, easily placing it in the top 10 gaming mice in this regard!
The G305 is not a rechargeable mouse, it has a socket for a AA battery where you will need to replace the battery once it drains.
This does mean that it won't need any time to recharge or run out of battery mid-game since a cell can last you weeks of use, but whether this is a pro or a con will ultimately depend on personal preference.
The mouse is comfortable to hold with almost all grip types. It is best suited for palm grip with extra small to large hands, claw grip with small to large hands, and fingertip grip with medium to extra large hands.
It weighs a little over 101g which may seem like a lot for an FPS mouse in 2023. However, there is a workaround!
A lot of this weight comes from the default alkaline AA battery that weighs 15.1g, but many players ditch the alkaline AA battery and opt for a lithium AAA battery (e.g., the Energizer Ultimate Lithium) with an aluminum ball to cover the distance.
This easy workaround brings the weight down to about 83g, which is really good for this price! For reference, the G Pro Wireless model from Logitech weighs 80g, only 3g lighter, and is one of Logitech's former bestselling flagships.
While mechanical switches do mean that the G305 will eventually develop the notorious Logitech double-click issue, it does offer some of the lowest-ever click latency and great bang for your buck specs that you will not see anywhere else at this price!
3. UtechSmart Venus Pro – Best Budget MOBA/MMO Wireless Mouse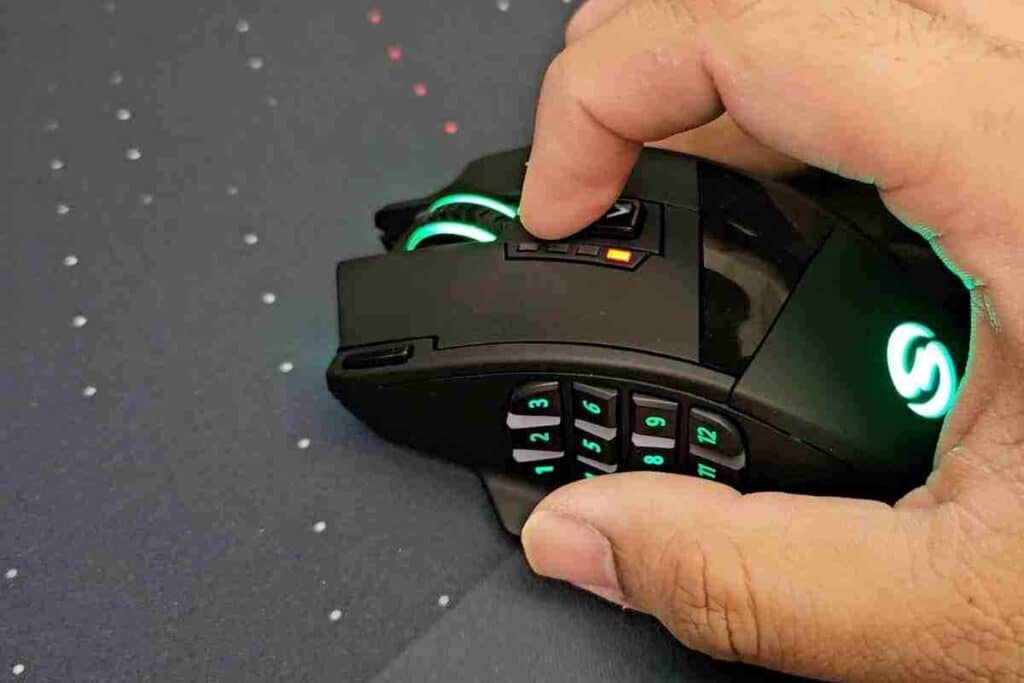 The UtechSmart Venus Pro might not be something you hear of every day, but its feature set makes this a great mouse for MOBA and MMO games, even when compared to the much pricier competition!
You won't see a single MOBA/MMO gaming mouse from a branded company that sells for as cheap as the UtechSmart Venus Pro at just $50 on Amazon.
The 2.4 GHz receiver gives a stable connection at up to 10m of distance. The surprising specs of this mouse for its price include the Pixart PMW3335 sensor, a 1000 Hz polling rate, and a 70 hour long 1000 mAh battery that charges with a modern type C cable and 16 fully programmable buttons!
Each of its side buttons keeps ergonomics in mind as they are tilted for comfort and can be assigned macros with the included software that, believe it or not, comes on a USB packaged with the mouse!
The software can also be used to customize the RGB lighting on the mouse to your preference.
While the mouse is comfortable to hold, it's not an ambidextrous mouse. For righties with big hands, though, it will be a treat to hold.
The 127g weight of the mouse and the above-average click latency mean that it is unsuitable for precision and mechanical reflex demanding FPS games, but for MOBA/MMO titles, it gives the competition a run for their money.
Do keep in mind that this mouse is not for small-hand users, especially with fingertip grip styles, since it will make it near impossible to reach the corner button.
A fingertip grip is only recommended for extra-large hands. Palm and claw grips are comfortable with both medium and large hands, but once again, for smaller hands, it can be a little messy to use.
The UtechSmart Venus Pro is as good as it gets for budget MOBA/MMO mice as there aren't many cheap options out there with more than two or three side buttons, and this mouse has more buttons for all your in-game commands than much more expensive gaming mice!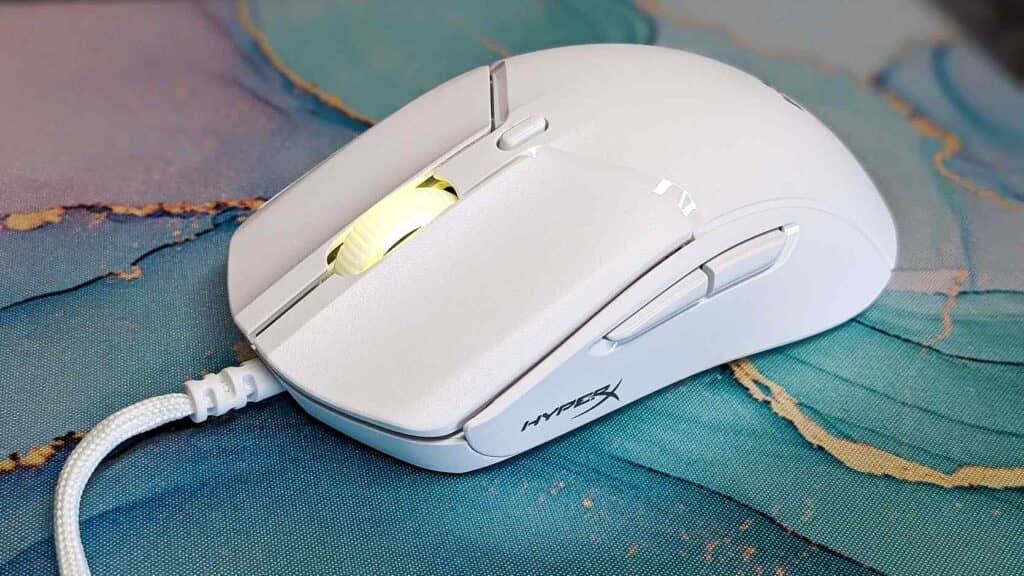 The sub $100 wireless gaming mouse category is where things start to really take off, featuring some excellent gaming mice that can take on the best in the most important areas while also being great value for money.
Among these mice, the HyperX Pulsefire Haste 2 is a criminally underrated mouse that can give a top-notch performance, fit for the most heated gunfights in the most competitive of games.
Aside from the solid 2.4 GHz connection, it can also connect via Bluetooth for your day-to-day tasks.
For $90 on Amazon in 2023, you get some insane specs, including a HyperX 25K sensor based on the former flagship Pixart 3395, which can track movements faster than your hand can possibly make without ever spinning out.
The glides used on the HyperX Pusefire Haste 2 are Virgin Grade PTFE, but they don't cover a large area.
Despite that, the high quality glides make for a very smooth gliding experience. HyperX is nice enough to include an extra set of glides and some grip tape in the box.
You can replace the factory-installed glides when they start to wear to make sure you never experience a drag force as you flick to your enemies' heads!
With the RGB turned off and the polling rate maxed out to 1000Hz, the Pulsefire Haste 2 will give you 100 hours without the need to charge.
The HyperX mechanical switches used on this mouse have a crisp tactile feel and are rated for 100 million clicks, multiple times more durable than the usual 20 million rated Omrons, but the ever so slightly longer pre-travel might annoy some users.
The switches have good click latency fit for FPS gaming, but where it really shines is the sensor latency offering some of the least movement pick-up delays in the sub $100 wireless category.
The sensor accuracy is outstanding, and your hand movements will translate in-game very naturally.
The mouse weighs only 61g, which is on par, if not lower, than even most wired FPS gaming mice in the market today without any unsightly holes in the shell, a feat that hasn't been achieved before at this price range!
This ultra-light weight of the mouse, coupled with the ambidextrous shape and medium size, makes it very comfortable to hold for almost all users with any of the three main grip styles. Extra large hands might find this a little smaller but still comfortable to use for hours of gaming.
The HyperX NGENUITY software helps easily customize macros and the RGB lighting, but the lighting itself is limited to the scroll wheel sides.
The small tradeoff of the subtler RGB lighting, however, is no big deal because it offers so much more in terms of its light weight, sensor performance, and comfort that it blows the competition at this price away!
Best Mid-Range FPS Wireless Mouse
HyperX Pulsefire Haste 2
Pros:
Lightweight design for easy maneuverability

Convenient charging cable with signal extension feature

Comfortable grip for long-term use

Versatile compatibility with different devices

Budget-friendly price
Cons:
Loud and tactile clicks may be bothersome

Cheap feel of the wire and tangle-prone

Slightly slim size profile may not suit all hand sizes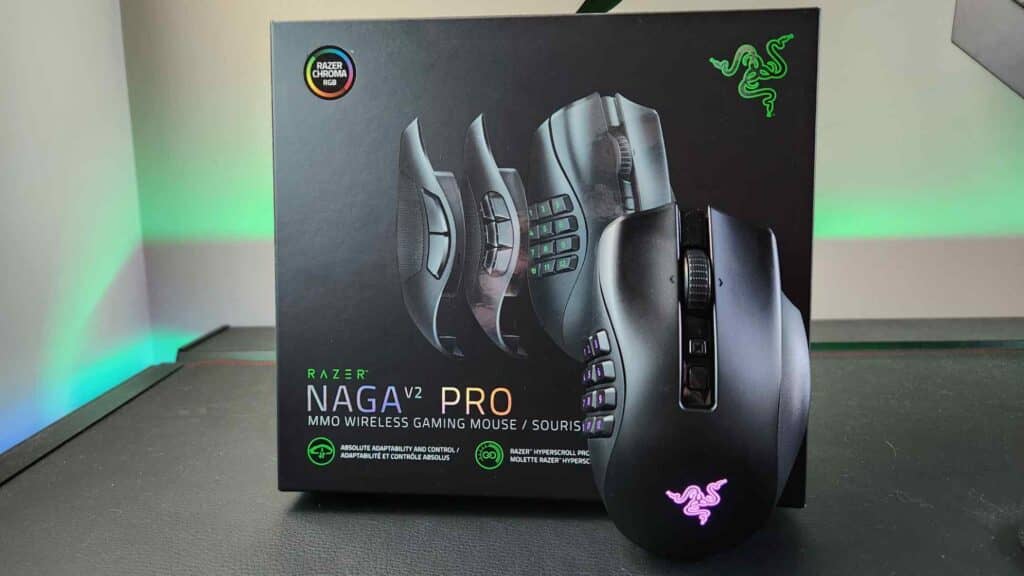 When picking amongst higher-end mice, Razer is known to be the best of the best, and for good reason.
Among Razer's mice, the Razer Naga series has been praised as one of the best MOBA mice series to have ever existed, and the Razer Naga V2 HyperSpeed lives up to all the hype around it!
This mouse comes in at $100 on Amazon, placing it at the end of the upper-mid range of gaming mice. It boasts the Razer HyperSpeed wireless technology alongside the option for Bluetooth connection.
With Razer's HyperSpeed tech, you get one of the best wireless connectivity in gaming peripherals ever, on par with Logitech's Lightspeed connectivity.
The Razer Naga V2 HyperSpeed houses one of the best sensors ever created: The Razer Focus Pro 30K. This sensor provides extremely accurate tracking and is impossible to spin out with the speed of your hand, even on purpose.
It uses Razer Mechanical Mouse Switches Gen-2, rated at a life of 60 million clicks and providing some of the best tactile feedback and responsiveness in any mechanical mouse switch.
At its full power, the mouse will give you a battery backup of a whole 250 hours of gaming before finally running out of juice!
The mouse comes with 3 magnetically attachable side plates: a 3-button, 6-button, and 12-button side plate. With the 12-button side plate attached, you're looking at a mouse with 19 fully customizable and ergonomically positioned buttons.
With support for Razer HyperShift, you can set one of these buttons to trigger the HyperShift and have 2 layers of controls built into the mouse.
That's almost enough to ditch the keyboard and play entire games with just the mouse! The scroll wheel is cutting edge with tilt-click support and the ability to switch between the Free-Spin and Tactile scroll wheel modes.
Razer chose to go with a right-handed but extremely comfortable, ergonomic, and durable build with the Naga V2 HyperSpeed.
The feet used on the mouse are large and 100% pure PTFE making this mouse glide easily on the mousepad despite its heavy weight.
It weighs in at about 122.3g, making it one of the heaviest gaming mice out there, but for MOBA/MMO games, it shouldn't be much of a problem.
It is comfortable to use with all 3 major grip styles, but the corner buttons are tough to reach with a fingertip grip if you have small hands.
Most people looking for a wireless mouse probably have other wireless peripherals as well. If you have a wireless keyboard from Razer, you can benefit from the Razer HyperSpeed Multi-Device Support, which allows you to connect both your keyboard and the Razer Naga V2 HyperSpeed using a single dongle!
This is one of the most feature-rich gaming mice in the $100 range, and with excellent hardware and software support, is one of the best MOBA/MMO mice on the planet right now!
The Naga V2 pro could easily command a much higher selling price for all that you can get out of it, making it an absolute steal at $100 that you don't wanna miss out on!
Ah, yes! The premium FPS wireless mice market is one that is the current target of almost every big brand.
It seems that in 2023, Razer is the one that gets to dethrone the Logitech G Pro X Superlight as the best FPS mouse with not just one, but two mice that are downright the best FPS gaming mice that you can get your hands on right now: The Razer Viper V2 Pro HyperSpeed and the Razer DeathAdder V3 Pro HyperSpeed.
These mice charge you a premium of $150 on Amazon, making them really expensive but believe us, they are worth every penny!
They come with premium HyperSpeed connectivity and Razer Focus Pro 30K sensor meaning that you get unbeatable tracking and accuracy performance with one of the most stable wireless connections.
Razer Viper V2 Pro HyperSpeed
Pros:
Lightweight and comfortable design

Good battery life

Responsive and precise tracking

Quality construction and materials

Included mouse grips enhance grip and control
Cons:
High price tag

Lack of right side buttons compared to previous models

Some users found the grip to be lacking
The Viper V2 Pro and DeathAdder V3 Pro come with 100% pure PTFE feet with excellent gliding performance, as expected at this premium price.
They host the best switches on any gaming mouse, featuring Razer's 3rd generation optical switches rated at 90 million clicks that are not only far more durable and resistant to double clicking issues than mechanical mouse switches but also have minimum click latency of 0.2 ms and virtually no deviation in the latency from click to click.
There are no signs of any pre-travel, and the Gen-3 switches provide the crispiest and most satisfying clicks ever to keep your headshot game at the best it has ever been!
The DeathAdder V3 Pro has the bigger battery of the two, with 90 hours of gaming between charges versus 80 hours on the Viper V2 Pro. Both come with tangle-free, drag-resistant type C cables that you can still be at the top of your game with as you charge them up!
The Viper V2 Pro weighs at an ultra-low 59g, whereas the DeathAdder V3 Pro weighs about 5g heavier at 64g, but both feel equally light weight without any perforated holes in their shells!
The main difference between the mice is the shape, and while it may not seem like a big deal, it means that different people will find one or the other more comfortable.
The Viper V2 Pro is an ambidextrous mouse with a relatively flat top, while the DeathAdder V3 Pro is a more ergonomic right-handed mouse with a higher bump on the top.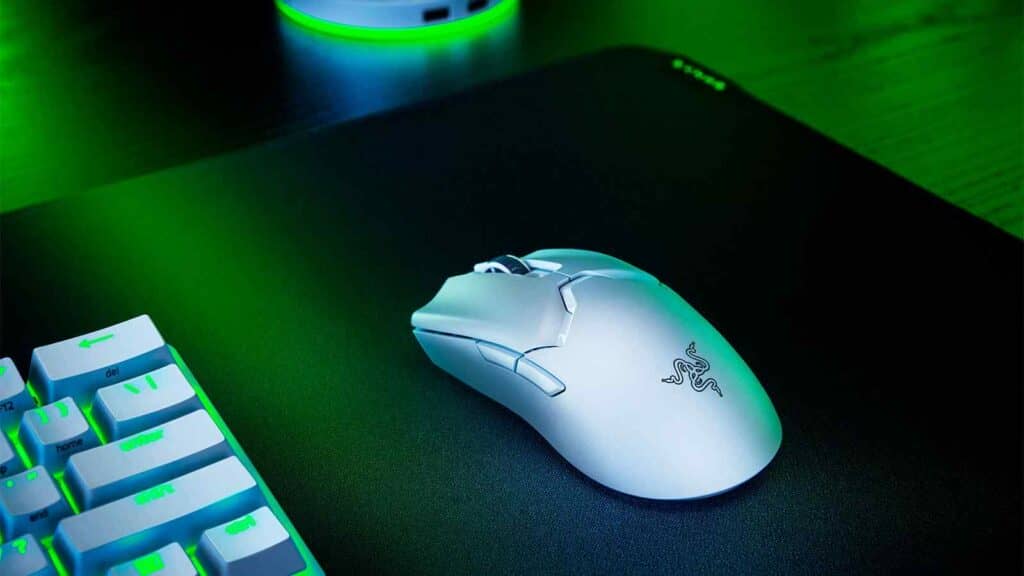 For lefties and fingertip grip users, the Viper V2 Pro is the go-to option, but remember that the flatter top means it is less comfortable for a palm grip.
The DeathAdder V3 Pro is far more comfortable for a palm grip thanks to its hump but lesser so for a fingertip grip style. Both the mice are very comfortable with claw grips.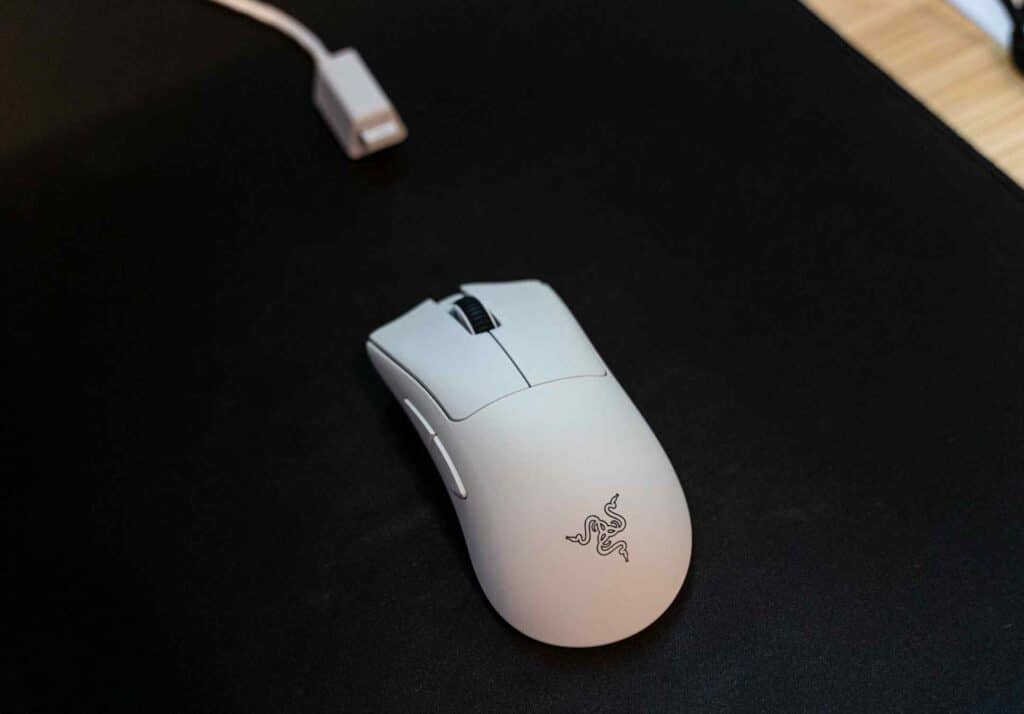 Overall, you are not going to get better performance in FPS games with any other mouse, whether its less expensive or more expensive, so if you can afford them, get one of these two mice depending on your grip style or preference, and believe us when we tell you that you just can't go wrong with the Razer Viper V2 Pro and the Razer DeathAdder V3 Pro!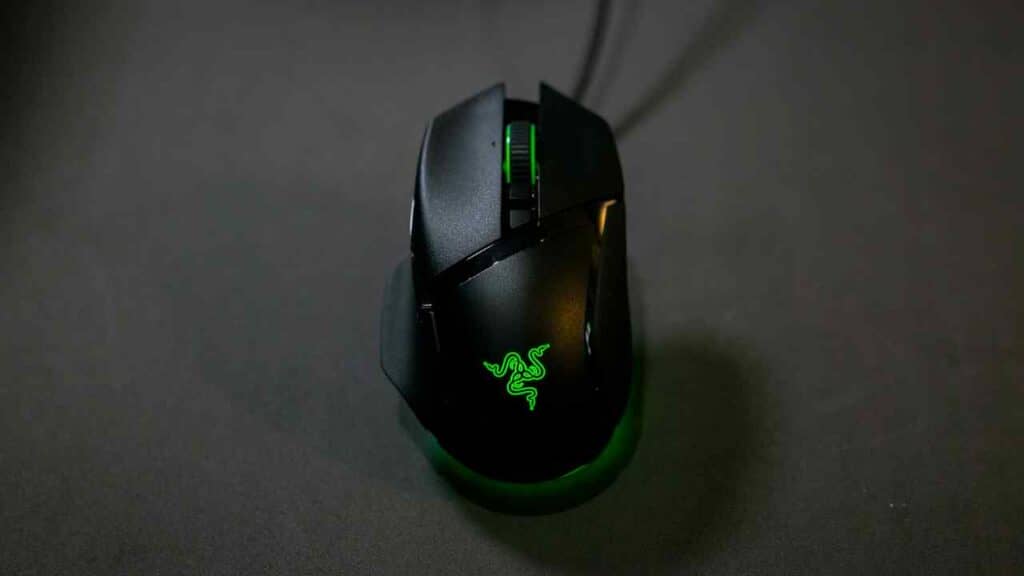 Razer is not just the King of FPS gaming mice, and the Razer Basilisk V3 Pro is here to prove just that.
Termed by Razer as their most advanced gaming mouse yet, this mouse has everything going its way, and its extreme performance and vast array of premium features make it the best option for any RTS, MOBA, or MMO player, given that you don't mind paying for the hefty $160 price tag on Amazon!
Like its lineup of top-tier FPS wireless mice, Razer has loaded the Basilisk V3 Pro with HyperSpeed Wireless and Bluetooth connectivity, HyperSpeed Multi-Device support, the flagship Razer Focus Pro 30K sensor, and the Razer Gen-3 optical switches.
As described in the Best Premium FPS Mice section, these features and specs alone are enough to make a monster of a mouse.
We already know what all these fancy names boil down to: Lightning fast multi-device connectivity, impeccable tracking performance and accuracy, and no debounce or delay on robust clicks that will stay fresh and crisp longer than any other mouse on the market in 2023.
But these specs alone are not why the Basilisk V3 Pro is unparalleled for the category of games it's targetted for.
What makes this mouse so amazing for MOBA/MMO games is the fact that despite such a clean, pretty look, this mouse hosts 11 fully programmable buttons under its hood alongside the Razer HyperSwitch functionality to double the number of commands you can use in-game with each button!
Like the Razer Naga V2 HyperSpeed, the Basilisk V3 Pro has an advanced scroll wheel with tilt buttons on the sides and the ability to switch between tactile and free-spin modes seamlessly.
Since the Basilisk V3 Pro doesn't need to try to hold back on weight, its unblemished aesthetic look is further complimented by some of the best RGB lighting ever seen in any gaming mouse: A full underglow of 16.8 million colors with 13-Zone Chroma Lighting that can also react to a huge catalog of 150 supported games to deliver an unreal level of immersion!
Despite all this jazz, the weight of the mouse is a respectable 113g (or about 110g if you really care about it by removing the bottom plate), making it one of the lightest and most comfortable MOBA/MMO gaming mice for long hours of use!
Its ergonomic right-handed shape is built to ensure extreme comfort, but it also means that the mouse won't work well for left-handed users.
While it's recommended regardless of grip style and hand size, smaller hands might find it a tad more awkward to use the farthest buttons with a claw or fingertip grip.
Razer definitely wasn't joking when they said this is their most advanced gaming mouse yet! They have managed to squeeze everything one could want from a gaming mouse into one package that we know as the Razer Basilisk V3 Pro!
The $160 price tag is by far the only imperfection in this seemingly perfect mouse.