The battle for the best gaming headset has been raging on for decades now, with various big names like Razer, HyperX, Logitech, SteelSeries, and Corsair competing to get their headsets to the top of every list.
You might wonder why people are willing to churn out hundreds of bucks just for a pair of cans that, most of the time, don't even sound good with music. Gaming Headsets do come with their fair share of benefits, though.
In a hurry? We care about your time! Have a look at our top 3 favorite picks when it comes to the best gaming headsets on Amazon in 2023!
Why Gaming Headsets?
While it's true that gaming headsets won't sound as great as a normal pair of headphones that are similarly priced when the competition is for music, when gaming is your primary concern, gaming headsets will undoubtedly give you a competitive advantage that may be the difference between you and victory in your game of choice.
Gaming headsets also offer convenience over other ways to approach games and communications.
You may be able to get a similar experience with a normal pair of headphones, a paid surround sound subscription service, a dedicated microphone, and all the adjustments to make everything work together well seamlessly, but who's got the time for that?
Gaming headsets will get you all of this in one convenient package, so you don't have to mess around with each component individually.
Our Top Amazon Picks
| Product Image | Product Name / Primary Rating / Price | Primary Button |
| --- | --- | --- |
| | | |
| | | |
| | | |
| | | |
| | | |
| | | |
| | | |
09/26/2023 09:38 am GMT
That's all great, but with the staggering amounts of gaming headsets out there, it can get tough to choose the perfect one for your needs.
This is why we're here today with a list of the best gaming headsets available on the biggest shopping platform in the world: Amazon.
This is not a ranked list of the best headsets but rather a list of some of the best headsets across different categories since not everyone is going to be looking to get the same value or features out of their headsets. So what are you waiting for? Find the perfect tune for your ears down below!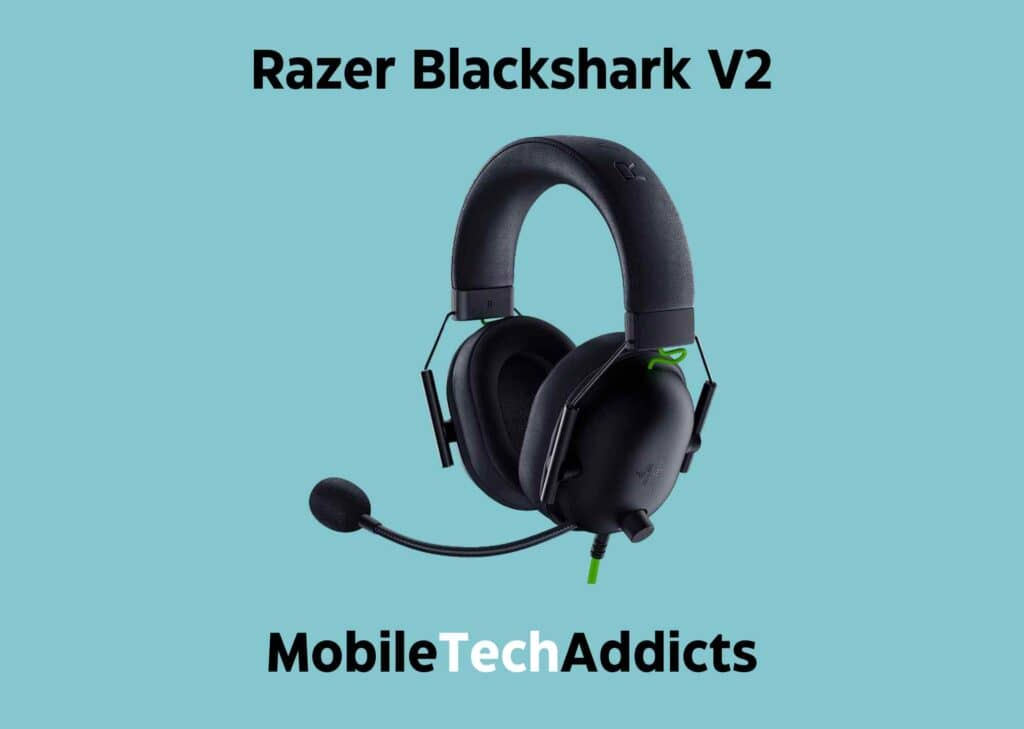 We start off our list with a budget pick that doesn't tear a hole through your wallet: The Razer Blackshark V2 X.
We start off our list with a budget pick that doesn't tear a hole through your wallet: The Razer Blackshark V2 X.
Released alongside its older brother (the Razer Blackshark V2) back in 2020, these became fan favorites almost instantly thanks to their unique neutral sound profile which was completely unexpected from a brand like Razer!
The bigger Blackshark V2 sold for a hundred dollars, whereas the Blackshark V2 X ships for as little as $48 on Amazon.
At only 240g, this is one of the lightest gaming headsets on the market and, thus, also one of the most comfortable you'll ever come across.
Its highlight is the customized dynamic 50mm Razer TriForce drivers that have a frequency response of 12 Hz – 28 kHz.
It also features Razer's Hyperclear cardioid microphone, Razer's noiseless paracord cable, premium THX spatial audio, and a great aviator look, all for one small price!
The Razer Triforce drivers can separate the bass, mids, and highs pretty well and give it a great neutral sound profile that can work decently with music as well.
The Blackshark V2 X benefits from being similar to the V2 and sharing some of its features in this respect, which is the only reason why we are able to get such an amazing sound at such a low price.
So for anyone looking for an excellent sounding pair of headphones with a decent cardioid mic for a low price: The Razer Blackshark V2 X will definitely surprise you!
Best Budget Gaming Headset
Razer BlackShark V2 X Gaming
Pros:
Great microphone quality

Impressive sound performance

Comfortable even during prolonged use

Surround sound app for enhanced gaming experience

Good value for the price
Cons:
Durability issues with repeated drops

Mic functionality problems

Ear muffs lack sufficient cushioning for sensitive ears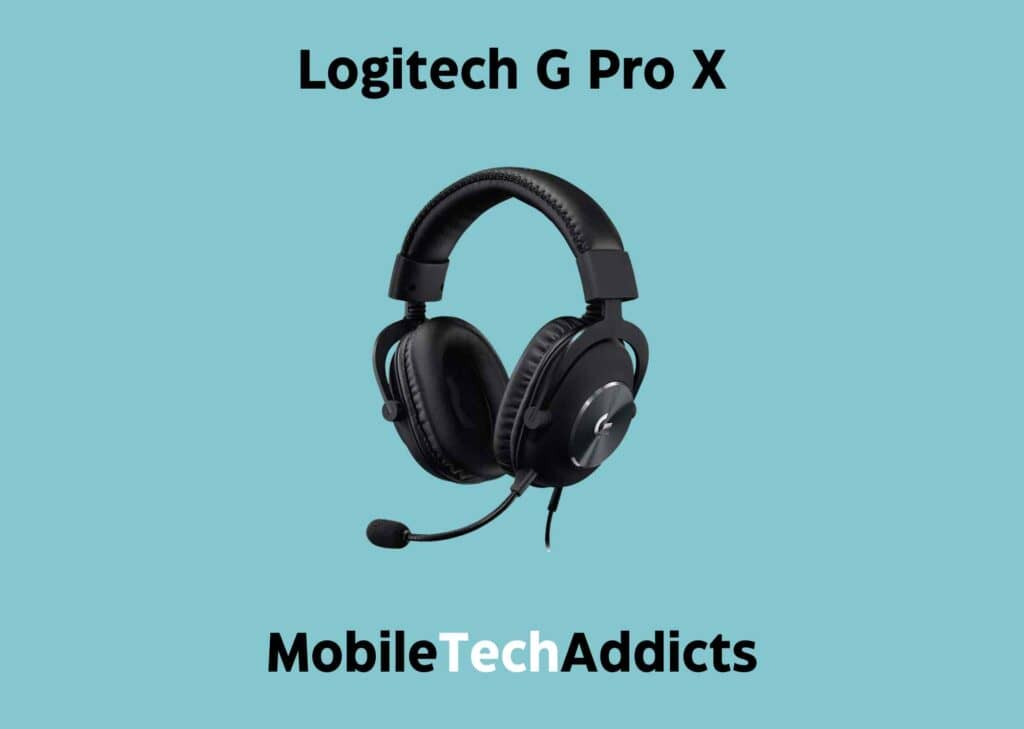 Come on, any list of gaming peripherals is incomplete without a Logitech product! Our best wired gaming headset pick for 2023 is Logitech's G Pro X with Blue Voice.
Praised by many reviewers for the clean build, the premium Logitech sound quality, and comfort, this is downright one of the best sub $100 headsets (around $92.5 on Amazon).
With its next gen DTS 7.1 surround sound and Pro-G 50mm drivers, the G Pro X delivers a punchy yet well-balanced sound profile with a frequency response of 20 – 20 kHz.
It is backed by the Logitech G Hub software that offers not only plenty of customization to tune the sound to your liking but also one of its biggest features: Blue Voice.
Blue Voice enhances your voice going through the detachable boom microphone and reduces background noise so you can deliver clear and crisp comms even in the most chaotic situations.
The G Pro X comes with metal headbands and shiny metal plates on each cup to add to its premium look. Despite all this metal, the headset only weighs 320g and is comfortable to wear for long gaming sessions!
Best Wired Gaming Headset
Logitech G PRO X Gaming Headset
Pros:
Comfortable to wear

Good sound quality

Useful features and accessories

Long battery life

Great value for the price
Cons:
Static in the audio

Connectivity and disconnecting issues

Durability concerns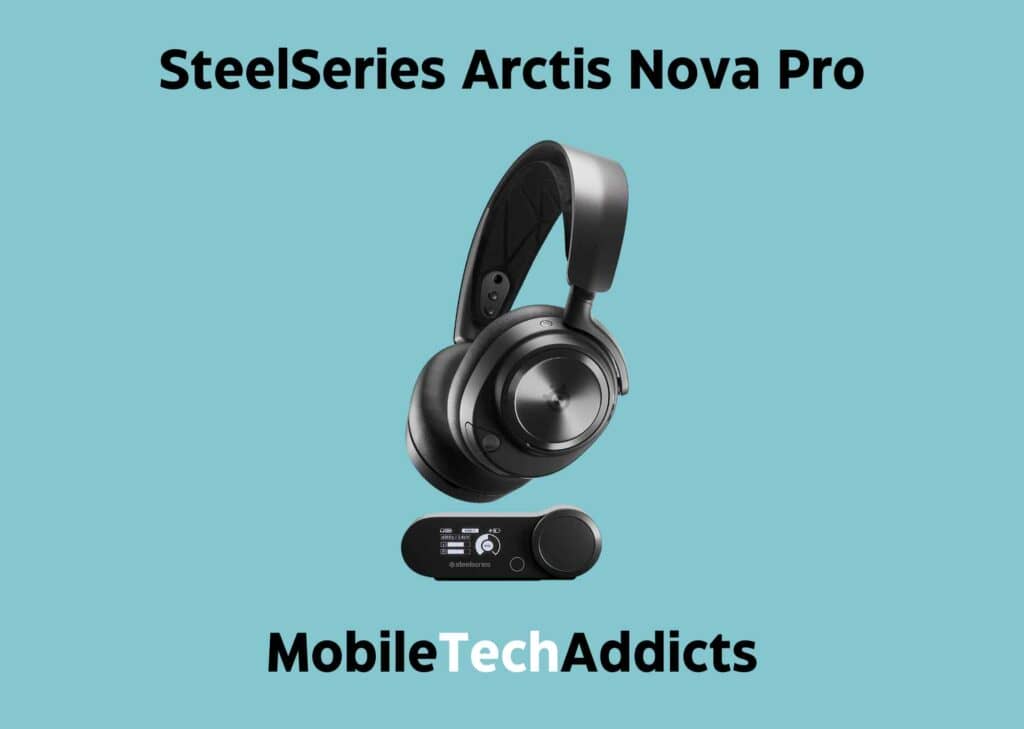 Are you the type that likes to cut the cord and enjoy wireless freedom without compromising on sound quality, comfort, or features?
Don't worry; we got you covered, and so does SteelSeries with their Arctis Nova Pro! This older sibling of the wired Arctis Nova Pro offers not only everything the wired variant does but also some extra perks alongside the wireless freedom that works at the longest of ranges.
With support for Dolby Atmos, Windows Sonic, and PlayStation 5's Tempest 3D Audio, get prepared to be immersed in a realistic soundstage with one of the most detailed sound profiles for all your games, no matter what your platform of choice!
On PCs, you also get the added benefit of the SteelSeries GG software with all its tunings.
It has one of the best microphones among gaming headsets and an excellent sound that not only works for gaming but does surprisingly well even for casual music listening, a rare feature for gaming headsets!
This and the inclusion of Bluetooth 5.0 makes it a multipurpose headset that you can also carry around with you. While not the lightest of the bunch at 338g, it is still very comfortable to wear.
There are only 2 real drawbacks to this headset. The first is that the faux leather ear pads can start to contain a lot of heat over long periods.
The second is its price.
At $350 on Amazon, this is one of the more expensive gaming headsets out there, but if you can afford it, it will be the perfect companion for all your games!
Best Wireless Gaming Headset
SteelSeries Arctis Nova Pro
Pros:
Comfortable fit

Great sound quality

Quickly swappable batteries

Dual audio input

Solid material design
Cons:
Issues with functionality

Discomfort during use

Subpar noise cancellation

Pricey

Mixed durability
4. EPOS H3PRO Hybrid – Best Noise-Cancelling Headset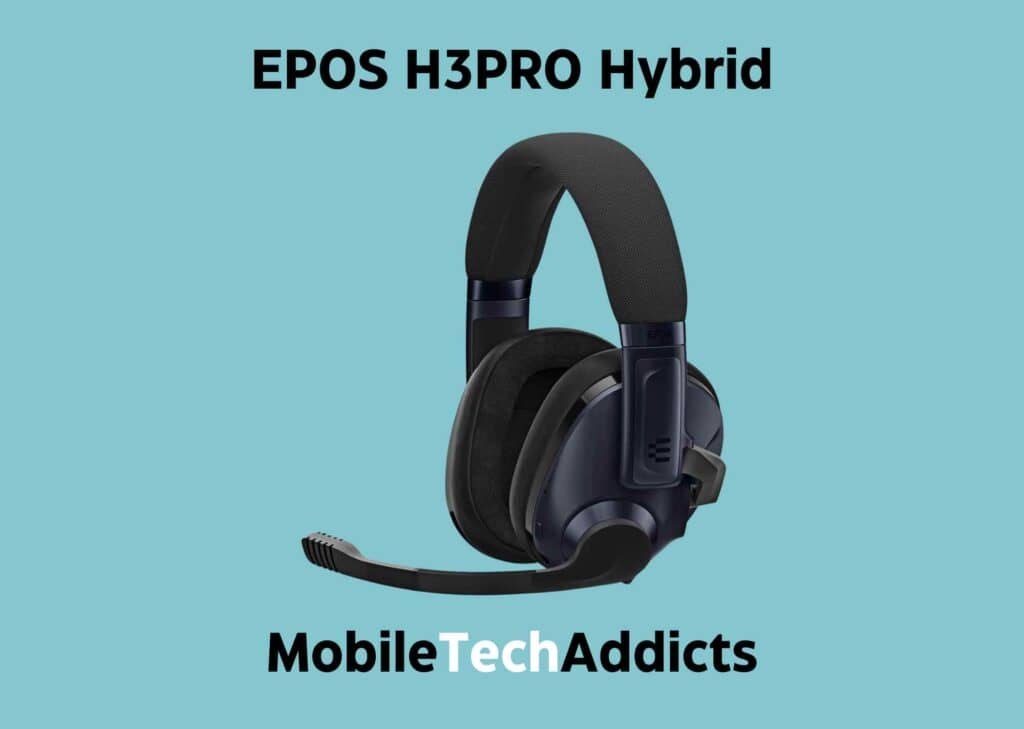 Playing in a noisy environment can get really frustrating really fast, especially when you're trying to grind in tough situations or trying to hear footsteps to stay alert.
We've all been there when we lost a round because we couldn't hear an audio cue and then got brutally roasted in the voice chat.
It's time to say goodbye to all those problems and welcome the EPOS H3PRO Hybrid: Easily one of the best gaming headsets ever made!
The Epos H3 Hybrid has an endless list of features that put it head and shoulders above any other headset you may have tried or heard of before. Arguably the most important one has to do with noise.
Its fully sealed acoustic design creates passive high-frequency noise isolation, which means that it doesn't let noise enter the earcups at all!
It goes on to also feature an Active Noise Cancellation slider that, when turned all the way up, will mute everything around you into nothingness.
Coupled with the 7.1 surround sound from the EPOS gaming suite, it can make you fully immersed in any virtual world!
This headset features otherworldly sound quality, a magnetically detachable microphone that is easily one of the best in any gaming headset, and a plethora of other features that are all there to ensure the elimination of any distractions so that your sole focus is the game in front of you no matter what the noise levels in the environment you play in!
All of these next-level features definitely come at a price. With a tag of $260 on Amazon, this headset might not be for everyone, but for those looking to isolate and cancel any noise and distraction, it will be more than just worth it!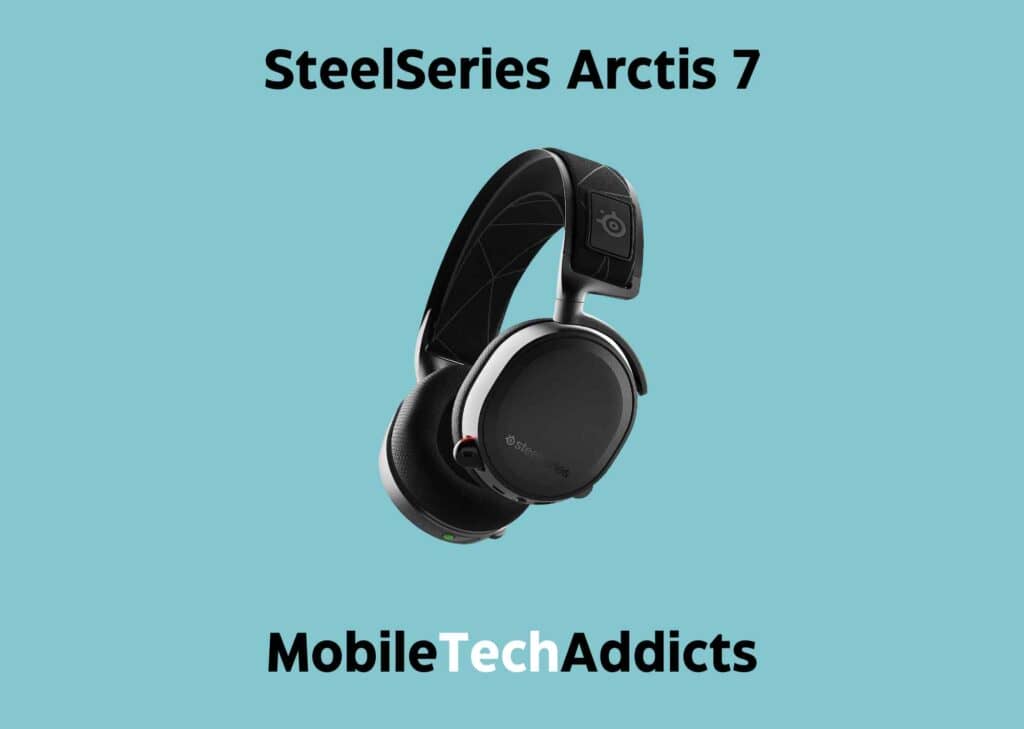 Surround sound is one of the main features that gamers look out for when purchasing a gaming headset.
Up next on our list is one of the best experiences of surround sound and superb sound quality across PC, PlayStation, Nintendo Switch, and smartphones that will put you in center stage in any game: the SteelSeries Arctis 7.
The 40mm drivers on the earcups of the Arctis 7 deliver a rich and detailed sound at a 20 – 20 kHz frequency response, but what truly makes them shine is the support for 7.1-channel DTS Headphone X v2.0 surround sound.
One footstep or the faintest of reload cues would be enough to reveal everything about your poor opponent's location with pinpoint accuracy!
What's even more amazing is that this surround sound is not its only highlighting feature: This headset comes with a retractable, easy to use mic that is often regarded as the best microphone on a gaming headset!
In our opinion, this feature set makes this headset especially exceptional for tactical FPS games, where location information is crucial, and so are clear communications that are not distracting for your team.
If you're a tactical shooter player, this headset was made for you! The SteelSeries Arctis 7 is an absolute steal at just $75 on Amazon in 2023, making it one of the more affordable headsets on this list!
Best Surround Sound Gaming Headset
SteelSeries Arctis 7
Pros:
Comfortable and durable design

Adjustable mic sensitivity

Customizable sound settings

Good sound quality for gaming

Wireless connectivity
Cons:
Mixed reviews on quality control

Main volume may bias audio to one ear

Some reported issues with charging port
6. HyperX Cloud II – Best Comfort Gaming Headset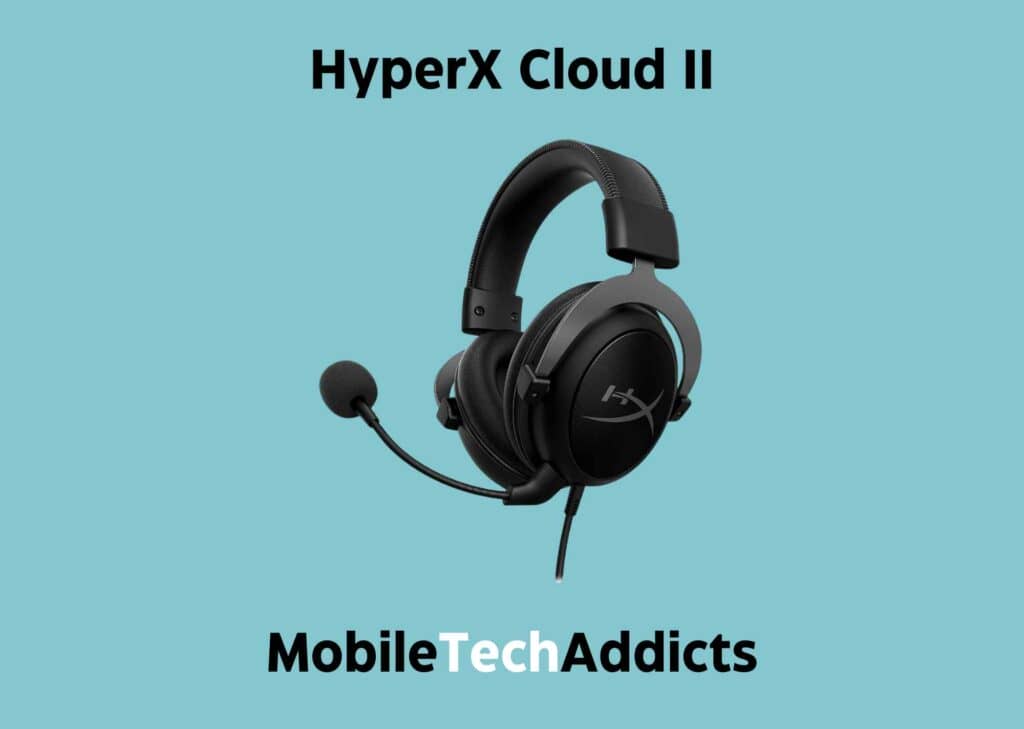 It's very easy to get tired of those long gaming marathons thanks to the pressure on your ears from your headphones which sometimes is the only reason we hit the quit button.
The situation is even worse for those of us that wear spectacles since not many headset manufacturers are going to account for the added pressure behind your ears thanks to the spectacles' legs. Fortunately for gamers like us, the HyperX Cloud II is here to the rescue!
HyperX is a well-known brand for making top-notch gaming headsets, and the Could II is no exception.
Its 53mm high-quality drivers deliver a well-balanced sound profile with 7.1 surround sound when paired with the included USB soundcard. The microphone offers good speech isolation for great comms and recording quality.
Getting to the comfort part: This headset has the perfect clamping force to stay on your head without falling off when you try to look at the floor to pick something up, yet also light enough not to pressurize your ears.
It becomes clear that HyperX built this headset for comfort once you experience the full memory foam ear cushions on the Cloud II.
They will remember the shape of your ears, also taking into account any glasses you wear, and adjust accordingly; the perfect solution!
The best part? You can get all this comfort and enjoy hours on hours of gaming for just $80! All of this makes it one of the best gaming headsets for comfort seekers in 2023 while also being very affordable.
7. Corsair HS80 – Best Microphone Gaming Headset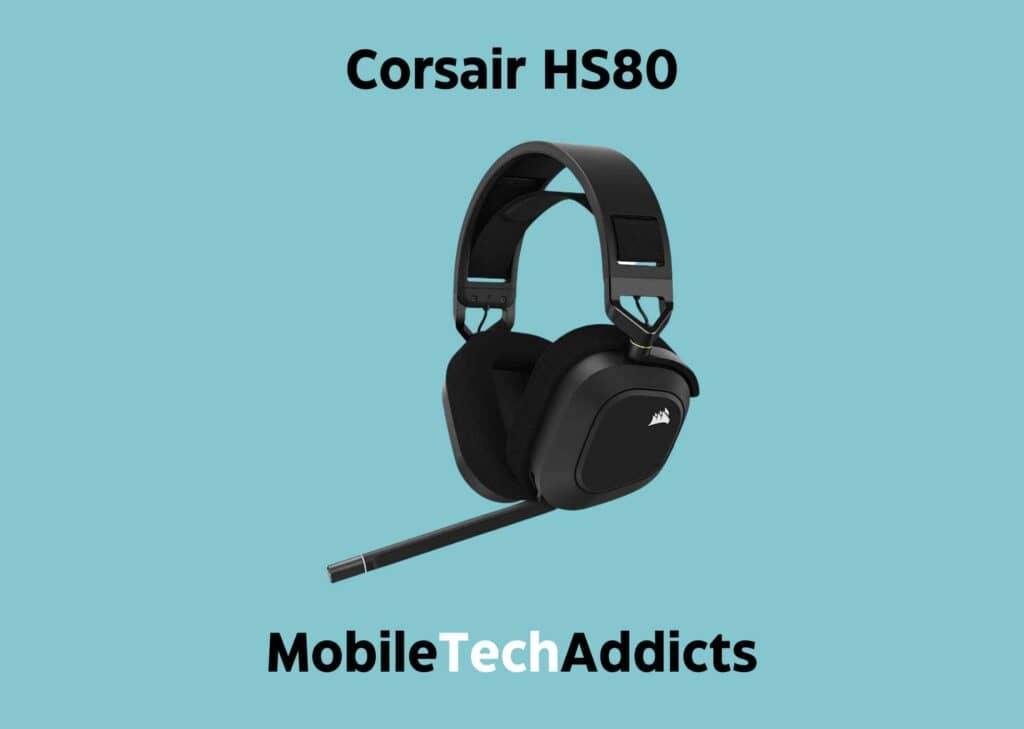 Doesn't it get so tiring always having to hear your teammates and friends complain about your voice quality on Discord?
We've all been there at some point! It's about time you gave them a surprise with a more pleasant communication experience and yourself a treat with the Corsair HS80 with its best-in-class microphone for exceptional quality!
The Corsair HS80 is Discord certified for clear communications and is compatible with Corsair's iCUE software which allows adjustments to the incoming and outgoing sounds.
While the iCUE adjustments can make the microphone on this headset take off to new levels, even right out of the box, this microphone is insanely amazing!
Thanks to the broadcast-grade omnidirectional microphone hardware on the HS80, you can get excellent voice quality even if you're not a PC player, which isn't something many brands offer since they rely on software that only runs on PCs to improve outgoing voice quality (Looking at you Logitech Blue Voice!).
Apart from the unbeatable microphone quality, the Corsair HS80 also offers Dolby Atmos virtual surround sound, 50mm high-quality drivers that can reproduce a frequency range of 20 – 40 kHz in great detail, and a lag-free wireless connection.
This is definitely the best microphone on a headset in 2023 especially considering that the headset only costs $133 on Amazon.
Best Microphone Gaming Headset
CORSAIR HS80
Pros:
Excellent sound quality and customization options

Clear and high-quality microphone performance

Good wireless connectivity via dongle

Braided wire option for both PC and console

Great ability to hear subtle game sounds like footsteps
Cons:
Uncomfortable headband for users with larger heads

Inaccurate battery status indicator

Lack of a microphone sponge for noise reduction