It's quite the puzzling conundrum.
The moment you attach your trusty selfie stick to your smartphone, Google Assistant pops up (rather unhelpfully!).
Confused, you detach and reattach again.
Same thing.
At this point, you're wondering:
"What can I do if my selfie stick turns on Google Assistant?
There are several different reasons why Google Assistant will turn on when you use your selfie stick with your phone.
From what we've been able to establish, selfie sticks can sometimes activate Google Assistant if the stick and the phone are incompatible.
Another possible reason that this can happen is if you long-press the button, activating Google Assistant to take a picture.
Finally, another issue that can cause Google Assistant is due to how your phone is interpreting the selfie stick jack's signal.
The easiest ways to resolve these issues are to turn off Google Assistant on your phone and to use a selfie stick that is compatible with your phone.
(Side note: We are a member of the Amazon Associates program. From time to time we'll link out to and recommend products in articles that we feel would truly be valuable to readers. If you do end up buying after clicking through these links, we may receive a tiny bit of commission from the Big A. This will all then go back to creating more helpful content for this site. Win-win!)
How To Fix A Selfie Stick That's Not Working Properly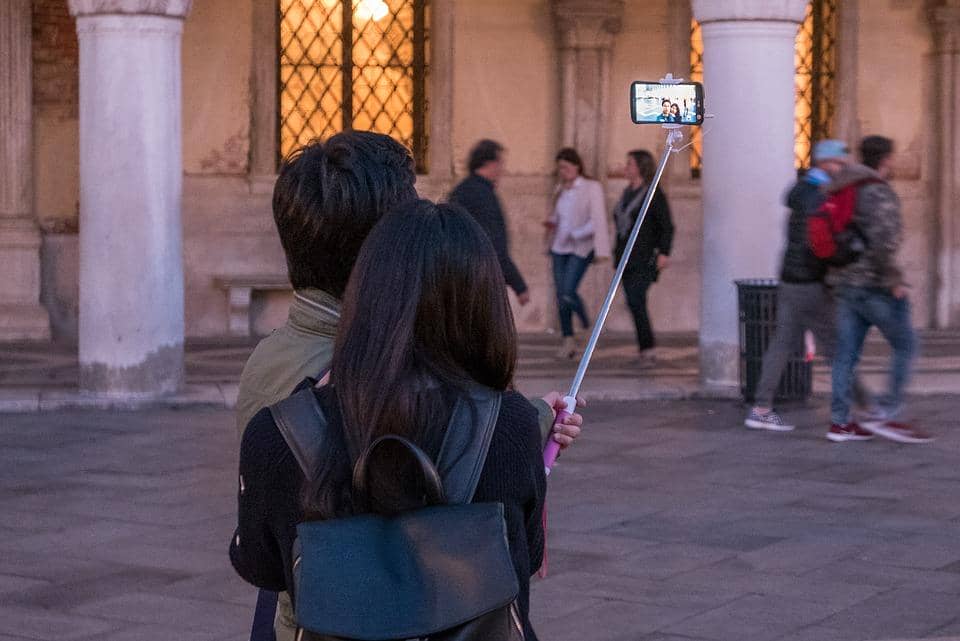 There are various reasons for a selfie stick to not work properly and to turn on the Google Assistant randomly.
A lack of compatibility is the primary reason that this happens.
When a phone and selfie stick is not compatible, the selfie stick will send mixed signals to the phone.
In many instances, this results in turning on Google Assistant instead of opening the correct camera app to take pictures.
Try to figure out whether the selfie stick is not working only with one particular phone, or if it is experiencing issues with other phones too.
Also, make sure that your phone is configured correctly. Usually, you will need to turn on permission in your phone's camera app to allow the selfie stick to take pictures.
If the volume key function to take pictures is not available on your phone or is turned off, the selfie stick will activate Google Assistant or open Google Search when you press the button.
To fix this, open the Camera app on your phone and check to see if you can change the function of the volume key. If you can, set the volume keys to take pictures. Then, connect the selfie stick to the phone again and see if it works!
What if your phone doesn't have this feature?
In this case, you will have to download a third-party camera app from the Play Store to turn on the settings from there. Remember, most selfie sticks can only take pictures with the phone when the volume buttons are functional.
There are some monopods and selfie sticks out there that don't use volume buttons to take pictures. Have a look around for these models to see if they are compatible with your smartphone.
The key point to note is that there is no universal selfie stick for Android phones (though this one comes pretty close, admittedly); you do have to search around and choose the most appropriate one based on the model and make of your device.
How To Connect A Bluetooth Selfie Stick To An Android Phone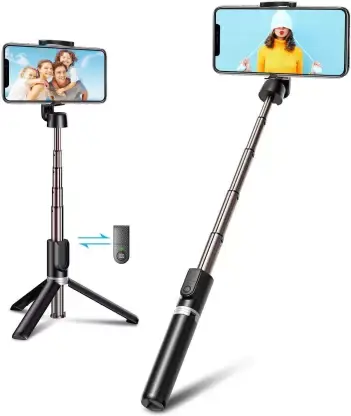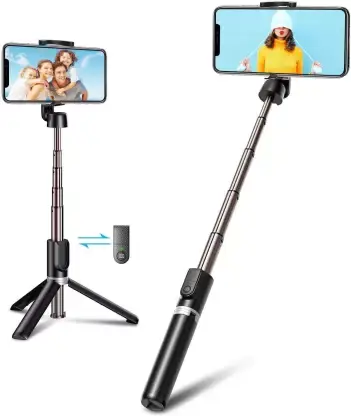 The selfie stick has been a timely invention in our social media-dominated world. They allow you to take super cool pictures of yourself and your group of friends without asking for anybody's help. No timer is needed!
While they are relatively easy to operate, there are still various types of selfie sticks available on the market with slightly different features.
The main difference when it comes to selfie sticks is the phone models they are compatible with, and whether the sticks are wired or wireless.
The wired selfie stick needs a 3.5 mm jack to connect to the phone (i.e. the hole where you plug in headphones or a charger).
On the other hand, wireless models connect via Bluetooth. While it is quite easy to pair a selfie stick using Bluetooth, many people do find it hard getting the settings exactly right.
Remember that you do need to fully charge the selfie stick before you use it for the first time. Any wireless selfie stick should come with a USB cable for charging.
Use the slider at the bottom of the stick to turn on its Bluetooth function. The Bluetooth button may be located at different positions depending on the brand. There should however be an LED light to indicate when the Bluetooth is on.
Now, turn on Bluetooth on your smartphone.
Go to Settings -> Connections
Give your phone some time to detect the selfie stick. Once it's been found, tap on it on your phone to pair them.
You will only need to pair the phone and selfie stick during the first setup. Once the stick is paired with your phone, you can use it in future instances simply by turning on Bluetooth on both and allowing them to connect automatically.
Related Questions
How do you Take a Selfie Using Google Assistant?
You can take a selfie using Google Assistant if you own an iPhone or Pixel.
All you have to do is turn on Google Assistant on your phone. Place the phone's front camera facing you and say, 'ok Google, take a selfie.'
Google Assistant will open the phone's camera app, run a countdown for you to pose, and take the selfie after a few seconds!
What are the Best Selfie Sticks for iPhones?
The following are some best selfie sticks to use with iPhones:
• Mpow Selfie Stick (uses Bluetooth)
• Anker (uses Bluetooth)
• Yoozon (uses Bluetooth)
• Selfie World (wired)
• outDOOR MasH (uses Bluetooth)
In Summary
So, what should you do if your selfie stick turns on Google assistant by itself?
First, it's important to find the exact reason as to why this is happening.
Is it because of compatibility issues, wrong signal interpretation, or an issue with the phone's camera app?
Once you have identified the cause, you can then solve the problem by taking the appropriate action.
If you want to turn off Google Assistant completely, you can do so by opening the Google app on your phone.
Click on your profile image -> go to Settings -> Google Assistant -> General -> Disable Google Assistant.
However, this will not solve the overarching issue if your selfie stick is just not compatible with your phone, or in cases where the phone doesn't allow the selfie stick to take pictures using the volume control buttons.
In these cases, you will have to utilize the workaround solutions that we've discussed in this article, such as installing a third-party camera app.
Finally, if you do need to purchase a new selfie stick to pair with your phone, we highly recommend buying a Bluetooth selfie stick (as opposed to a wired one) for easy connectivity!
Selfie sticks are one of them. Want to know what the other 14 Most Essential Smartphone Accessories are this year? Click HERE to find out!