Smart Switch is an app developed by Samsung that helps users easily transfer their content (files, accounts, photos, music, apps, etc.) to a new device.
It is available as an app on both PCs and mobile phones, providing users with arguably the easiest way to transfer data from Android and iOS devices to a Galaxy phone.
So, you may be wondering at this point:
Does Smart Switch transfer passwords too?
The answer, unfortunately, is no. Smart Switch does not transfer passwords, so you will have to enter your login credentials in order to sign in and access your accounts from a new device.
As an example, when you transfer app data for applications such as Gmail, Instagram, and Facebook, you have to log in to your accounts from the new device.
However, all other information on the old device will be able to be moved to your current device without any difficulty or issues.
What Does Samsung Smart Switch Not Transfer?
Samsung's Smart Switch allows users to transfer pictures, videos, documents, audio files, calendars, contacts, and other types of data from one device to another.
That said, it doesn't move everything or anything. The types of data transferred depend on the operating system and the model of the devices.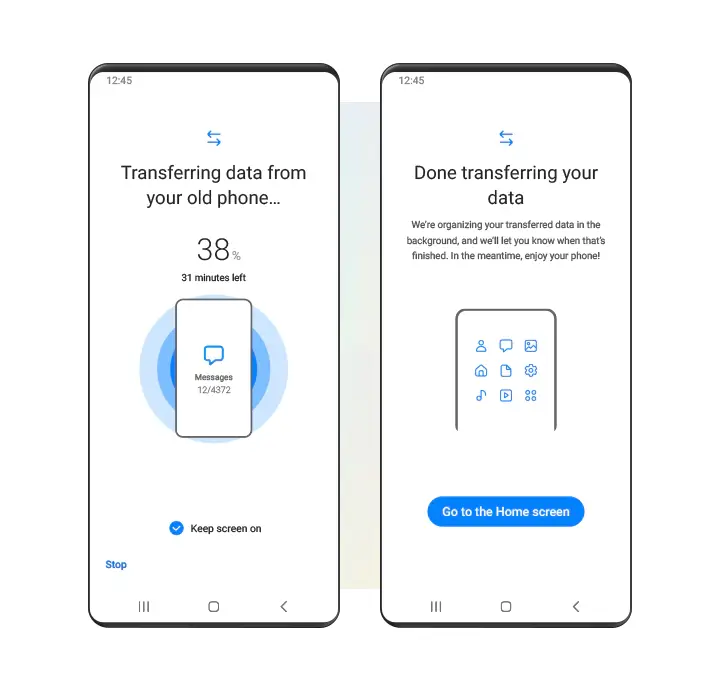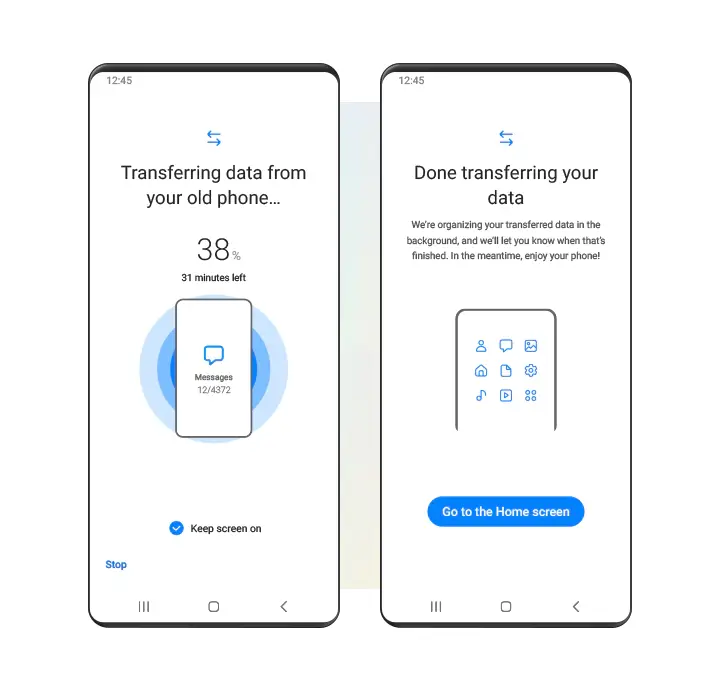 Smart Switch doesn't transfer passwords between any devices. Passwords and protected files/ folders cannot be transferred using the app. You have to enter your passwords again and unlock the protected files to facilitate data transfer.
While some users find this inconvenient, it ensures data privacy and prevents cybercriminals from accessing your personal and protected information.
The following are some items that Smart Switch does not transfer:
Data in Secure Folder
Data in My Knox
Contacts saved on the SIM card, Google/ social media accounts, and emails
Appointments synced with external apps like Google Calendar
App data in private storage
Data and emails from premium accounts
Live wallpapers and themes (these can be installed on the new device from the Galaxy store)
Music, videos, and eBooks have to be DRM-free to be transferred between devices using the Smart Switch app.
Nevertheless, you can still transfer multiple formats of videos, documents, files, images, and music with this function.
Moreover, transferring data from non-Samsung Android devices to Galaxy devices, iOS devices to Galaxy devices, between two Galaxy devices, and an external storage device to a Samsung device (through the desktop app) is also viable.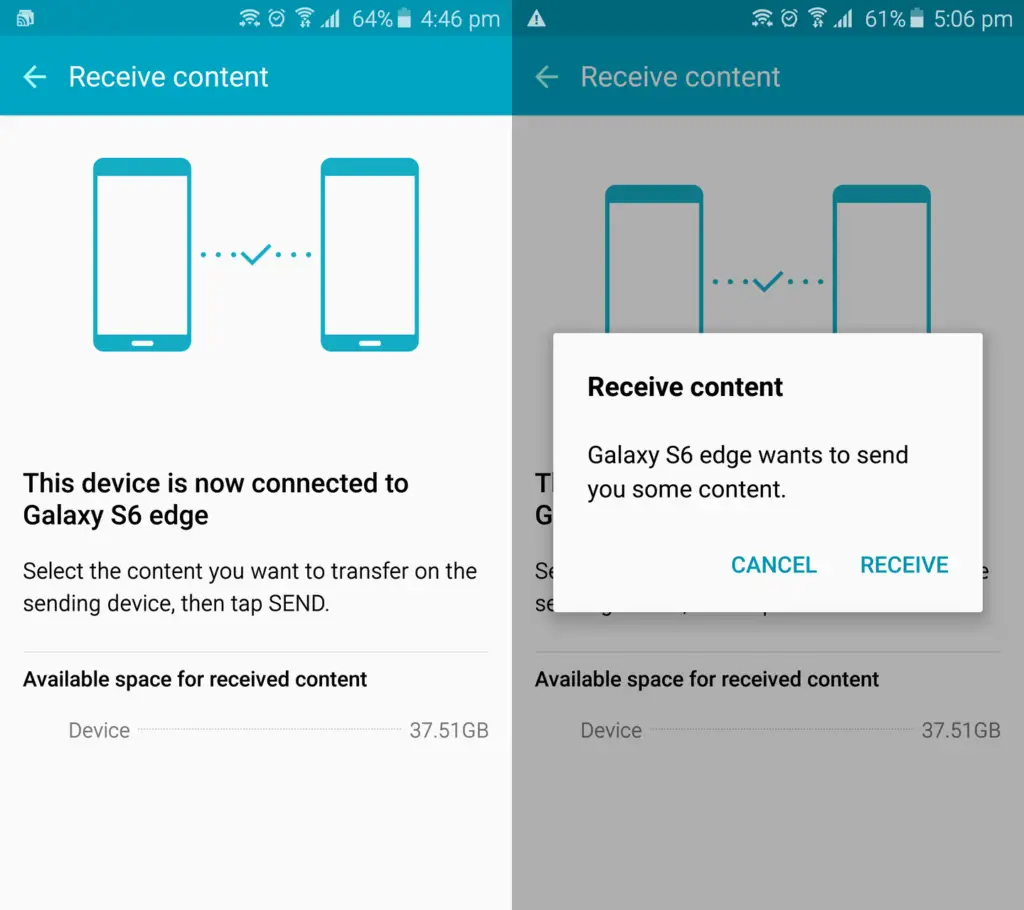 In many ways, Smart Switch is a versatile, convenient, and efficient data transfer app that completes major transfers quickly and prevents data corruption in the process.
How Do I Transfer Passwords To My New Samsung Phone?
Transferring passwords to your new Samsung phone requires something other than Smart Switch.
If you are looking for a somewhat automated solution, you will need to use freemium apps like LastPass or to sync and backup data on Samsung Pass to transfer the passwords.
With Samsung Pass, only the passwords and biometric information saved with the app are shared from a previous Samsung phone to a new one.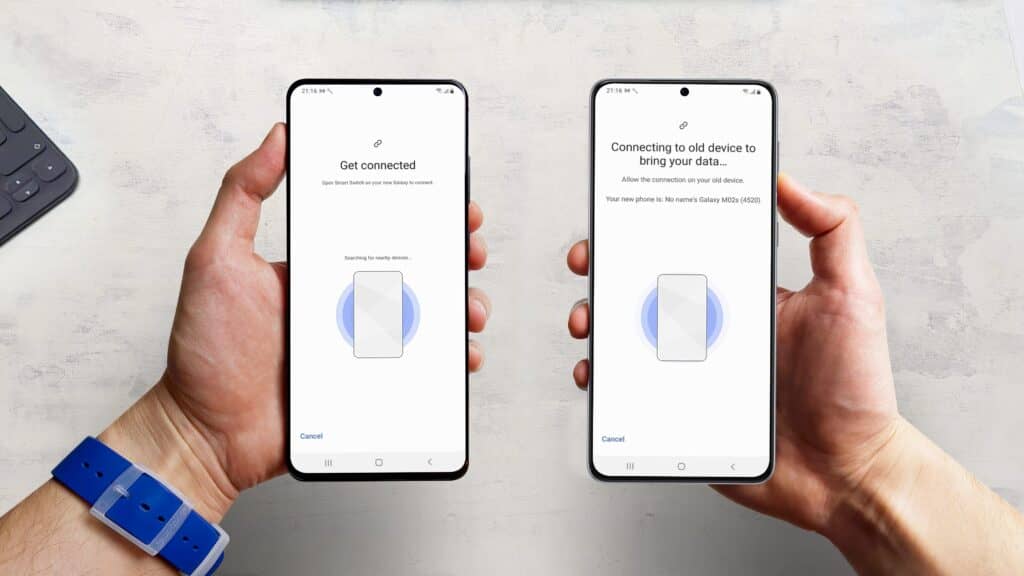 LastPass is a password manager app and a web interface (browser plug-in) that saves all your passwords and helps transfer them from one device to another without any risk.
The software is available for both personal and business use; here's how you can use the app to move passwords to your new Samsung device!
Create a free account with LastPass and save the login credentials for apps you use frequently. You can also save data required to fill online forms (this option is available in Google too).

Set a strong password for your LastPass vault and add the necessary websites to it. You can manage your passwords through the mobile app using the browser extension.

LastPass allows cross-platform password management so that you can control your passwords and transfer them from one device to another. When you use LastPass from your new Samsung device, the passwords are directly transferred based on your account credentials.
Samsung Pass is a biometric authentication service provided exclusively to Samsung users. You can transfer the passwords in Samsung Pass by ensuring that you turn on the data sync. It is a default setting, though you can cross-check it by going to:
Settings -> Accounts and Backup
Manage Accounts -> Samsung account
FAQs About Smart Switch
Q1. Why Is My Smart Switch Not Working?
There are a few different potential reasons that could cause Samsung Smart Switch to be ineffective and create issues when it comes to data transfer:
• One of the most common reasons that cause Smart Switch to not work properly is the inability to connect the devices. If using Wi-Fi (wireless), make sure both devices have Wi-Fi turned on and are connected to the same network.
• The lack of storage space on the receiving device is another reason for Smart Switch to not transfer data. Clear storage space and delete unused apps before trying again.
• Not all devices are compatible with Smart Switch. You need Android 4.3 or higher and iOS 4.2.1 or higher to use Smart Switch for data transfer.

• If the Smart Switch app itself appears unstable, it is a good idea to delete and reinstall it before starting data transfer. An unstable, faulty app won't work properly and will lead to failed transfers.
• Smart Switch is not recommended for transferring huge volumes of data, as this might cause the app to become stuck and stop working as a result.
Q2. What Devices Does Samsung Smart Switch Support?
Smart Switch offers support for a wide range of devices and operating systems:
• Nokia smartphones from Series 40 or higher
• Symbian 60 or higher (Symbian is an operating system for mobile phones and has been discontinued)
• Android devices with 4.3 or higher OS
• iOS devices with 4.2.1 or higher OS
• Blackberry 6.0 OS or higher
• Samsung devices with backup by Samsung Kies 2.5.2 or higher
Q3. What Are The Alternatives For Smart Switch?
MobileTrans is an alternative and can be used to streamline the data transfer process for Samsung Smart Switch.
It works with Windows and macOS devices to retrieve data and facilitate secure transfer from one device to another. The free version of MobileTrans offers limited data transfer.
Summary
The Samsung Smart Switch app is easy to use and super convenient to transfer files between devices in just a few seconds or minutes without the need for USB cables or SD cards.
Though it works the best for Galaxy devices, it can be also used to transfer data from any Android phones and iOS devices.
However, be mindful that data from Secure Folders cannot be transferred using Smart Switch. Along the same lines, Smart Switch doesn't transfer passwords for applications and devices.
You will have to re-enter the passwords on your new device in order to log in to any specific account that you might have.
The latest smartphone technology got you feeling amazed? Click HERE for a deep dive on the State of the Smartphone in 2022 (and beyond!)