As a proud owner of your Samsung Galaxy Buds, you're probably already aware that they allow you to use them in two different modes- Active Noise Cancellation (ANC) and Ambient Sound Mode.
ANC blocks outside noise to ensure that your listening experience is not disturbed by unwanted background sounds.
In contrast, Ambient Sound mode is where you can still listen to your surroundings even when listening to music or audio files through the earbuds.
However, there may come a time where you find that this setting is no longer working for some reason, prompting you to wonder in frustration:
"Why is Ambient Sound on my Galaxy Buds not working?!"
There are a few different reasons that can cause Ambient Sound not to work on your Galaxy Buds.
The first possible reason is that the Buds may not be correctly connected to the Samsung Galaxy Wearables app.
A second potential reason is that a software update has occurred, after which the default settings for Ambient Sound have now changed. In this second case, you will need to change the settings again to use Ambient Sound.
One final reason for Ambient Sound to not work is that the mode automatically turns off when you receive a call.
Keep on reading below to find out how to deal with each of these situations!
What Does Ambient Sound Do On Galaxy Buds?
Before we delve into what Ambient Sound mode attempts to achieve on the Galaxy Buds, it's helpful to first understand what ambient sound is.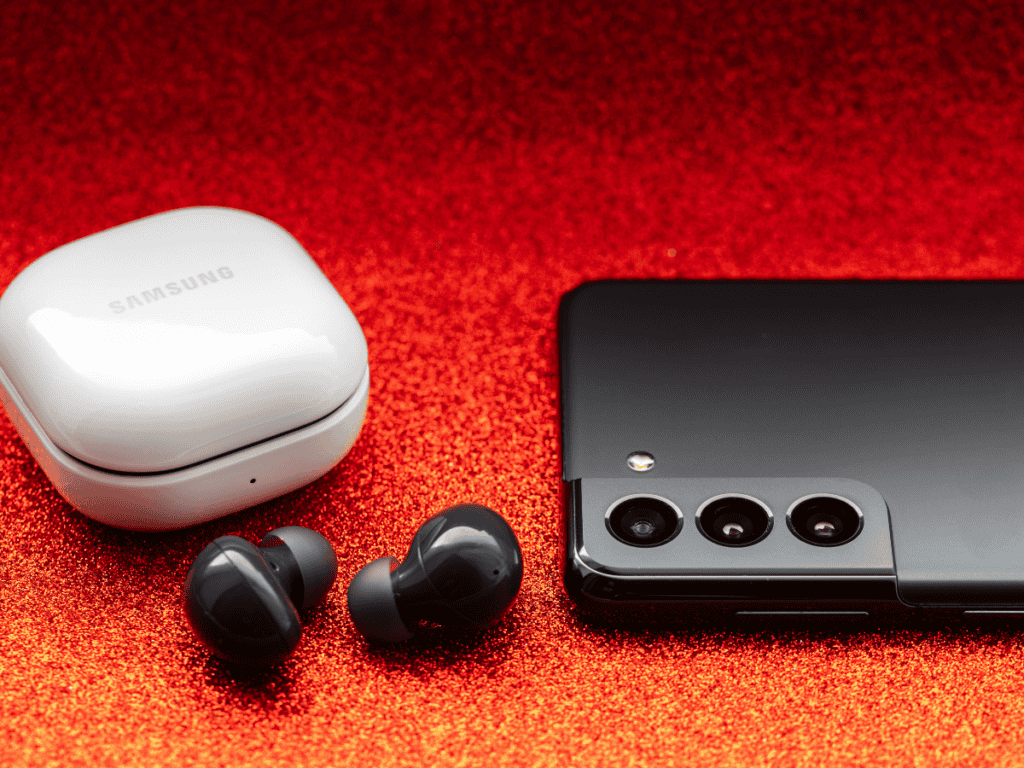 In simple terms, ambient sound refers to the sounds and noise around you; background noise, if you will.
The beeping horns of passing vehicles, distant murmur of people talking, or construction sounds banging from a nearby building site can all be considered ambient noises.
These sounds are very much a part of our daily lives; something that we all deal with throughout the day.
However, when we use headphones or earbuds, we can typically tune out these noises and listen only to the sounds now coming from the earbuds.
This can usually be achieved using noise isolation or noise-canceling techniques. Noise cancellation is again of two types- passive and active.
Active noise cancellation is the best way to completely block out background noise and listen only to the sounds from the earbuds. Of course, this feature is not available in all models.
Galaxy Buds do have an active noise cancellation feature that completely prevents outside noise from disturbing your listening experience.
That said, this feature is not always useful.
There are definitely instances when it's best to stay alert and listen to the background noise (when you're driving, or walking along a busy road, for example). This means that there is definitely a place for an Ambient Sound mode on any earbud that may be using.
An entirely appropriate question would be to ask exactly why you would need this feature when you can turn off ANC.
The answer is simple. Ambient Sound mode allows you to use ANC in one earbud and listen to ambient sound in the other. Yes, that's possible- you can get the best of both at once!
What's more, you can adjust the extent of ambient sound you want to listen to when using the buds. For instance, you can determine if you wish to have 100% ambient sound, or only 30%.
Imagine going for a run in the park every evening. While it's undeniably tempting to block out all noise and listen to music while burning calories, is it completely safe to do so?
We'd argue that it's better to keep a close tab on what's going on around you. With Ambient Sound mode, you can simply turn it on and then adjust the level of ambient noise you want to hear along with your music.
If you simply turn off ANC, this option wouldn't be available. It's only when you activate Ambient Sound mode can you have this capability.
Therefore, people frequently use ambient sound in one ear when walking, running, exercising, or out in traffic.
This keeps them tuned in to their surroundings while still being able to enjoy their music or surroundings through the earbuds.
Why Is My Galaxy Buds Ambient Sound Only Working In One Ear?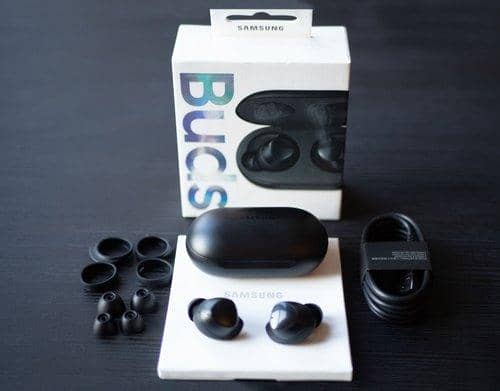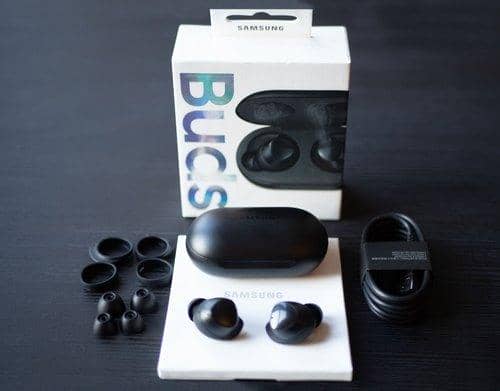 Technically speaking, Ambient Sound Mode should work in both earbuds.
Many people indeed tend to use it only in one ear as it is more convenient. However, what can you do if your Galaxy Buds only have ambient sound in one ear all the time?
This can happen due to the following reasons:
Only one ear is selected for ambient sound in the earbud settings. You can easily adjust this in the Ambient Sound settings by opening the Galaxy Wearables app.


One earbud is more sensitive than the other (a common issue with the Galaxy Buds series). This is most likely a technical problem that can be fixed only by the Samsung support team.

Contact Samsung's official support staff to have the Buds tested or replaced (depending on your warranty).


A glitch or error may have occurred. To fix this, turn off the Buds, place them back in the case, and close the lid.

Leave them for a few minutes and turn them on again. Pair the Buds once more if required. This should clear any minor glitches and allow ambient sound in both ears.


There may be a missed software/ firmware update that is causing this issue. Check for and install the latest software updates to see if the problem is happening due to software incompatibilities.
How Do You Activate Ambient Sound On Galaxy Buds?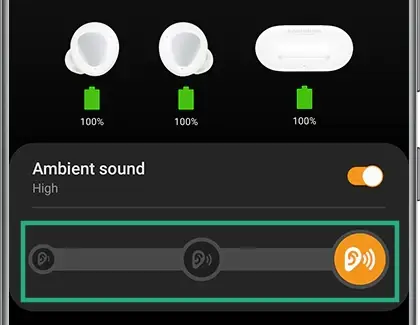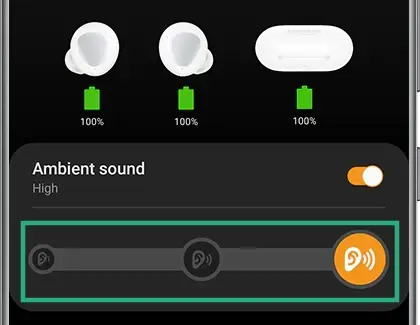 Ambient Sound on Galaxy Buds can only be activated through the Samsung Wearables app. The Buds should be connected to the app to turn on this mode.
Here's how to achieve just that:
Open the Samsung Wearables app on your smartphone and confirm that your Galaxy Buds are connected to it.


Swipe and tap on Ambient Sound mode. Then, tap on it again to turn on the mode.


Use the slider beneath the turn-on option to adjust the level of ambient sound you want to listen to when using the headphones. You can set it at any point you wish.

(Remember that the app should detect both earbuds to enable this feature.)


The Voice control option can be turned out to make voices stand out from ambient noise.


Touchpad settings can also be changed in the app, and it is possible to choose either the left or right earbud if you want to activate ambient sound mode only in one earbud.


Once you configure your desired settings, touch and hold the touchpad on the earbud to continue using the mode without the app.


From the next use onwards, you can turn Ambient Noise mode on and off simply by tapping and holding the touchpad on the earbud.
If you want to adjust the percentage of ambient sound, or to change it from one ear to another (or both), you will have to use the Samsung Wearables app once more.
Also, keep in mind that the ambient feature will be automatically turned off when you answer a call! The function will be restored to its previous setting immediately after the call ends.
Related Questions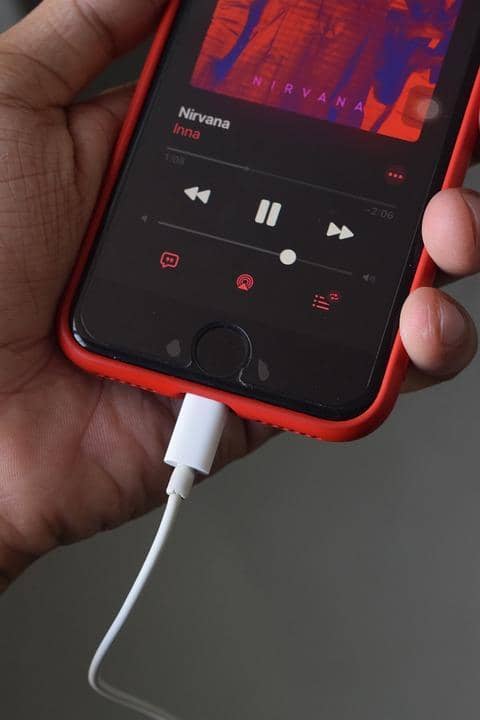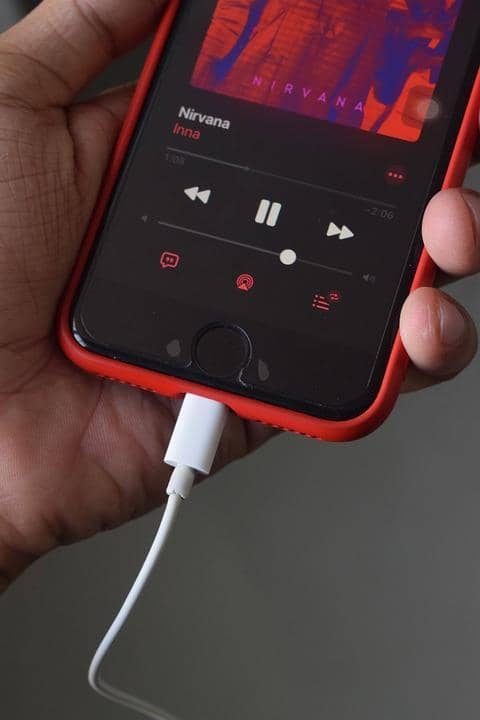 How is ambient sound different from noise cancellation?
There's a simple difference between ambient sound mode and noise cancellation.
Noise-canceling completely blocks and prevents background sounds from interfering and disturbing the audio delivered by the earbuds.
Ambient sound mode does the opposite. It allows background noise to enter along with the audio in the earbuds.
With the Galaxy Buds, you don't have to choose between one or the other! Either mode can coexist as per your requirements and convenience.
In Summary
As we've outlined in this article, there are several different reasons for Ambient Sound mode to malfunction in a pair of Galaxy Buds.
These can range from technical defects to incomplete software updates. Luckily, this issue is one that is relatively simple to fix!
Check each potential option above to identify the actual cause in your case. If you really can't solve the problem, it's always a good idea to contact your nearest Samsung technician to get more help.
You may end up having to send the Buds in for testing if it is due to a technical or manufacturing defect, but in our minds this is a small price to pay to get back a very useful piece of tech!
Headphones are one of them. Want to know what the other 14 Most Essential Smartphone Accessories are this year? Click HERE to find out!