Ever hit the 'delete' button on Instagram and then wondered about the fate of your direct messages? It's a common question, and the answer might surprise you.
While Instagram offers a range of features to manage content, understanding what happens to your DMs when you delete your account is crucial. Let's clear the air and provide you with the clarity you've been seeking.
In a hurry? We care about your time, so here's a quick answer to the question you're looking for!
When you delete your Instagram account, your side of direct messages gets removed. However, the messages you've sent to others remain in their inboxes until they decide to delete them. Think of it like leaving a voicemail; even if you disconnect your number, the message stays with the recipient.
Does Deleting Instagram Delete Everything?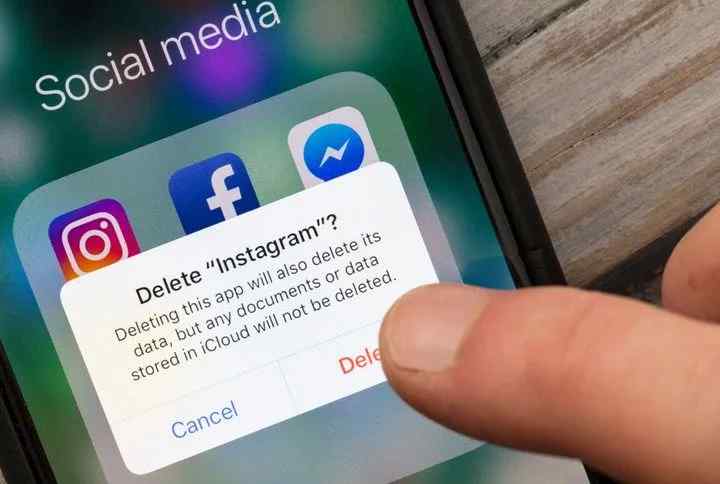 Uninstalling an app from your smartphone does not delete your account or data. After reinstalling the program, you can quickly access your account by entering your original login details. 
Thoroughly delete your Instagram account and its contents. There is a proper way of permanently deleting your Instagram account you need to follow. It will delete your Instagram profile's messages, likes, followers, and other data.
Can You Tell Me How to Delete My Instagram Account?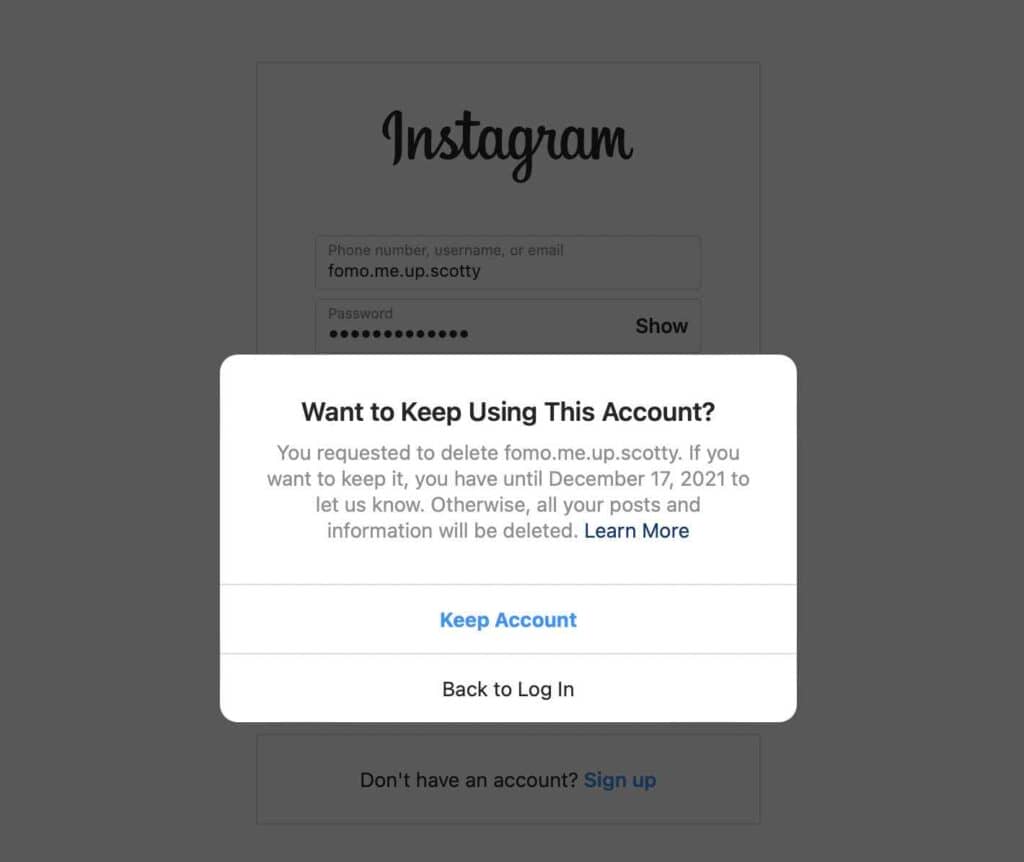 When you remove your Instagram account, you delete everything related to it. Moreover, if you want to use Instagram again, you cannot log in from the deleted account, so you will have to sign up with Instagram again with a different username.
It's important to remember that there's no method to resurrect a deleted account.
Follow these instructions to erase your Instagram account permanently:
Even if you delete the app, your account will remain intact. Launch Insta in your preferred web browser, be it desktop or mobile.
Log in to Instagram using your account username and password.
You can use either to sign in if your Facebook and phone numbers are connected.
Once you've logged in, head to the Profile page.
Click on your Username beside your Profile Picture.
At the top of the page is an 'Edit Profile' button. Click on it.
You will see a link for temporarily deactivating your account at the end of the page. Click on it, and you will get redirected to a new page. Since this is simply a stopgap measure, your newly formed account will remain intact.
If you want to delete your account permanently, go to the URL bar and write "permanent" instead of "temporary."
When you click that link, Instagram will take you to a page where you can permanently deactivate your account.
Select "Other" from the drop-down option and then "Delete Account."
Then you will be asked to re-enter your Instagram password to authenticate your identity.
Finally, click the "permanently delete my account" button.
So, your Instagram account gets deleted after these steps. Remember that deleting your account means losing all your followers, likes, comments, direct messages, and other profile data.
How Long Will It Take To Delete My Instagram Account?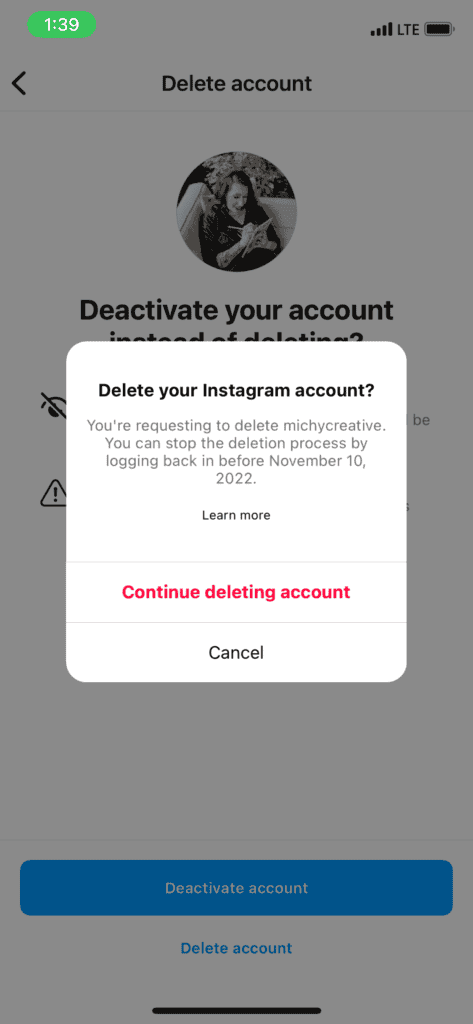 Permanent account closure instructions have been made available. The help center has clearly outlined the steps, stating that it will take 30 days to delete your account.
Your account will remain hidden so no one can see or access it. The backup data can take up to 90 days for permanent removal.  
The time frame is still a matter of speculation at this point. Instagram will not delete any accounts suspected of being spam or empty. Instagram's algorithm identifies and deletes inactive or bot accounts periodically.
Can I Delete Direct Messages Without Deleting My Instagram Account?
Yes! You can delete your direct messages on Instagram without deleting your Instagram account.
Sometimes, users want to delete old messages but do not want to lose their Instagram ID. Follow the steps below to learn how to delete direct messages:
Open Instagram on your smartphone.
You need to log in using your account username and password if you have logged out.
Click on the Instagram Direct icon once on your home feed page. It's the one that looks like a paper plane in the top right corner of the page.
You will see all your conversations now. Look for the discussion you wish to delete. If you use an Android phone, then long-press on the conversation and choose the delete option. IOS users swipe left to delete the chat.
Once you click the Delete option, you will see a pop-up confirming if you wish to delete that conversation. Click on the Delete button again. After that, your discussion will no longer appear on your direct messages page.
When you delete a direct message conversation, you will no longer see it in your inbox. However, this method will only delete the conversation from your end, and it will still be visible to people on the other end of the conversation. All users could see the discussion in their inbox if it was a group chat.
You can undelete individual messages if you don't want to remove the whole chat. When you click the alert, a window will appear from which you can choose to cancel the transmission.
Frequently Asked Questions (FAQs)
1. If I Delete the Instagram App From My Phone, Will My Account Get Deleted?
No, deleting or uninstalling the Instagram App from your phone will not delete your account. You won't be able to use Instagram on your phone, but your account remains there.
All your photos, videos, etc., will be visible to your followers and others if your account is public. If you want to delete all the information on your account permanently, you need to follow the steps to delete it permanently.
2. Will Instagram Keep My Data Even If I Delete My Account?
Instagram keeps data even if you delete your account because your comments and posts do not get deleted. Instagram offers an option of downloading a copy of your data to save it on your PC before permanently deleting your account.
3. What Happens to Old and New Direct Messages on Instagram?
If you permanently delete your Instagram account, all previous messages will be lost, so that you won't get any new ones.
If you have just removed the app from your device, nothing will happen to your messages. Upon reinstalling the app, you can see the old and new notes.
4. How Long Does My Data Remain With Instagram After Deleting My Account?
Instagram can take up to 90 days to erase your account and wipe all data. Some data may remain on Instagram's servers even if you delete your account.
According to their data policy, Instagram may keep your account data for more than 90 days, and this information retention is strictly for security and legal reasons.
Conclusion
There are two options for deleting your account; temporarily or permanently. Delete your account only if you know you will no longer use it. You will lose all your followers, likes, direct messages, and other data.
Instagram offers another option where you can deactivate your account temporarily. Your account remains hidden on the social platform, and no one will be able to see it.
When you feel ready to interact with the Instagram world again, you can reactivate your account and recover your data. However, you can't recover the data permanently if you've deleted your account.