Every gamer on the planet knows that upgrading your hardware can help you get better at any level of play.
However, when we think of upgrading, it's more of upgrading the console generation, your PC graphics card, or getting a lighter mouse.
Today, we're going to talk about upgrading one of the components that is extremely important for gaming and streaming yet hardly ever talked about: The router!
If you think upgrading your router can't help you get better at competitive online play or help your stream run at its smoothest, think again.
The router is almost as important as the internet connection itself, and you definitely can't stream or play competitively without a stable internet connection.
While you can pick up any router and start to play online on it, just like with a normal mouse and a gaming mouse, a router with good hardware and features can take your gameplay to the next level.
In a hurry? We care about your time! Have a look at our top 3 favorite picks when it comes to the best routers for streaming & gaming in 2023!
09/26/2023 02:57 am GMT
Why Go For Premium Routers?
Spending hundreds of bucks on a router could seem like a bad move, but these premium routers do have features that make them worth their price tags.
Premium routers come with high processing power that can reduce processing delays as the router communicates to the many devices connected to it. These routers also have features specific to gaming.
Unlike consumer routers, many routers targeted at gaming will come with a prioritized LAN port for low latency, high-speed connections to gaming-specific hardware.
They will also include features such as QoS (Quality of Service), which, in simple terms, will prioritize network packets generated by games over other packets that your PC, phone, or any other device in your house could be sending and help them get routed faster.
These features can maximize the potential of your internet connection by reducing any delays in routing the packets from your PC to the network.
Some premium gaming routers by companies like Asus will go a step further and help these packets traverse the network to gaming servers faster as well by including gaming-specific VPNs that can open up the necessary ports to any specific game server from their settings.
When streaming and gaming at the same time, it can help distinguish between the network traffic of each service and maximize the speeds accordingly.
These routers will also help you land the crispiest headshots with multiple other devices using the internet at the same time through multi-band connections.
So, if you want to play or stream the best, lag-free gaming experiences to your viewers without anything holding you back, you need to give one of these 7 top routers for gaming and streaming a try!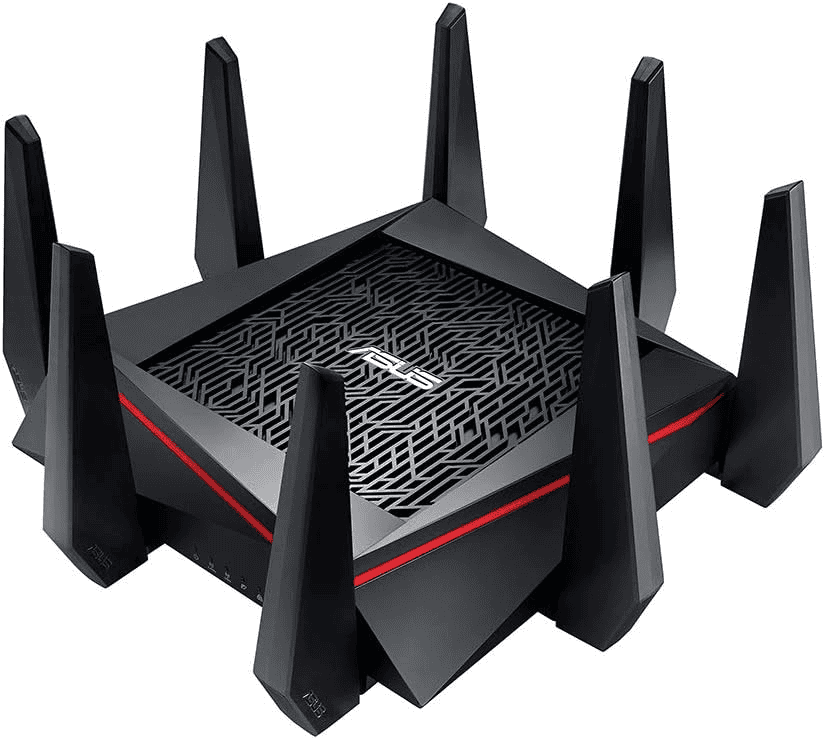 Most gaming routers can get expensive, and by that, we mean really expensive, often crossing the $500 mark.
The Asus RT-AC5300 WiFi Gaming Router costs only $190 on Amazon and is one of the best budget router options for gaming and streaming despite its relatively huge size.
This is a tri-band router with a 1.8 GHz quad-core processor, which is very impressive for its price.
The speeds on each band are also pretty impressive, with not one but two 5 GHz bands capable of 2167 Mbps max speed each and one 2.4 GHz band capable of 1000 Mbps max speed.
For wired connections, the Asus RT-AC5300 comes with 4 Gigabit Ethernet ports. While it lacks the dedicated 2.5 Gbps port like on the more expensive routers, for people with lighter connections, it won't pose much of a problem, and Asus makes up for the lack of the 2.5 Gbps port with an insane amount of features. 
The router supports beamforming, which makes its 8 antennas concentrate directly on a device.
It also supports Smart Connect to choose the optimal band for incoming network traffic, allowing games and streams to use less congested bands and send all other traffic to other bands.
Speaking of games, the router comes with a one-click Game Boost feature that uses an Adaptive QoS for giving gaming network traffic higher priority and connecting to WTFast's Gamer's Private Network, which can decrease ping across a variety of games regardless of your internet connection!
The router also supports Multi-User MIMO for simultaneous, latency-free connections.
Overall, the Asus RT-AC5300 is excellent value for money because of how feature-rich it is. It might not be the best in terms of raw speeds and ports, but it can still save you lots of ping and provide multiple latency-free connections simultaneously thanks to being tri-band and supporting MU-MIMO, which is a pleasant surprise at this price point.
Best Overall
ASUS WiFi Gaming Router (RT-AC5300)
Pros:
Strong and reliable WiFi signal

Ability to handle multiple connected devices

Easy setup and configuration

Good performance for gaming and streaming

Compatibility with mesh WiFi systems
Cons:
Incompatibility with certain devices

Occasional need for troubleshooting and resetting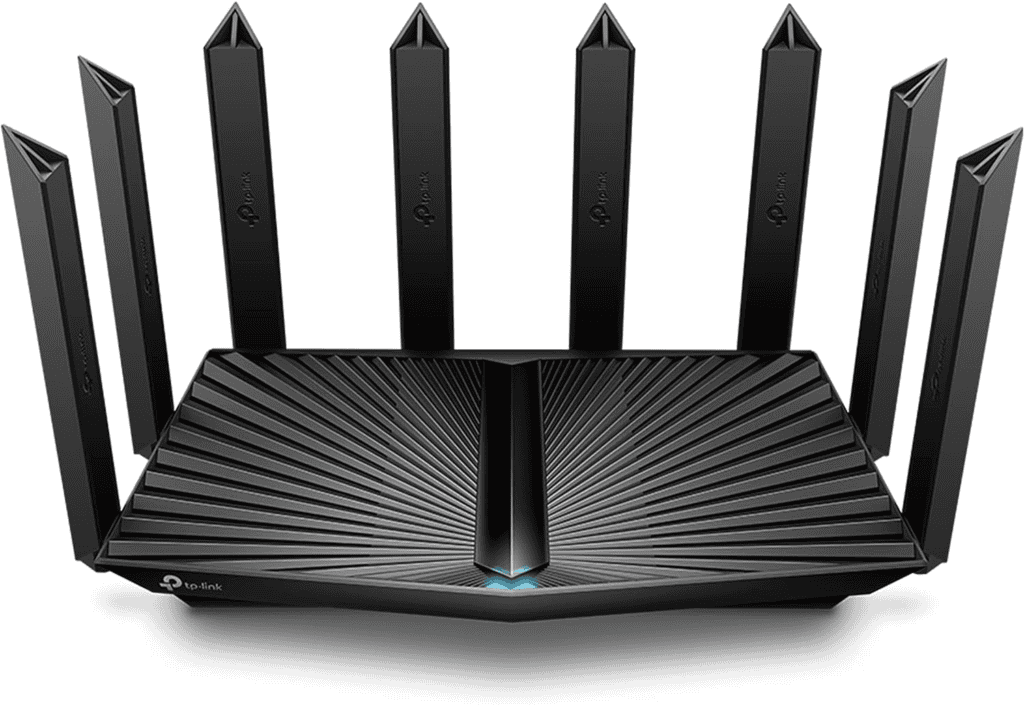 The TP-Link Archer AX80 AX6000 router supports the newer WiFi 6 standard with dual-band capability.
It has a dedicated 2.5 Gbps WAN/LAN port for uninterrupted, high-speed connection to your gaming PC and 8 other Gigabit LAN ports for a wide variety of other wired devices. You'll basically never run out of ports on this one!
With WiFi 6 technology, this router can deliver a maximum of 4804 Mbps on the less congested 5 GHz band and 1148 Mbps on the 2.4 GHz band!
Of course, while this is still nothing compared to the speed you can get on the dedicated 2.5 Gbps port for wired connections, it is still lightning-fast for a wireless connection.
Dual bands will help segregate network traffic and route your gaming network packets to the less congested 5 GHz band while keeping the other traffic to the lower speed 2.4 GHz band.
The Router supports QoS and can thus further increase the routing speeds for gaming network traffic. 
Latency and throughput are enhanced with premium technologies such as MU-MIMO, which can enhance efficiency for intensive tasks like gaming and streaming.
Since the WiFi 6 standard is implemented on the Archer AX80, we also get to see OFDMA, which means that packets sent from multiple devices at the same time will be handled simultaneously without any device having to face queueing latencies.
The router is future-proof as it supports OneMesh to increase range later on. That won't be necessary, though, because this router comes with 8 antennas and beamforming technology, which allows the total energy of the 8 antennas to be greater than the sum of its parts and hence increasing range to more than what would be possible with 8 antennas!
At only $230 on Amazon in 2023, this is a great bang for your buck router since most routers in this price range don't have nearly the same amount of features as the Archer AX80.
While still costly compared to basic consumer routers, this is a great entry point into the world of premium routers.
Runner Up
TP-Link AX6000 Wi-Fi 6 Router
Pros:
Easy setup

Good range and speed

Excellent customer support

Improved Wi-Fi signal

Fast internet speeds
Cons:
Mixed opinions on user interface

Average performance for basic networking needs

Variable experiences with setup instructions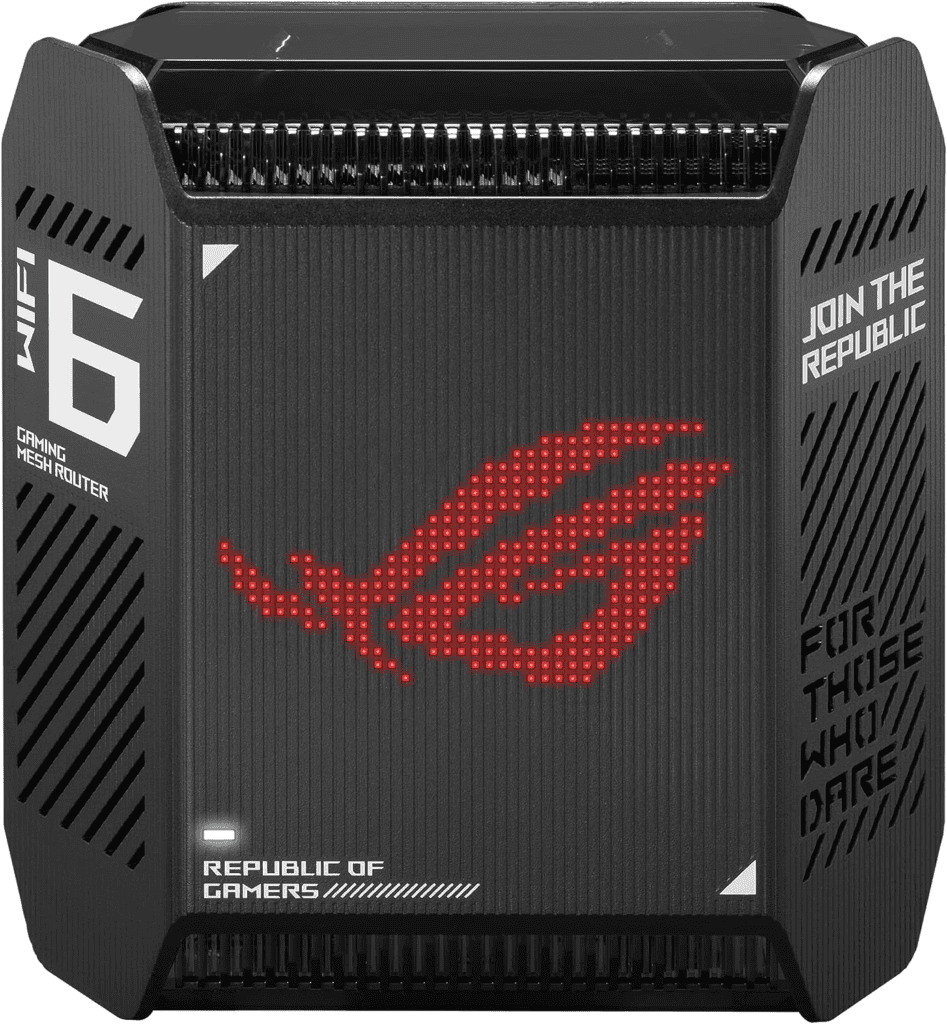 If gaming is your only need, the Asus ROG Rapture GT6 AX10000 will be better than any other router in the price range. At $250, we get to see some extreme gaming features and high tech with this tri-band WiFi 6 router.
While you may not see them, the Asus ROG Rapture GT6 AX10000 has a total of 9 internal antennas and one smart antenna that is capable of determining the location and direction of the best signal possible and can thus provide one of the best low-latency mobile gaming experiences!
The router comes packed with 3 bands that can provide an aggregate of 10 Gbps internet speed! The two 5 GHz bands operate with 160 MHz channels for the fastest possible bandwidth.
For wired connections to PCs and consoles, we get a 2.5 Gbps high-speed dedicated LAN/WAN connection port for the lowest possible latencies.
Alongside protective features like AI Protection Pro and Asus Instant Guard, we also get to see some high-level game-specific features.
The router comes with an efficient QoS that can guide the network traffic generated by games to the less congested bands and works with WTFast's private network to enable direct connections to gaming servers for low in-game ping!
This is one of the most aesthetic yet least talked about routers from Asus, and it definitely deserves some praise as it delivers really well on the gaming front.
There are better routers out there if streaming is your main goal, but for competitive gamers on a tighter budget, there is nothing that can quite compare to the Asus ROG Rapture GT6 AX10000!
Best For Gaming
ASUS ROG Rapture GT6 (AX10000)
Pros:
Easy installation with the app

Solid signal throughout

Consistent WiFi speeds

Cool design

Decent software
Cons:
Mixed experiences with tech-support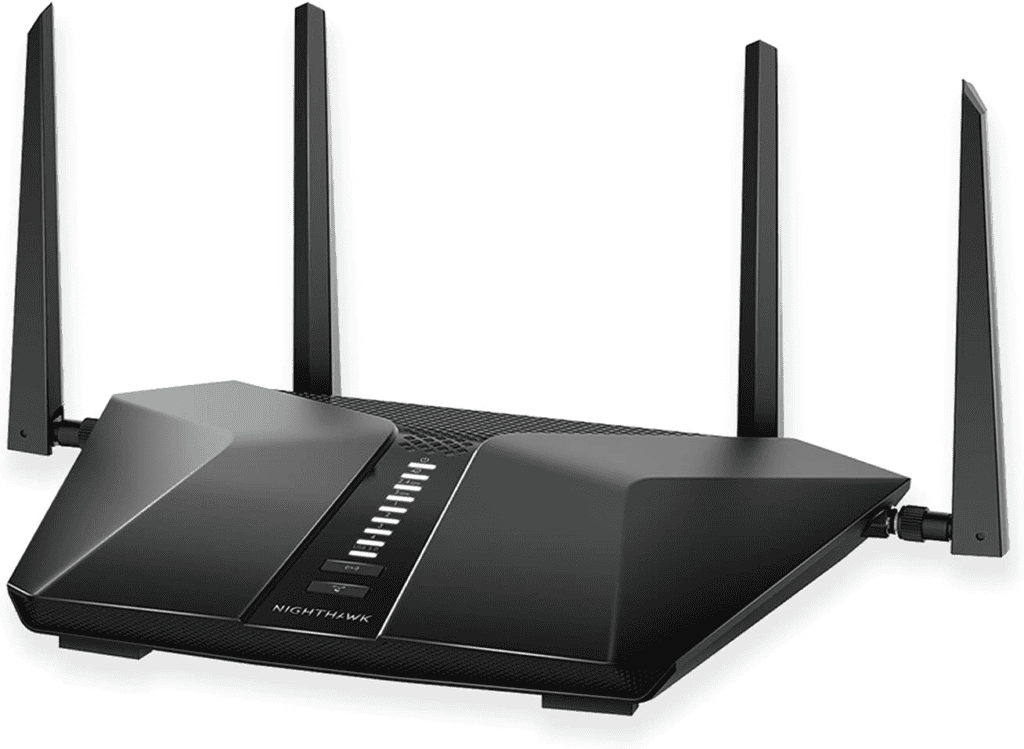 TP-Link's Archer AX80 is an amazing WiFi 6 router for gaming, but the Nighthawk RAX50 AX5400 is a true powerhouse for streaming.
This is Netgear's take on a dual-band WiFi 6 router. It is 6 stream and comes with a triple-core 1.5 GHz processor, 256 MB flash memory, and 512 MB RAM for fast internal operations.
The Nighthawk RAX50 comes with 4 Gigabit Ethernet LAN ports and 1 Gigabit Ethernet WAN ports. Its true potential, however, lies in its wireless capabilities.
Combined together, the 5 GHz and 2.4 GHz bands on this router can provide a lightning fast 5.4 Gbps connection at up to 2,500 sq. ft. and 25 devices simultaneously.
The router supports beamforming, MU-MIMO, OFDMA, and QoS to prioritize gaming network packets. The router is very easy to set up thanks to its app for remote access to your network.
The app also brings access to Nighthawk's internet security features, namely the Netgear Armor, providing an automatic shield of security to the network and making it even easier to use.
At $300, this is a little expensive, but for those who are looking for the most stable wireless connections for gaming on an easy to set up, easy to use, and easy to secure router, this is the perfect right out of the box solution!
High Performance
NETGEAR Nighthawk 6-Stream AX5400
Pros:
Quick and easy setup

Improved performance and coverage

Reliable and fast internet connection

Helpful customer support

Great brand reputation
Cons:
Intrusive Armor security trial

Flimsy Ethernet port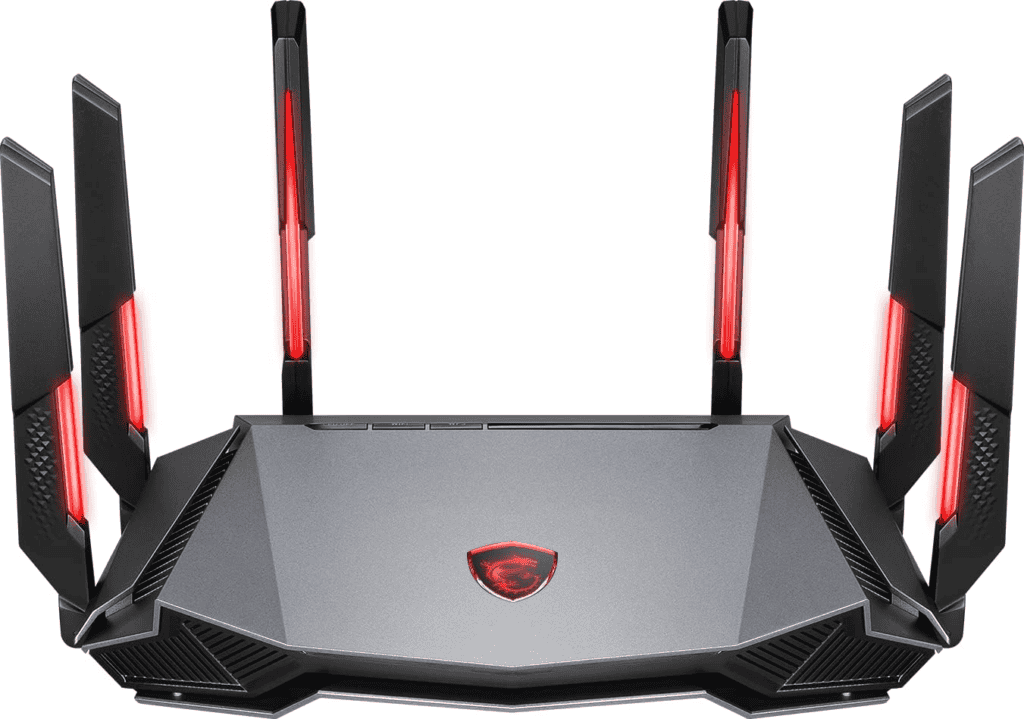 WiFi 6E is an extension of the WiFi 6 standard that can deliver much better speeds than the former version. At $350 on Amazon, you can get your hands on a gaming-oriented WiFi 6E router: The MSI RadiX AXE6600!
The MSI RadiX AXE6600 is a tri-band, 8 WiFi stream router with a 1.8 GHz quad-core processor and a quiet cooling system.
It has both 5 GHz and 2.4 GHz bands like other routers, but its main highlight is its third 6 GHz band, which offers far lower congestion and much more reliability than other spectrums.
The router clocks in at 574 Mbps on the 2.4 GHz band, 1201 Mbps on the 5 GHz band, and a whopping 4804 Mbps on the 6 GHz band!
For wired connectivity, you get 2 interchangeable internet or LAN ports, one of which is 2.5 Gbps, and 4 other 1 Gbps LAN ports. The router comes with all WiFi 6 technologies, including MU-MIMO, OFDMA, and beamforming.
MSI RadiX AXE6600 has a special AI-enhanced QoS that can automatically switch between gaming, streaming, and work modes to prioritize different tasks.
The RGB lighting on the router is connected to the QoS system and will change colors to reflect the mode it is currently set to!
All these features make the MSI RadiX AXE6600 an amazing router, but if you have MSI gaming hardware, you can take advantage of MSI First as well!
This can be accessed via MSI Center and will minimize lag and latency by prioritizing MSI products first. If you own MSI gaming products, look no further!
Best For Low Lag Gaming
MSI Radix AXE6600 WiFi
Pros:
Attractive design with RGB lights

Tri-band technology for seamless coverage

Good AI QoS for prioritizing gaming and streaming

Quiet operation with 1.8GHz Quad-core processor

Easy setup and user-friendly web interface
Cons:
Limited support for wifi connections in the 2.4G band

May not be suitable for homes with many smart home devices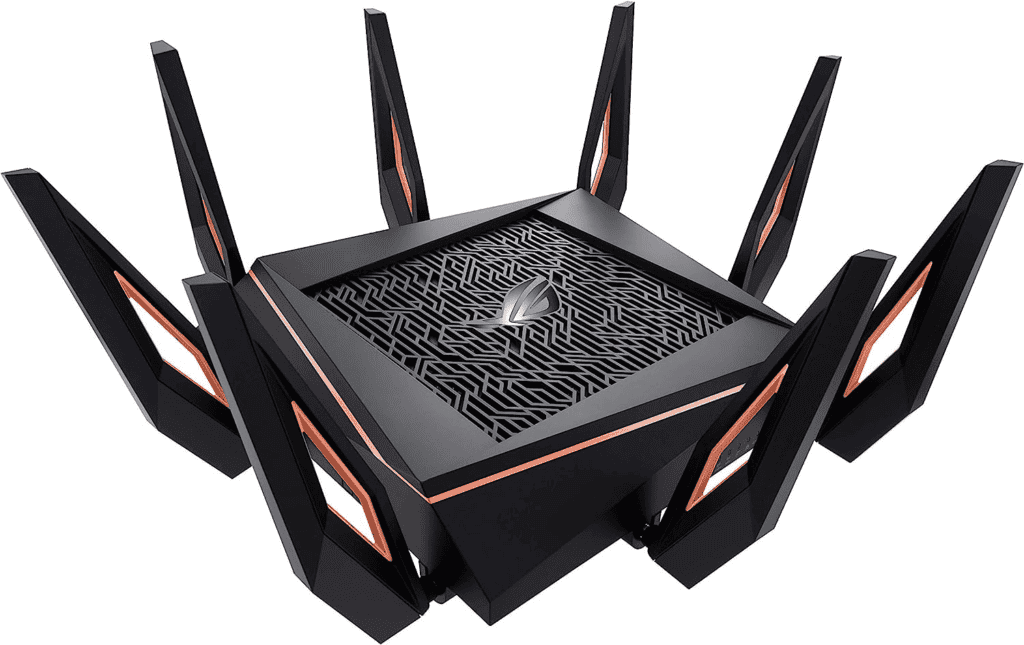 The Asus ROG Rapture GT-AX 11000 is a $470 gaming router, and apart from the expensive price tag, the huge size is pretty much the only drawback of this thing.
This is a tri-band WiFi 6 router with a 1.8 GHz quad-core CPU and an array of features present to minimize gaming latency.
The two 5 GHz bands and one 2.4 GHz band add up to a whopping 11 Gbps of throughput. One 5 GHz band is dedicated to gaming only, with 15 channels per band, thanks to DFS technology. It sports a 2.5 Gbps dedicated port alongside 4 Gigabit LAN ports and 1 Gigabit WAN port.
Similar to the Nighthawk, the Asus ROG Rapture GT-AX 11000 comes with lifetime internet security, this time using Asus AiProtection Pro. Asus's AiMesh technology can be used to increase this router's range with any other Asus router.
It also supports MU-MIMO, OFDMA, beamforming, and WPA-3 encryption. You can also run a VPN and a normal connection simultaneously if the VPN drags down game performance, which is a rare feature to find in routers!
The router supports a triple-level system to enhance the speeds of gaming network traffic. At the first level is GameFirst V, which prioritizes Asus gaming hardware to bypass any queueing delays.
The second level is Game Boost, which can be activated in the settings and will analyze the incoming traffic for gaming-related packets and accelerate them.
Finally, at level 3, the router uses the Gamer's Private Network from WTFast to provide more private, lower latency connections to game servers.
As a result, you can achieve some of the lowest latencies in your headshots getting delivered from your screen to the game servers!
If you are a serious competitive gamer, you can't go wrong with this router! Asus nailed the gaming latencies on the GT-AX 11000, and with tri-bands, it can do more than just gaming!
Premium Pick
ASUS ROG Rapture WiFi 6 Gaming Router
Pros:
Lightning fast backhaul and excellent WiFi performance

Easy setup process

Handles multiple 4k streams without issues

Integration with multiple VPNs is impressive

Highly recommended for its performance and cost
Cons:
Big size and unattractive appearance

Lack of usability with certain Smart C devices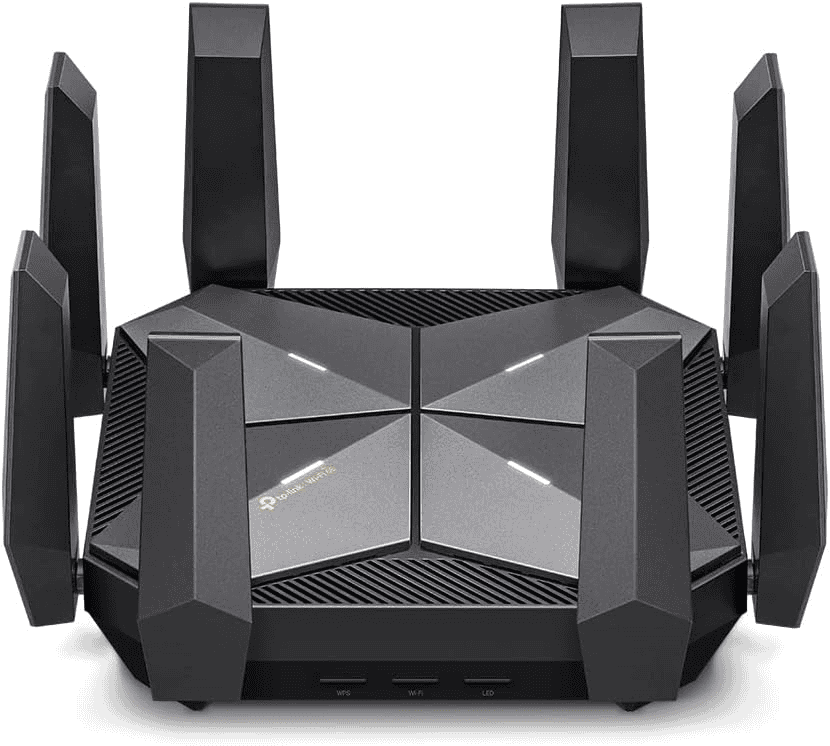 TP-Link leads the router industry with what is possibly the best consumer-grade router on the planet right now: The TP-Link Archer AXE300.
This $600 router is widely regarded as the best WiFi 6E router as of 2023. While this price may seem insane, so are the speeds on this quad-band 16-stream beast!
The Archer AXE300 comes with a 2 GHz quad-core CPU and 1 GB of RAM. Based on internal hardware alone, it leaves behind all the other routers on this list and provides extremely stable performance.
It is completely future-proof with not one but two 10 GbE LAN/WAN ports! It also comes with the usual 2.5 Gbps LAN/WAN port and four Gigabit Ethernet ports, which can be used in pairs of two to get 2 Gbps of total speed.
The quad-band system breaks into one 2.4 GHz band, two 5 GHz bands, and one 6 GHz band, with the 5 GHz and 6 GHz bands running at 160 MHz.
The 2.4 GHz and 5 GHz bands offer the same insane speeds as the Archer AX80 and the 6 GHz band offers a max speed of 4804 Mbps. With TP-Link's Smart Connect, incoming connections are automatically assigned the optimal WiFi band.
The router comes with OFDMA, MU-MIMO, and TP-Link's QoS, which you can set to maximize gaming network throughput.
Like the Asus ROG Rapture GT-AX 11000, you can simultaneously use a VPN and a normal connection to get gameplay speeds unhindered by any private networks. The router is also compatible with TP-Link's OneMesh system and HomeShield.
With the speeds you can get on the Archer AXE300, you can game on some of the lowest latencies with an 8K stream running smoothly in the background!
It is easy to see with this router why TP-Link is the leader of the industry. The price tag on this router does mean that it's not for everyone, but if you want the top tech for your top-tier internet connection, this is the way to go!
Fastest Internet Speeds
TP-Link AXE16000
Pros:
Excellent signal and performance

Ideal for Frontier FiOS customers

Powerful and high-capacity

Easy setup and firmware update

Supports new 6E band
Cons:
Expensive

Limited range for some users