Siri suggests contacts to help you connect to a particular person in one tap. Whether it's for texting, calling, or sharing via AirDrop, Siri shows contacts suggestion for you.
Apple introduced Siri in 2011 as an intelligent assistant to iPhone users. The dream of having your voice-assisting virtual assistant came true following the iPhone 4s'.
In the next few years, Apple developed Siri features to become more innovative and advanced in quickly getting your task done.
Now, Siri can instantly suggest who you want to text or call. Contact suggestions will pop up on your keyboard when you start to type a message based on who you interact with the most.
You can easily tap the contact to send your message using the suggestions. Thus, reducing the hassle of going through your contacts to find the right person.
How Are Siri Suggestions Determined?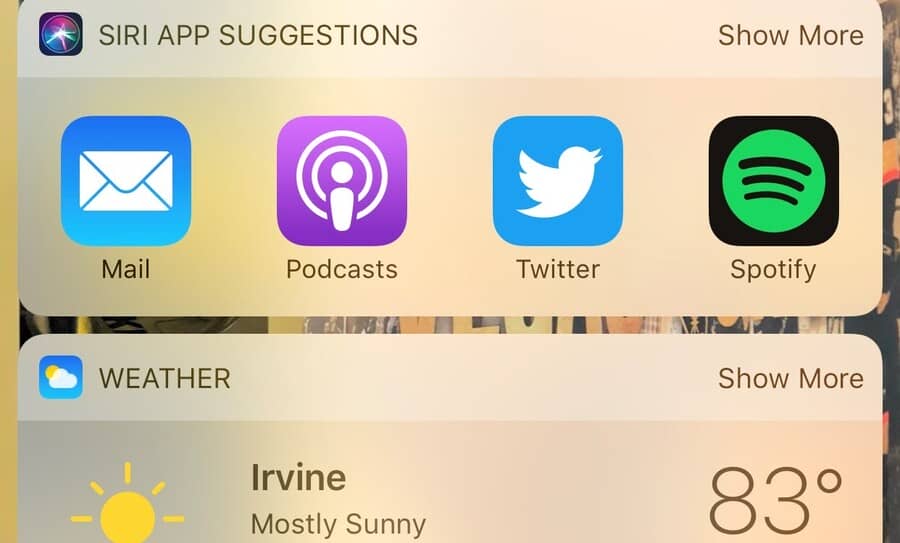 As you use your device, Siri learns more about you. Siri uses local and on-device processing to analyze how you use your device and apps.
Suggestions can be based on your daily routines, like when you wake up or someone you frequently contact.
In that way, Siri can use the information stored on your device to offer suggestions in calendars, messages, calls, apps, and more.
The data can be obtained from emails, browsing history, messages, and other apps installed on your device.
Siri is intelligent and adapts to your activity to offer ease of connectivity. Therefore, Siri may save your contacts or the names of the people you have previously connected with.
It can also save the details from your text messages, emails, or phone calls in its memory to suggest contacts in the future.
In addition, Siri may recommend include specific persons in a new email or calendar event before you've even started typing.
It can happen as Siri observes your previous emails or event details. Therefore, Siri will suggest related people who may be involved in the new event or email.
Siri can also suggest the person behind an unknown call, and Siri can let you know the number's owner by accessing the phone number included in your emails.
You will also get a suggestion when typing text messages. Based on your previous conversation, Siri may suggest places, dining, or other information to include in your text.
Furthermore, you can optimize your experience with Siri across your devices. If you have multiple Apple devices, Siri will help to sync all your data through iCloud as it learns about you in one of your devices.
It is because your personal information stored on your iCloud stays current on all devices you signed with the same Apple ID.
How Do I Stop Siri From Suggesting Contacts?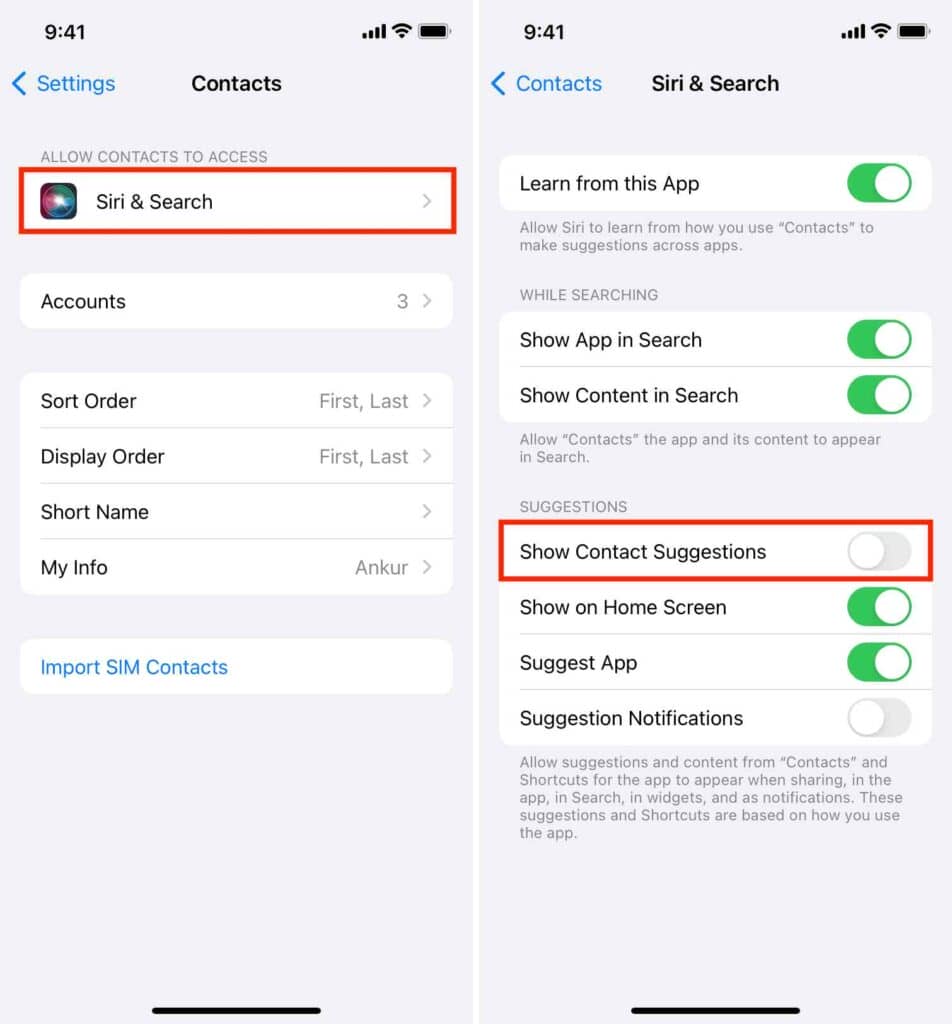 Despite having an advanced technology feature, sometimes users find Siri suggestions distracting. If you feel that you don't need Siri's suggestions, you can turn it off by changing the settings of your iPhone.
To turn Off Siri suggestions For New Contacts;
Go to Settings > Contacts > Click on Siri & Search > then toggle 'Show Siri Suggestions for Contacts.' on/off.
If you don't want Siri to suggest contacts on the home screen, turn off 'Show on Home Screen.'
If You Want To Stop Siri From Suggesting Contact Information In Other Apps;
Go to Settings > Open Contacts >, tap on 'Siri & Search' > Find 'Learn from this app,' then toggle it to turn off.
Furthermore, if you find it disturbing to have suggestions notifications coming in, you can also personalize it.
Go to Settings > Tap on Contacts > then click 'Siri & Search' > Find 'Suggestion Notifications,' then turn it off.
What Can I Do If Siri Shows Wrong Contact Suggestions?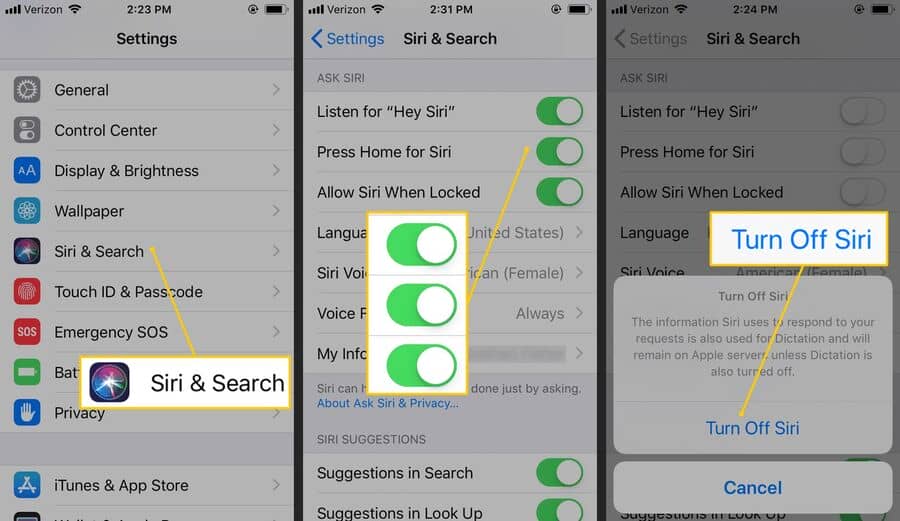 Sometimes, Siri suggests a contact you have not contacted for a long time or a contact you have never communicated with before.
To explain this, remember that Siri saves your data and activity on your iPhone. When a contact suggestion appears, it means an activity occurred between you and that person. Therefore, you can trace all your activities related to that person.
For example, you can check in apps like Facebook if any communication or interaction does occur.
A person may have invited you to a Facebook event in a possible scenario, but you didn't respond. Thus, Siri detected the invitation and suggested the contact as someone you might want to respond to and connect with.
You must first decline the Facebook event to stop Siri from suggesting it. Then, turn off 'Set to show Facebook event' on your Apple calendar. You may need to restart your device if the contact suggestion re-appears.
If the problem persists, you must stop Siri's suggestions across apps as a last resort. To do this;
Go to Settings > Choose Contacts > Tap on Siri & Search > Turn off 'Learn from the app.'
This action will stop Siri from learning from other apps to suggest contacts.
On the other hand, there's also a situation where Siri suggests the wrong contacts as your family members. Siri can keep your family members' contacts in its memory.
Even so, to do that, Siri needs confirmation from you. Thus, if Siri suggests the wrong contact as your family member, you might accidentally 'confirm' that the contact is your family member by adding him.
Therefore, it's your responsibility to inform Siri of the right contacts of your family members.
You can go to the Contacts app, select your family contact card, then tap on edit. Scroll down until you see 'Add related name.' Tap the option, and you will see a new field appear.
You can select the relationship status and the contact you want to assign from your contact list.
Summary
Siri suggests contacts to help you stay in touch effortlessly, and Its main intention is to ease your way of using your device.
However, if you find Siri suggestions distracting, you can personalize them in your iPhone settings.
Siri's suggestions come from an analysis Siri made through your device. Siri monitors your routine and how you use your iPhone and will save the information for suggestions later on. The more you use your device, the better Siri knows about you.
In conclusion, there is no doubt Siri has beneficial features that help users use their Apple devices more effectively and seamlessly.