You love your iPhone.
It never lags, runs your apps buttery smooth- and looks amazing while doing so!
However, there may be certain apps and games you love from the Android universe that you wish you could enjoy in the Apple ecosystem as well.
Believe us when we say you're not the first to wonder if this is possible!
The strict control Apple has over its products and services may not match your desire to experience more out of your phone.
Android has always been the more liberal of the two operating systems. The open Android culture is almost a polar opposite of the strict, closed-off enclosure that is Apple.
So, the question is:
Can you install Android apps and games on iOS? Is there an iOS APK installer available?
Well, the answer is both yes- and no.
Can An APK Be Installed On iOS? Not Usually- But There Is A Way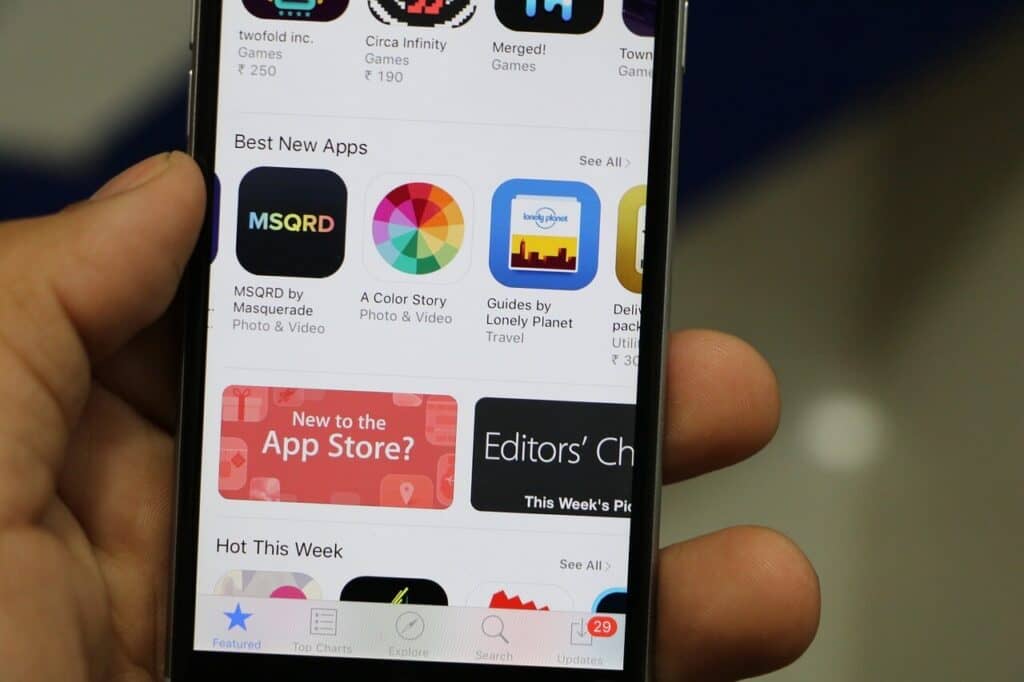 First of all, you cannot directly install an Android app on an iPhone.
Android apps are created in the form of APK files.
Therefore, the app will have a .APK extension in its name. These APK files are coded with Java, C++, C, and other languages.
iOS apps, on the other hand, are made in the form of IPA files, thus giving the app file name an .IPA extension. IPA files are coded with the Xcode language.
Therefore, installing an Android app or game directly on an iPhone is not possible. The different approaches to compiling and running apps in the respective Android and iOS ecosystems make that impossible.
So, how can you enjoy Android apps and games in the Apple operating system?
The best solution is to use an iOS APK installer in an emulator.
How Do I Open APK Files On iOS?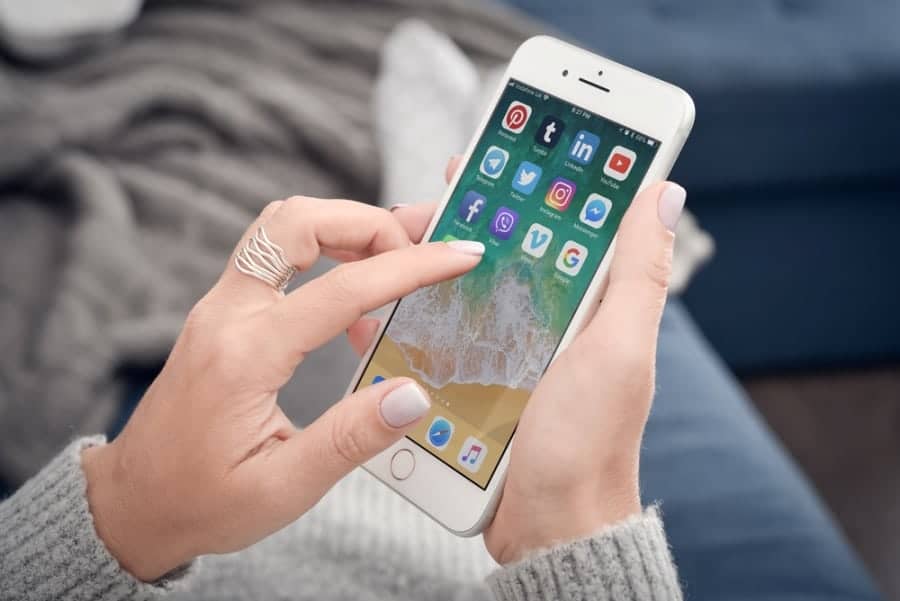 The Solution: Using An Emulator
An emulator is an app that simulates the environment of another type of device.
In this scenario, the emulator is an app that will allow you to access the Android environment on your iPhone.
Instead of having to buy a separate Android device just so you can access your favorite apps and games, it's possible to install an app on your iPhone that gives you a similar experience.
At the same time, all your other iOS functionality remains the same. You can also use this emulator on your iPad or iPod Touch.
Sounds good, right?
However, as you might imagine, it's not exactly compliant with Apple's T&C's.
The actions below will most likely void any existing warranty and can even cause irreversible damage to your iPhone- so please proceed with caution!
Jailbreaking Your iPhone
As your iPhone most likely runs the latest version of iOS, you will need to jailbreak it in order to eventually run Android apps.
Jailbreaking an iPhone enables you to install Cydia, through which you can then install an emulator that gives you access to Android apps on your iOS device.
But wait- what is jailbreaking, and is Cydia, a person..?
We'll get to Cydia a bit later on. Let's first take a look at what jailbreaking is and how it works!
What Is Jailbreaking On An iPhone?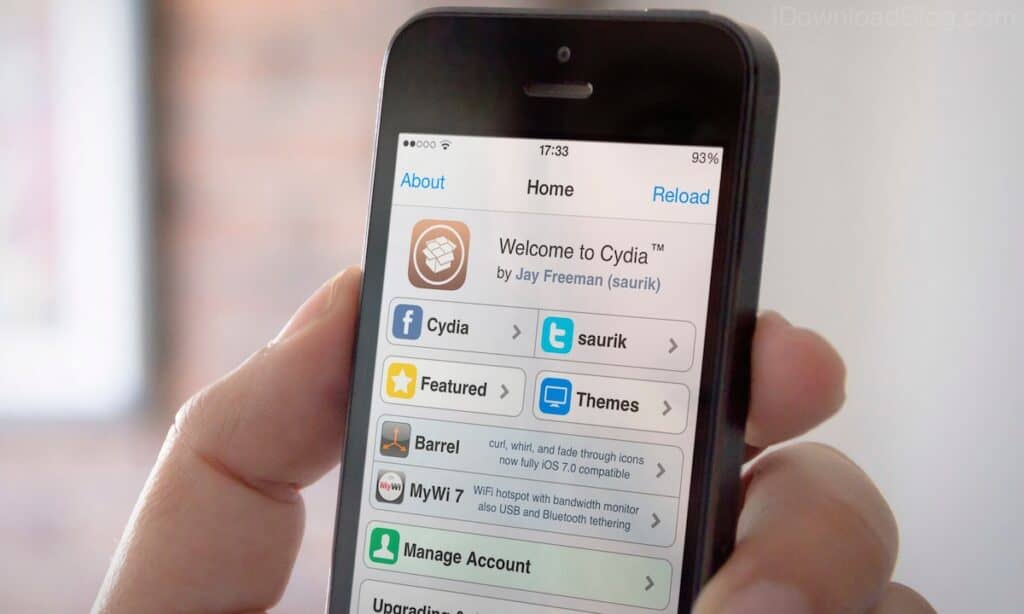 'Jailbreaking' is the process of removing the software restrictions put in place by Apple on their mobile devices.
The process allows you to install apps and games on your Apple mobile device that you otherwise wouldn't be able to find in the Apple App Store.
However, it's not all positive.
Due to the nature of the action, jailbreaking can open the door to your phone becoming more vulnerable to malware and viruses. These threats can be somewhat mitigated by installing a good antivirus app, but it's still risky.
It was possible with earlier versions of iOS to skip this jailbreaking step and get straight onto installing Cydia. However, that's unfortunately no longer the case with the latest versions of iOS.
We won't be detailing the exact specifics of how to jailbreak your iPhone here; we'll leave that to the myriad of other experts available on the internet.
Installation Through Cydia
After you've jailbroken your phone, you'll then need to first install Cydia before you can install any emulator. Again, you'll be able to find numerous Cydia installation guides online.
Cydia is essentially an alternative to the official App Store.
It's where you can go to find apps you otherwise would not find on the official store, since Apple has a strict policy regarding which apps they allow onto their store in an effort to maintain standards of quality control, security, and consistency.
While understandable, the major problem is that this sometimes denies truly unique, awesome apps and games from making it to their platform.
No doubt you've got firsthand experience of this yourself- seeing as you're here looking for ways to access apps and games that aren't currently available!
As mentioned earlier, while Cydia offers you a more comprehensive range of options, there is an increased danger of malware infiltrating your phone. Therefore, be very careful about which apps you install from Cydia.
How To Install An Emulator Through Cydia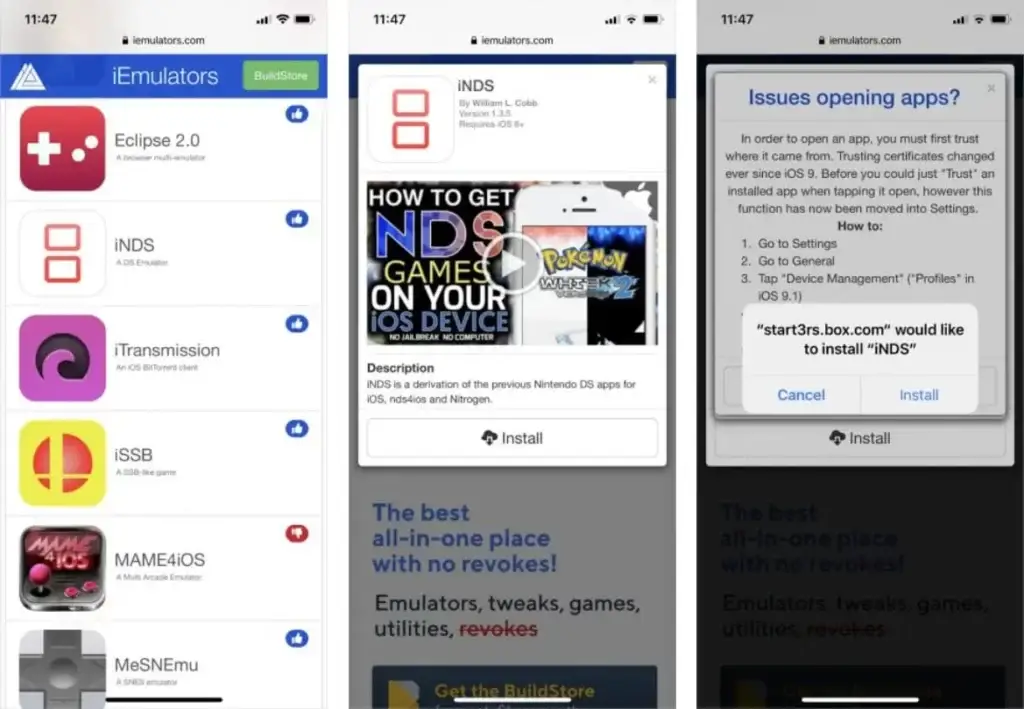 Launch Cydia on your device and then click the "Manage" button (it should be at the bottom).
This will present you with three options. Tap the "Sources" option.
The next step is to search for the source. Look for http://apt.modmyi.com, from where you will download the Android emulator. The app you'll be looking for is called iAndroid.
Once you come across iAndroid, tap on it to begin the installation process.
The process may take a while; please wait for it to complete before going back to the home screen.
After it's installed, you should now be able to see the iAndroid app button among your other apps. Tap on it to launch the Android emulator.
Via this installation process, it will become possible to access your favorite Android apps.
An emulator is the best way for you to access those Indie games and apps or classics that developers never bother creating corresponding iOS versions for.
It also enables you to tinker with your phone beyond what Apple allows with their strict operational environment.
An iPhone is technically capable of much more than what Apple allows its customers to access and control. Remember to read app and game reviews, as well as research developer rankings and reputations before installing any products!
The Alternative (Passive) Method
Most apps are typically released on iOS first before making their way to the Google Play Store.
However, there are a few that will only be launched on the Google Play Store initially, with iOS versions following if the demand proves high.
Therefore, you always have the option of waiting for a few months to access the potential iOS version of a game or app. If iOS versions do become available, it will run smoothly without the need for an emulator.
The more popular the game or app, the higher the likelihood of both an Android and an iOS version eventually existing.
You just may need to be a little (or a lot) patient to finally get access to it!
In Conclusion
To sum up: Yes, it is possible to access Android apps and games on an iPhone.
While you cannot directly install APK files on iOS, the best way to access an iOS APK installer is through an emulator.
It can be a bit of a technical process but may be worth it in the end to download your favorite applications.
Always be careful about which apps and games you choose to install! It's essential to follow the installation instructions carefully to ensure that the process goes smoothly and without error. Be especially vigilant when in the jailbreaking part of the process.
Once you get it right, you'll open up a whole new world of amazing apps and games that you otherwise wouldn't be able to get from the App Store!
At the end of the day, your phone is yours to use how you see fit- and this is just one of the ways for you to unlock its full potential.
Just imagine how much you'll relish getting to access classic games, niche offerings, and productivity apps from the Android ecosystem on your beloved iPhone!
The latest smartphone technology got you feeling amazed? Click HERE for a deep dive on the State of the Smartphone in 2022 (and beyond!)