In the same way that you can use Wi-Fi and Bluetooth to transfer files from one device to another, you can use AirDrop to share your files wirelessly from iPhones, iPads, and Macbooks.
The files that can be transferred include any images, videos, websites, or locations. Using AirDrop, you can easily share media at your convenience.
"But, How many photos can I share with AirDrop?" I hear you ask.
The best part about all of this is that there is no limit specified. Be it the size of your data, or the number of pictures, there are no restrictions whatsoever!
You can theoretically share as many photos and videos via AirDrop as you'd like with nearby devices.
However, though it will be quick, that's not to say that the sharing will be instant. The time that it will take depends on the size of the files that you are sending.
Along the same lines, it is also possible for a transfer to fail if you try to share too much data in one go.
Therefore, sharing a limited number of files at one time will help to ensure transfers stay effective and efficient.
Despite that, it is possible to share entire albums so that you do not select photos manually.
Even if you do this, the quality of data is not compromised, and everything will be shared securely.
Does Airdrop Have A Limit?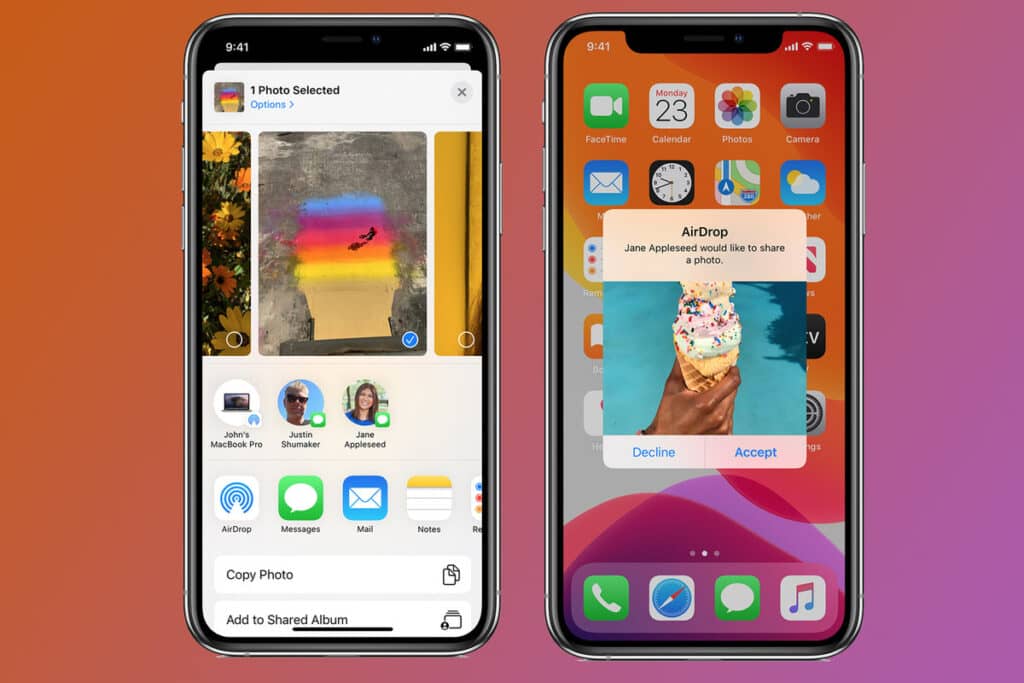 If you're tired of the limitations social media places on sharing multiple pictures at once, let me walk you through the advantages of using AirDrop instead.
In short: Airdrop has no limit!
There is absolutely no limit specified on either the file size or the number of photos you can share at once.
Apple has never made any mention of a limit, and it doesn't look like one will ever be imposed.
Keep in mind that it may take more time to transfer large files, or if you attempt to share a large number of files. Having said that, it usually takes less than a minute to share all of the data.
This is the major advantage associated with AirDrop.
Unlimited file size sharing allows for pure convenience for AirDrop users, as files are transferred as quickly as their respective hardware allows.
In addition to this, you don't require a WiFi network or internet connection to share these files, and you do not share any bandwidth with anyone else.
To sum it all up: Airdrop allows iPhone users to share multiple photos at once- all at full resolution, too.
Isn't that amazing?
Can You AirDrop All Photos At Once?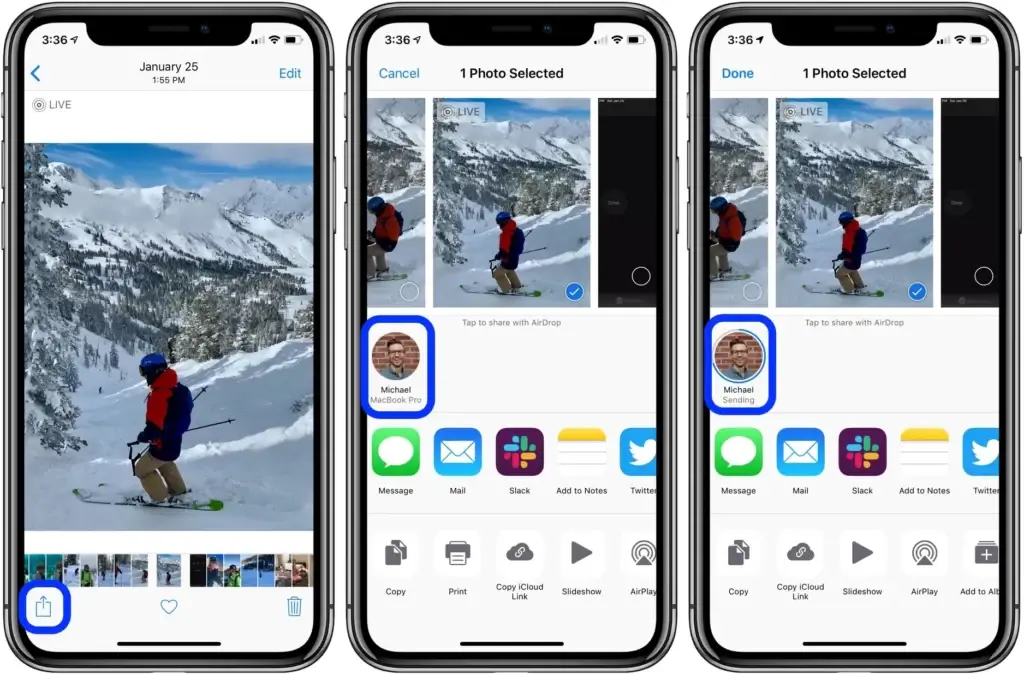 When Apple initially launched AirDrop, a copious amount of questions began to arise from intrigued consumers.
They were understandably eager to know all about how Airdrop operates, and what the limitations were.
But the question that burned greatest on everyone's minds remains pretty much the same to this day:
Can you AirDrop all your photos at once?
The answer to this query: Yes!
You will no doubt be amazed to find out that you can share even thousands of pictures at once using AirDrop.
As already mentioned above, Apple has not specified a limit on the number of pictures you can share at once.
And the best part is that the transfer process does not degrade the quality of the images.
But again, although there is no limit, transferring a large amount of pictures using AirDrop can be somewhat troublesome at times- especially when the file size is extremely large. To combat this slight downfall, a good RAM and processing unit is needed.
Since AirDrop uses your hardware to transfer images instead of using any network, it will engage said hardware for a long period of time.
Therefore, while you can theoretically share all your images all at once and just let your phone sit there, the best way to share via AirDrop may be to select images and send in small batches instead.
This will minimize the instances of sharing failures and ensure that the least amount of time is wasted!
How Do I Airdrop An Entire Photo Album?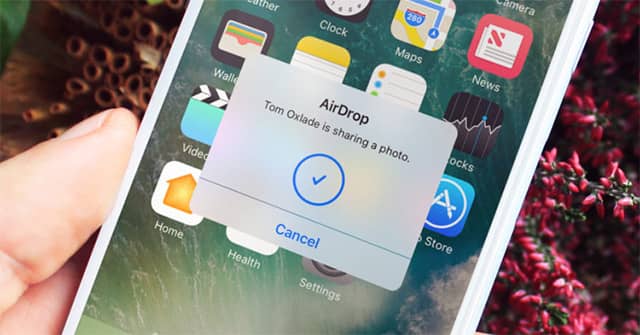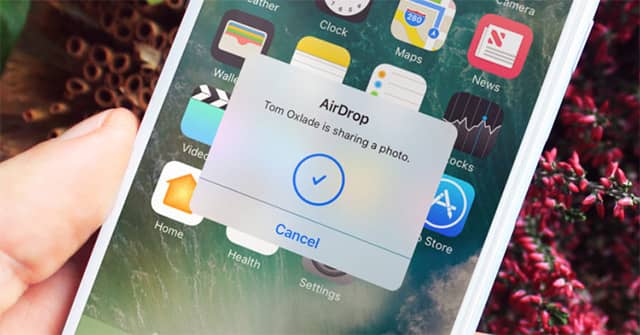 While AirDrop allows users to share multiple images simultaneously, the more difficult task is selecting the pictures you want to transfer from your gallery.
To make your task easier and consume a relatively smaller amount of time, it may be useful to simply select the 'Moments' that combine a smaller group of images.
'Moments' are automatically formed by the device based on the time or location of the pictures, and removes the process of selecting all of the pictures one by one.
After selecting the photos, tap on the Share button (Box with an upwards arrow– available in the bottom left corner of your display screen) to share images using AirDrop.

The next step is to select the AirDrop option.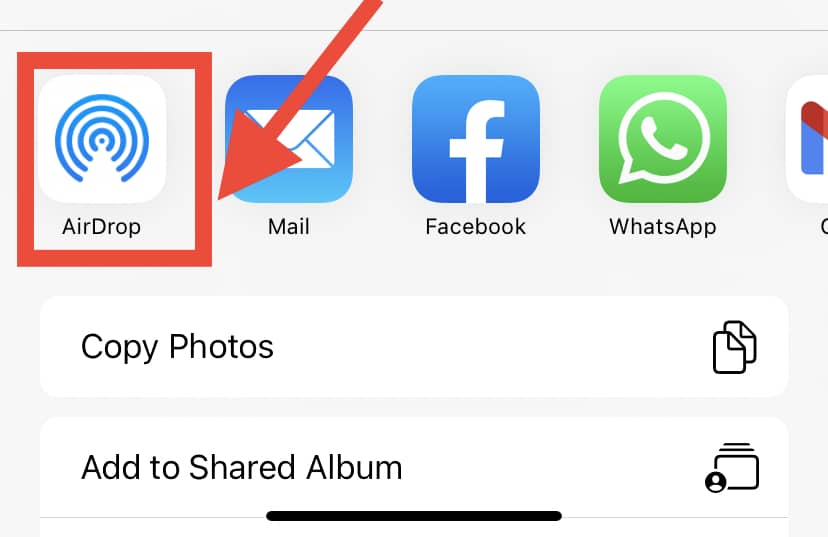 This will provide you with a list of AirDrop users available nearby. The profile pictures of each AirDrop user will be visible so that it is easy for you to spot the right person.
If you cannot find the user you want to share photos with, ask the recipient to change their privacy settings and then try again!
How Long Would It Take To Airdrop 1000 Photos?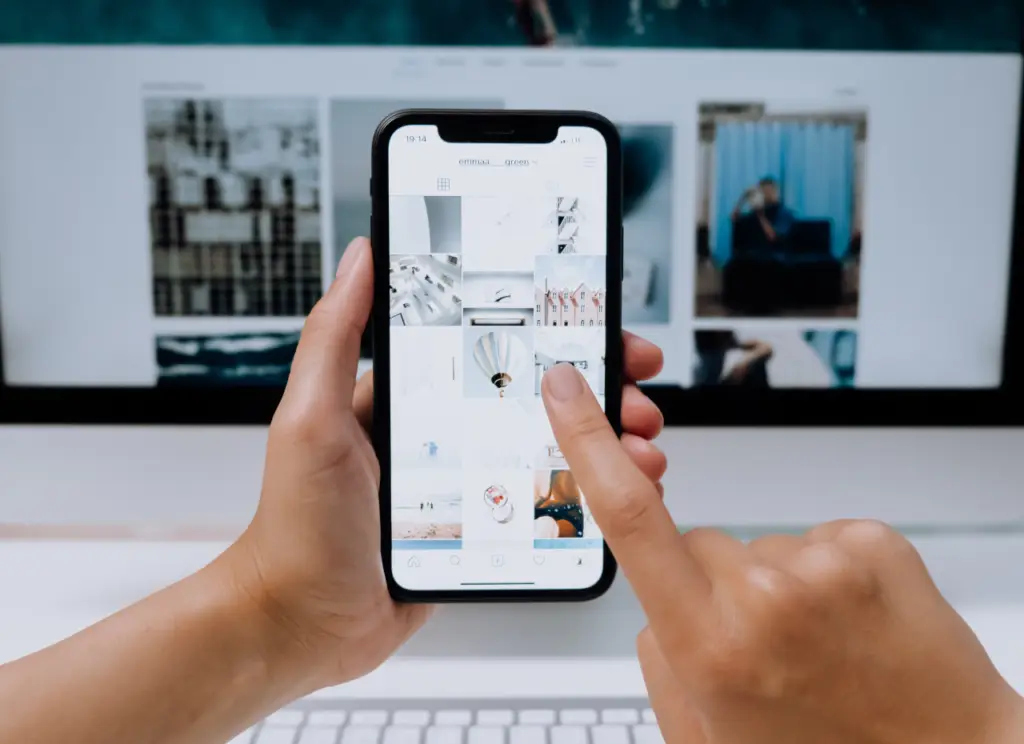 Are you also amazed by the benefits of AirDrop and are itching to get started using it?
It is very natural for one to assume that due to AirDrop allowing multiple photo-sharing options- including no limit on the number and size of pictures- that it may take hours to share.
I can assure you right now that it takes just under a minute for an AirDrop transfer to send all the data to your nearby device.
You can share as many as 1000 photos from your Apple device to another AirDrop user within 60 seconds!
If the file size is very large it might take a little longer, but AirDrop users have confirmed that it typically takes less than a minute to transfer data.
Even if the photos are of high resolution, AirDrop transfers them while maintaining complete integrity.
It takes around 2 seconds for an AirDrop to transfer a small batch of about 100 pictures at once. That speed is impressive, for sure.
It's important to know that a file transfer will fail if the device receiving the files has insufficient space.
That's another reason why it is highly recommended to share smaller batches at once.
In case you are met with difficulties regarding storage space, you will know this more quickly and as a result won't waste your time!
In Conclusion
AirDrop is a major advantage for all Apple users. Twenty years ago, no one would ever have imagined that so much data could be transferred with blazing speed and flawless security.
In response to the question, "How many photos can I share with AirDrop?" The answer is:
There is no limit! You can transfer as many photos as you want, and some users have even been successful in transferring 1000 photos in one go.
Do be aware though that transferring so many files will take a longer amount of time, and the likelihood of the transfer failing will also increase.
Despite those caveats, it is still incredibly exciting to be able to share large files with so much ease. Through AirDrop you can also exchange data between any iOS device, whether that be iPhone, iPad, or Mac.
And since all the transfers via AirDrop are encrypted, you do not have to worry about the security of your data at all!
The only requirement for a smooth transfer is suitable hardware since AirDrop transfers data using hardware and the speed depends primarily on this factor.
If you use other cloud services such as Google Photos to transfer your images, you may have noticed that the image quality gets suppressed.
In the specific case of Google Photos, it only provides you with two options to upload pictures, and unfortunately quality decreases with both. However, you will not encounter this issue while making transfers through AirDrop.
One thing to make sure of is to keep both the devices within nine meters of each other during the transfer. Also, make sure that the Personal Hotspot feature is switched off on both devices!
In my humble opinion, AirDrop is the best option for iPhone users when it comes to sharing files and photos with others.
It transfers your photos all at once, without reducing the quality- and in less time than any other alternative. What more could you want?
Apple has been the dominant pioneer of the mobile tech world for the past two decades. Learn more about what makes their iPhone an icon not just in the present day, but for the ages to come as well!