Since the introduction of video-centric social media platforms such as Instagram and TikTok, using different types of equipment for creating videos has become a topic of interest amongst content creators.
With so many technological advancements in the telecommunications industry, numerous individuals use their cell phones to create video content.
With approximately 113.5 million iPhone users in America, the iPhone is one of the most popular cell phone brands in the United States. Therefore, many content creators use the iPhone to make their videos.
With so many users across the continent, one of the most popular questions these individuals want to know is: "How long can iPhone record continuously?".
Firstly, it can record videos for a continuous period. This depends on factors such as the model of the phone, video quality, resolution, internal storage, and video format. Several factors can affect how long an iPhone can record.
As such, many questions surround an iPhone's video capabilities. To make life easier for iPhone users across the globe, we have taken on the task of answering some of the most common questions related to the duration of recording time with an iPhone.
What Is the Time Limit on iPhone Video Recording?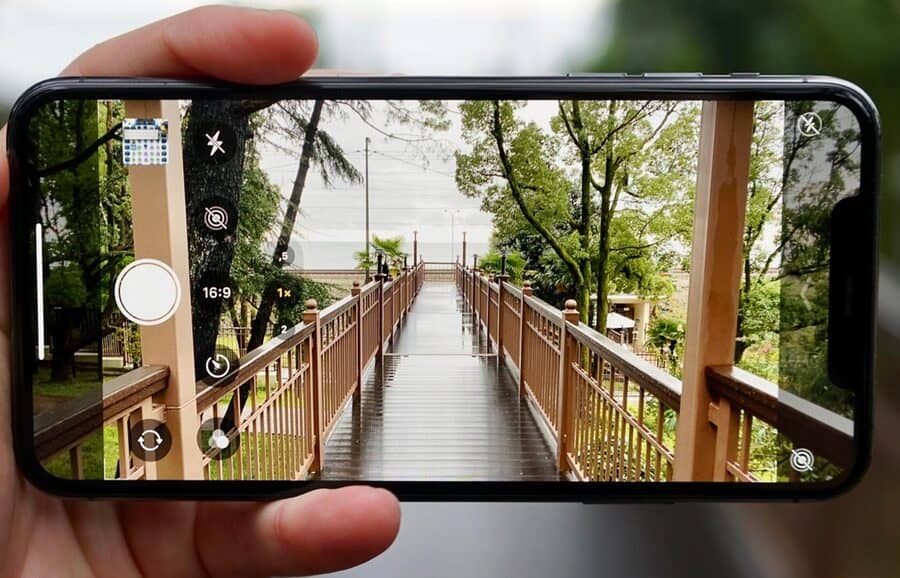 Many factors can affect the time limit of a video recording—however, one of the main factors affecting the time limit involves resolution.
With technological advancements, users can use more features to take pictures and record videos. The newer model of the iPhone can allow the user to choose between three types of resolution for their videos, namely, 720p HD, 1080p HD, and 4k HD.
In addition to the resolution, the frame rate can also affect the duration of a video. For video recording, the frame rate refers to the frame rate per second, which refers to the number of images captured. For most iPhones, users can use a frame rate of 24 fps, 30 fps, or 60 fps.
The resolution and frame rate directly influence the duration of your videos. The time limit for video recordings will depend on the resolution and frame rate you choose for each video. For example:
A video created at 720p HD using 30 fps will result in a video that is 5 hours long.
Using a 1080p HD with 30 fps can result in a video that is 3 hours and 15 minutes. However, a 1080 HD with 60 fps can create a two-hour-long video.
A user can create a video at 4K HD on an iPhone at 24fps, 40fps, or 60 fps. These have a time limit of one hour and twenty-four minutes, one hour and six minutes, and thirty minutes, respectively.
How Long Can iPhone 13 Record Video Continuously?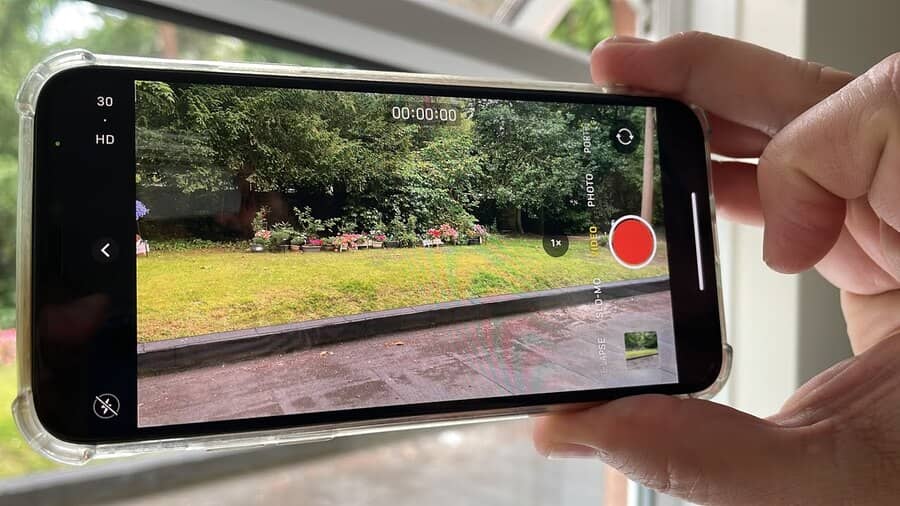 Apple recently launched the iPhone 13, one of the brand's most popular models. In America, within the first six weeks of release, sales for the iPhone 13 were 14% higher than that of the iPhone 12.
This shows that the iPhone 13 has many unique features that users find desirable. For video and content creators, the iPhone 13 has many attractive features in terms of video capabilities.
Some of these include the ProRes video software by Apple and recording videos with Dolby Vision using HDR.
Aside from factors such as resolution, storage space, and video quality, battery life significantly affects how long a phone can record. Luckily, the iPhone 13 is a phone type with one of the most extended battery life from Apple products.
The battery of the iPhone 13 can last up to 7 hours and 45 minutes. This has a considerable effect on how long the iPhone can record continuously.
The actual duration of how long it can record will depend on the resolution, video quality, and frame rate. However, based on battery life figures, content creators can record extensively.
Can I Leave My iPhone Recording Overnight?
For many years, individuals have been using their phones to record activities for an extended time. Sometimes, the user needed to record videos overnight for events such as sleep studies.
So yes, users can leave their iPhones to record overnight. Apple proved the videoing capabilities of the iPhone 11 Pro with the Hermitage video. This video was created using 4K HD for five hours, nineteen minutes, and twenty-eight seconds.
Despite the great video capabilities of the iPhone, there are a few things that you need to consider if you want to record a video overnight. Some of these factors include:
Battery Life
For most of the new models of iPhones, the battery can last for an extended amount of time as they have a battery capacity of just over 3000 mAh. For instance, the battery of the iPhone 13 can last approximately seven hours.
However, if you aim to record a video for a long time, your iPhone could die. Therefore, keep your phone connected to a charger if you are considering recording a video overnight.
Storage
The amount of free storage space on your iPhone significantly affects how long you can record a video. Your phone can only record if you have enough video storage. Storage is an issue among content creators who use their iPhones to create videos.
The default video recording setting is 1080p HD at a frame rate of sixty. One minute of video time equals 100 MB of storage when using this setting.
Most iPhones have internal storage ranging from 64 GB to 512 GB. For users who record videos all the time, the iPhone might need more storage for your needs.
Therefore, if you aim to record a video for an extended period, ensuring that you have enough space to store the video would be worthwhile.
One method that users can use to save space on their iPhones is to lower the resolution and frame rate settings.
This can help you to save a significant amount of space on your iPhone. For example, one minute of video time using 720p HD at 30 fps is approximately 45 MB.
Does the Type Of Videos Affect How Long I Can Record?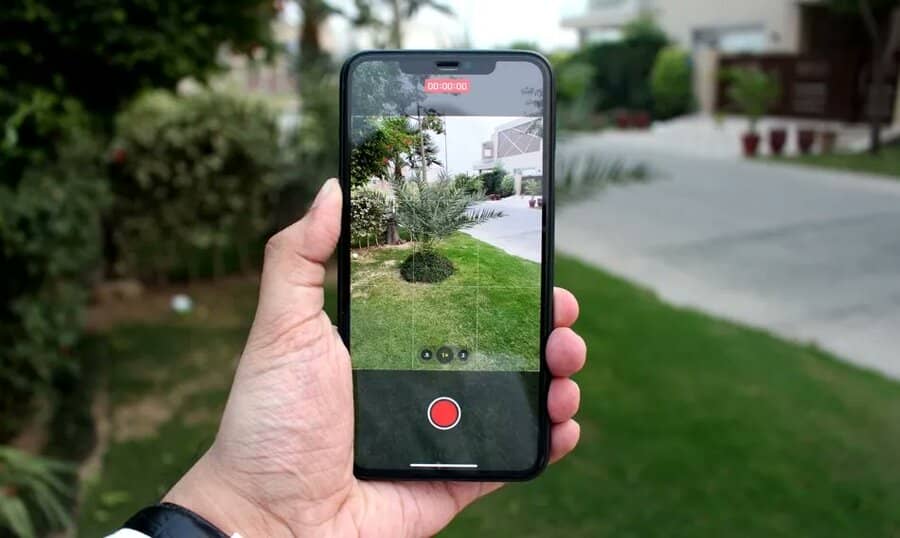 Five types of videos can be recorded using an iPhone. The duration of these videos can differ as each type has its frame rate, which affects aspects such as video quality and resolution. On an iPhone, a user can create the following types of videos:
A standard video that can be adjusted using features such as zoom
A QuickTake video involves recording a video while taking pictures
Recording in cinematic mode keeps the main focus of the video sharp while blurring out the background
A slo-mo video is recorded as usual. However, the actions are played in slow-motion during playback.
A time-lapse video is when images are taken at intervals over some time.
Summary
Content creators should consider many different aspects before using an iPhone to record videos, such as battery life and free space.
We have attempted to provide some of the answers relating to the video recording durations for the iPhone. To keep it short and straightforward, most iPhones, particularly the newer models such as the iPhone 13, can record a video continuously.
The question of "How long can iPhone record continuously?" is on the minds of many content creators. To reiterate, most iPhones can record videos continuously. However, the actual duration of a video would depend on video format, resolution, and quality.