Tablet- as you tech-savvy geniuses reading this sentence no doubt already know- is a handy amalgamation of a computer and a smartphone.
 It is smaller than a laptop or a notebook, but bigger than a phone. It comes with a mobile operating system and has certain functionalities of a personal computer.
Some tablets have removable keyboards while other models don't. However, all tablets have touch screens. 
A SIM card is a small chip that allows us to connect to a carrier network using cellular data. Each SIM Card is associated with a number that others can call and text.
Many people have asked the question, "Do tablets have SIM cards, and can they be used as mobile phones?"
The answer?
Yes- and no.
Confused? We'll explain.
Tablets come in two Types: Wi-Fi-only models that do not have a SIM card tray, and Wi-Fi + SIM models that come with a SIM card tray and support a 3G/ 4G cellular network.
So as you can see, the answer really depends on which model tablet you've got!
What is the Purpose Of a SIM Card in a Tablet?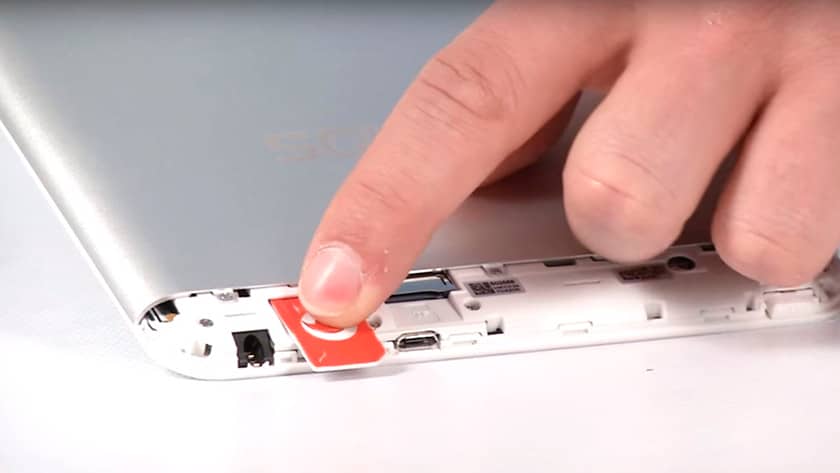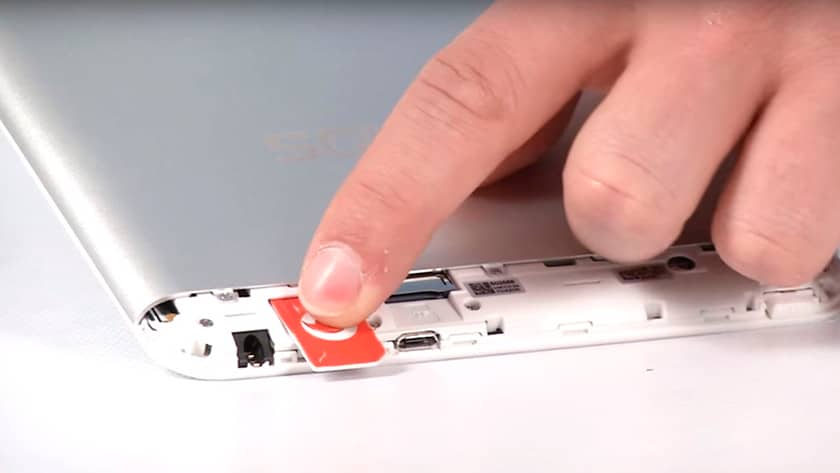 SIM stands for Subscriber Identity Module. 
A SIM card is a tiny plastic chip that connects all the necessary information to connect your phone or tablet to the carrier network.
Each SIM card has a separate identification (ICCID- Integrated Circuit Card Identifier) number of 19-20 characters/ digits.
This number is different from the 10-digit mobile phone number used to make calls and send messages.
A registered and activated SIM card allows you to make phone calls, send SMS messages, and use mobile internet services through 3G, 4G, and now 5G. You can also save contacts and a limited number of messages on the SIM card. 
This means that if your current phone stops working for whatever reason, you can pull out the SIM card, insert it into another device, and- Voila! Access your contacts and use the device just as before.
Therefore, what may arguably be more important than the phone itself is to have a valid SIM card and an active account/pay plan that allows you to make calls or send SMS messages.
The purpose of a SIM card in a tablet is no different from its purpose in a mobile phone.
You can easily use your smartphone's SIM card in an Android tablet like the Samsung Galaxy Tab A7 if the device has a SIM card slot.
The tablet will work just like your mobile phone and continue to have the same plan (since you are already using the number associated with the SIM card).
If your mobile phone is damaged or broken, you can use your tablet with the SIM card until the phone is repaired or until your new phone arrives.
Some people also prefer to have a separate SIM card in their tablets to access mobile networks when traveling and to avoid having to use Wi-Fi.
Can You Put A SIM Card in Any Tablet?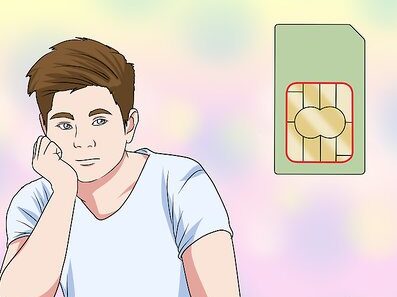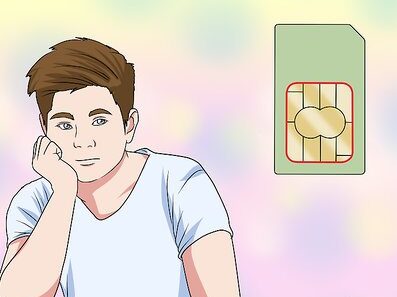 Well, short answer: No- you cannot put a SIM card into any tablet.
Older iterations of tablets worked only with a Wi-Fi network and did not come with a SIM card slot and cellular capabilities.
That means an older tablet doesn't allow you to access a wide range of apps like WhatsApp that have to be associated with mobile numbers.
In regards to Apple offerings, iPads run on iOS and come in Wi-Fi only, SIM only (iPad Pro 128GB model), and Wi-Fi & SIM models. The same rule applies to Android tablets and Windows tablets as well.
However, there are certain Wi-Fi-only tablets that have boards that can support cellular data.
Yes, you read that right! Even if the tablet doesn't have a dedicated slot, there are some with boards that can support mobile networks for the internet.
So, how does this help you?
To enable cellular connectivity on a wifi-only Android tablet, edit the 'build.prop' file of the stock ROM and enable mobile network settings on the tablet.
Then, you can buy a micro USB SIM dongle to connect the SIM card to the tablet. Once you've done so, you should now be able to access the mobile network from your Wi-Fi tablet.
However, this method is risky if you don't have the necessary expertise to tweak the files on your tablet. A mistake here could lead to a software crash- or worse.
Therefore, it's always a preferable option to simply insert a SIM card into a tablet with a dedicated slot rather than tweak any technical settings.
The following are some of the best tablets (in my mind) that come with SIM support:
Samsung Galaxy Tab S7
Apple iPad Mini
Lenovo Tab M10
Can A Tablet Work Without a SIM?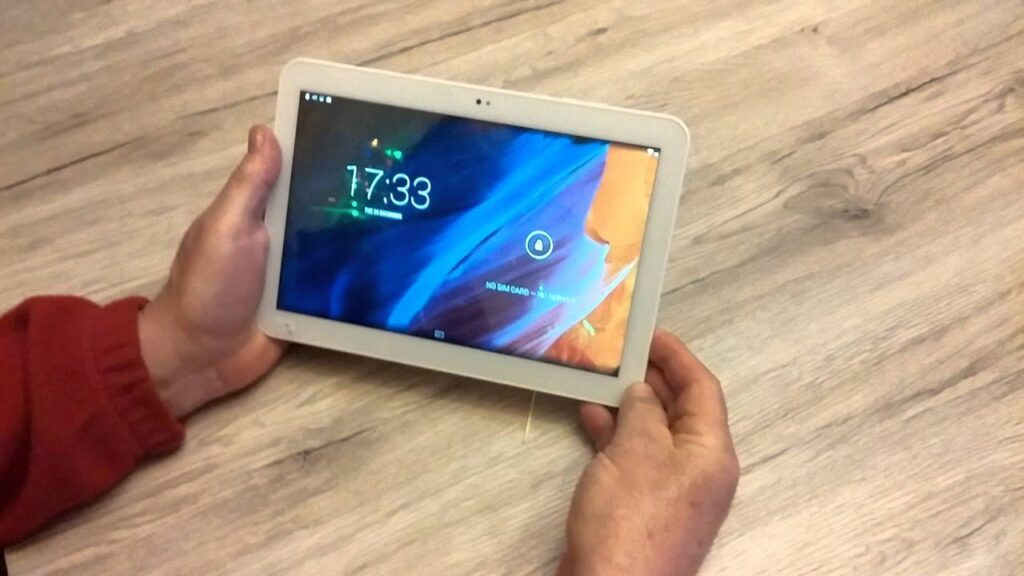 Tablets can certainly operate without a SIM card installed.
SIM cards are not necessary for tablets to function or access the internet. However, they are needed if you want to make calls and send SMS/MMS messages from your device.
These features will work only if the tablet is compatible with the mobile carrier and has a slot to insert the SIM card.
All apps that are compatible with the device and can run on the Wi-Fi network can be used on tablets that don't have capacity for a SIM card.
You can verify your account (for the apps) by getting an SMS to your mobile phone number and entering the verification through the tablet. 
Of course, a tablet isn't of much use if it can't connect to the internet. That's the reason every tablet comes with a built-in Wi-Fi feature.
Tablets are a good choice when you cannot travel with a laptop. You can play games, read ebooks, stream videos, make video calls using apps like Skype, send emails, listen to music/ audiobooks, and even work on text/ image/ graphic reports using a tablet.
Since a tablet has a bigger screen than any smartphone, it offers a better viewing experience and is easier to use for longer durations.
Nowadays, you can even still use WhatsApp on a tablet without a SIM card through the WhatsApp Web facility.
Tablets are versatile and highly efficient. Whether or not you use a SIM card with the tablet depends on the device and your own personal choice!
FAQ's
Q1. How Do You Use The Internet On A Tablet With A SIM Card?
Ans. networks to access the internet. The same rule applies to iPads too. 
For Android Tablets: 
Go to Apps -> Settings -> Wireless & Network -> Wi-Fi Settings 
Enable the Wi-Fi feature and choose from the displayed list of networks available in the vicinity. Then, enter the password to connect to the network and access the internet. 
You can also connect to the internet using a Dongle. However, you will require an Ethernet cable to connect the Dongle to the tablet.  
For iPads: 
Go to Settings -> Wi-Fi and turn it on.
Next, select the network, enter the password, and tap Join. 
Q2. Does Every Tablet Have Wi-Fi Access?
Ans. Yes, every Android, iPad, and Windows tablet has Wi-Fi access. 
Suppose your tablet doesn't allow Wi-Fi connectivity; In that case, you can try to connect to the internet using a Dongle or Bluetooth tethering provided by another phone/ laptop that has an internet connection. 
Even though a Kindle device looks like a tablet, it is considered an eReader and may or may not have Wi-Fi access. 
Q3. Can I Use A Samsung Galaxy Tab With A SIM Card?
Ans. Yes, the latest Samsung Galaxy Tab models come with SIM card tray options and allow for 3g/ 4G (and soon, 5G) cellular connectivity. 
The latest versions of Galaxy Tab (the S7, at time of writing) have a slot for nano-SIM cards. The tray is usually located at the lower end of the right side of the tablet. 
You'll either have to use a tray removal tool (a pin-like device) or open the cover on the slot to insert the SIM card. 
Follow the design on the side to fix the SIM card correctly in place. Finally, close the cover and turn on the tablet. 
Q4. How Can I Activate A SIM Card On My Android Tablet?
Ans. The process of activating the SIM card in a tablet depends on whether you are inserting a new SIM or using an existing one. 
If it's an existing SIM card that you are simply swapping into the tablet from another phone, there really isn't much else that you need to do. 
Simply put the SIM card into the designated tray, turn on the tablet, and wait for the device to do its thing! Then, when available, follow the instructions that appear on the screen. 
If you are adding a new SIM card, activate it first by contacting the carrier. 
The process for activation varies from one carrier to another, so be sure to check with yours for the specific procedure required. 
Summary
Tablets may or may not have SIM cards. Whether they have the capacity depends on the individual model of the tablet.
Older tablets and iPads don't have trays for SIM cards. However, many recent tablets (and some iPads) come with a SIM card slot and allow you to use the tablet as a mobile phone.
Once the SIM card is in your tablet, you can then make voice calls and send messages through your carrier network the same way you do on a mobile phone. 
My final advice: Purchasing a tablet with a SIM card slot is always a better option, as it has more features and advantages than a WiFi-only model!