Did you know that over 100 million people around the world own an Apple Watch?
If you are one of them, you may have asked yourself if your Apple Watch charger can juice up your iPhone as well.
The answer is not so simple; it depends on various factors, such as the type of charger and ports used by both devices.
This article will explain why iPhones and Apple Watches use different chargers, look into dual-charging possibilities, and address concerns about charging speeds and possible harm to your devices.
We will explain the technical terms in simple language and include visuals for better understanding.
So, if you're trying to save space or just simply curious about how your gadgets work, read on!
Key Takeaways
Apple Watch and iPhone have different charging ports and cables.
Dual-charging devices are available for charging both iPhone and Apple Watch simultaneously.
Belkin MagSafe 2nd Generation offers fast charging for both Apple Watch and iPhone.
There are multiple wireless charging options available for charging iPhone, Apple Watch, and AirPods simultaneously.
Do Apple Watch and iPhone Use the Same Charging Port?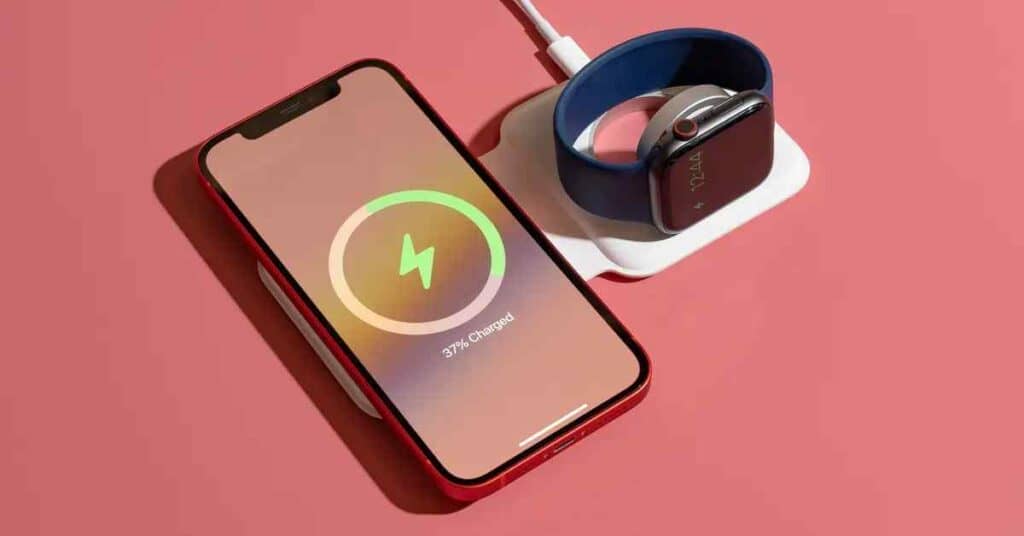 Contrary to popular belief, an Apple Watch and an iPhone don't share the same charging port. To make it simple, your iPhone uses a Lightning port.
If you look closely at your iPhone charger, you'll notice it has a flat, elongated connector that fits into the bottom of your phone. That's the Lightning connector.
On the other hand, your Apple Watch utilizes a different type of charger—a magnetic one. This charger clings to the backside of your watch with magnets and charges it wirelessly. It has no plug like the one seen in the iPhone's Lightning connector.
Therefore, you can't use an Apple Watch charger to charge your iPhone due to their different charging mechanisms!
What Type of Charger Does the Apple Watch Use?  
While it's often assumed that all devices from the same brand use the same type of charging cable, this isn't exactly true in the case of these particular gadgets.
The Apple Watch uses a unique type of charger known as an inductive charging cable.
Inductive Charging Cable
This is a wireless means of power transfer. It works by transferring energy from the charger to your watch through electromagnetic fields.
Unlike most cables which require a physical connection, this one just requires proximity. You simply place your watch on top of it and it starts to charge.
The end that connects to the power source is USB compatible, but remember that you can't plug the other end into any device—it's specifically designed for Apple Watch.
It's worth noting that this system is quite different from iPhone chargers, which use a Lightning connector.
Why Do The iPhone and Apple Watch Use Different Chargers?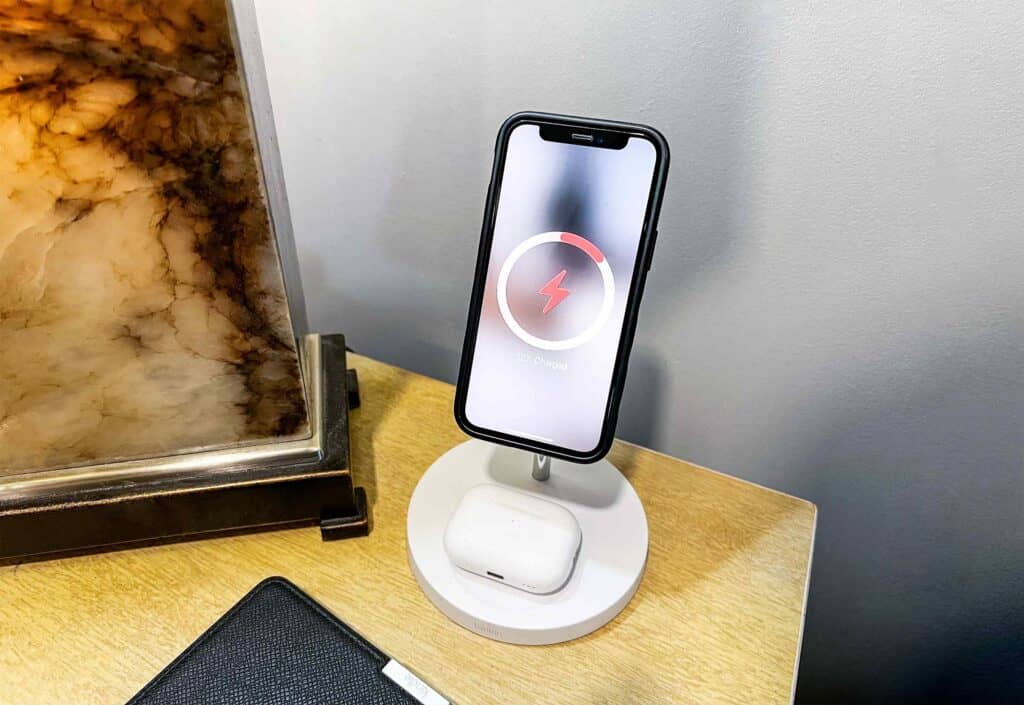 It's interesting to investigate why these two popular devices use different methods of power transfer.
At a glance, you might think that having one charger for both gadgets would make things simpler.
However, the iPhone and Apple Watch have contrasting charging needs due to their design and features.
The iPhone utilizes a lightning cable for charging, which can also move data between your phone and other appliances.
On the flip side, the Apple Watch employs inductive charging – a wireless technique that uses an electromagnetic field to transfer energy between two objects through electromagnetic induction.
This technology permits a sealed back, boosting its water-resistance capability.
So there it is – distinct needs require different chargers!
The Best Dual-Charging Apple Watch and iPhone Chargers 
Looking for the most efficient way to charge both your iPhone and Apple watch simultaneously? We've got you covered with a list of top-notch dual-charging devices.
These include the Belkin MagSafe 2nd Generation, which offers superb charging speed for both devices.
The runner-up is the Belkin 3-in-1 Fast Wireless Charging Stand which boasts impressive performance. Another highly-efficient option is the MagSafe Charger Anker 737.
If style is as important to you as function, consider the Oakywood Triple Dock & Charger. It's not just effective but also beautifully designed.
And last but not least, we have the reliable Anker 544 Wireless Charger that promises consistent power delivery for your gadgets.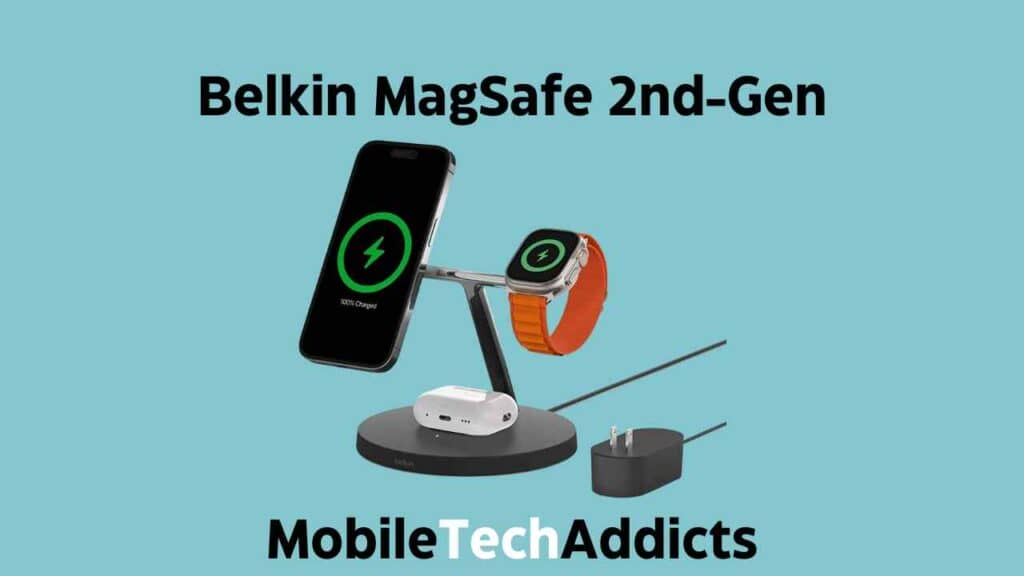 You're gonna love the Belkin MagSafe 2nd Generation. It offers an incredibly fast 33% charging time for your Apple Watch Series 7 and newer models. This sleek piece of tech isn't just about speed though, it's also very versatile.
Not only will it quickly charge your watch, but it can power up your iPhone and AirPods all at the same time thanks to its 3-in-1 feature.
The powerful magnetic connection via MagSafe technology ensures a secure grip while charging.
Let me explain some technical terms here: MagSafe is a wireless charging method introduced by Apple that uses magnets to connect your device firmly to the charger.
When we talk about 'fast charging', this means you'll spend less time waiting for your devices to power up due to increased wattage output.
Pros
Quicker charging times for Apple Watch Series 7 and newer models
Provides simultaneous charging for three devices (iPhone, Apple Watch, AirPods)
Strong magnetic connection ensures a secure hold
Cons
Limited compatibility with older iPhone models
Slightly heavier than other chargers on the market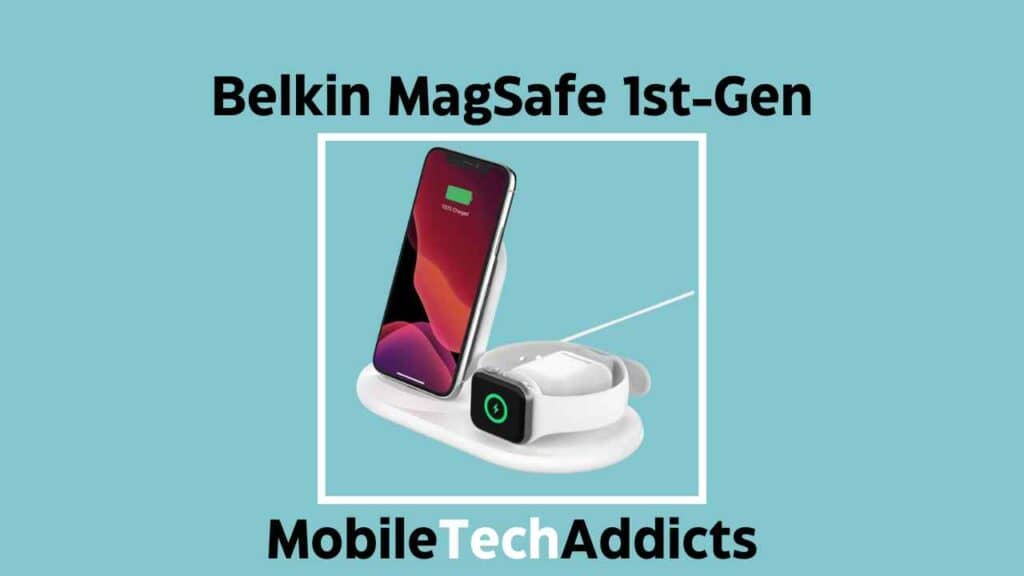 Imagine how over 2,982 users have rated the Belkin 3-in-1 Fast Wireless Charging Stand an impressive 4.4 out of 5 stars, making it a great choice for powering up multiple devices at once.
This versatile charger can charge your iPhone, Apple Watch, and AirPods simultaneously with its three wireless charging modules.
The Qi technology ensures safe power transfer of up to 7.5 watts for your iPhone and 5W for your watch and earbuds.
The charger's sleek black finish not only adds elegance but also complements any decor. It also has a durable rubberized pad that offers stability while docking or undocking your devices.
Additionally, you never need to worry about charging status; integrated LED indicator lights keep you informed.
Pros
Can charge three devices concurrently
Sleek design
LED indicators
Cons
Issues reported with certain protective cases
May cause the AirPods case to heat up
Phone placement may need adjusting in some instances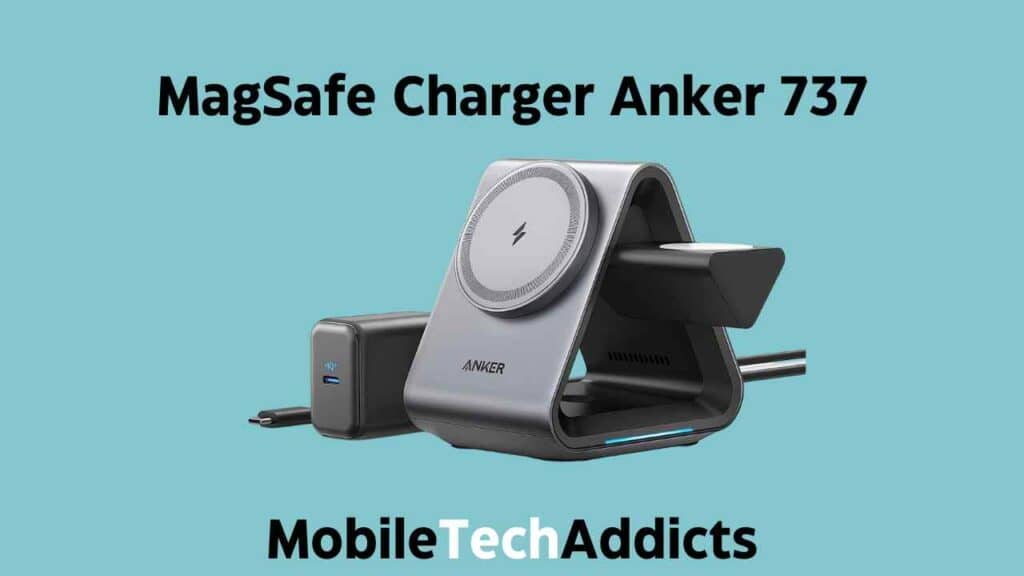 Leaving the runner-up spot behind, let's take a closer look at our top pick: the MagSafe Charger Anker 737.
This all-in-one wireless charging station is a fast charger for your iPhone and also works as a charging hub for your Apple Watch and AirPods.
Thanks to its official MagSafe module, you can enjoy high-speed 15W charging and power up an iPhone 14 Pro Max to 50% in less than an hour. Its design is small and unobtrusive, easily fitting on your tabletop or in your bag.
For convenient use of your phone while it charges, you can adjust the viewing angle to fit both portrait or landscape mode.
Pros
High-speed charging
Adjustable viewing angle
Compact design
Cons
The watch charging part cannot be moved
Specific positioning needed for AirPods charging
Anti-slip spot for AirPods could be larger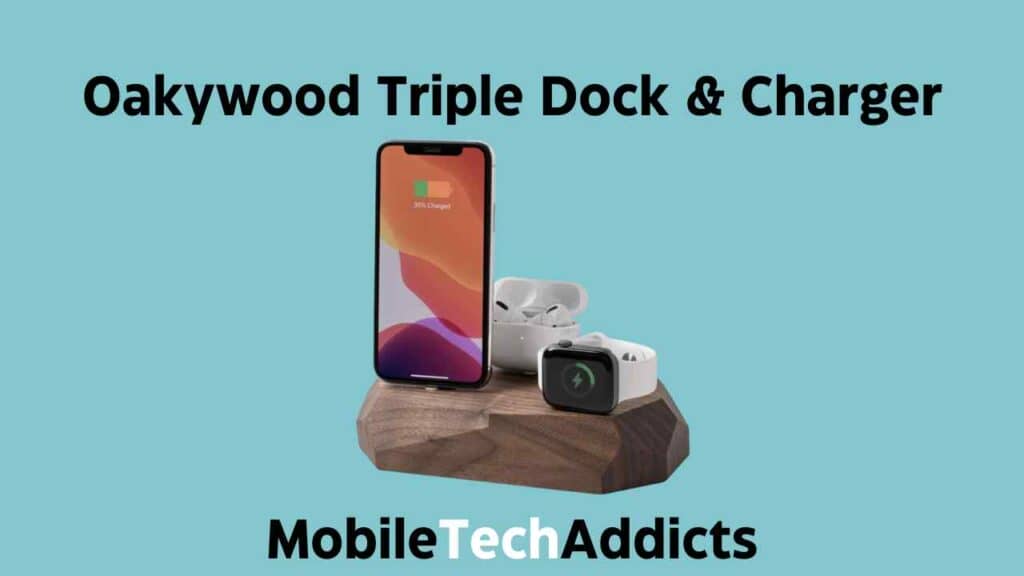 Feast your eyes on the Oakywood Triple Dock, a sleek and functional solution for powering up your devices with grace.
This charger is a perfect mix of tech and tradition, handcrafted from real solid walnut wood and finished with natural oils.
It's compatible with all iPhones, Apple Watch series, AirPods, and AirPods Pro, allowing you to charge your Apple watch and iPhone simultaneously.
The Oakywood Triple Dock uses a one-handed smart locking system and micro-suction tape technology to keep your devices in place securely while charging.
Its small size (18 x 9 x 4.2 cm) makes it excellent for home or travel use.
Pros
Elegant design
Can charge three devices at once
Durable build
Cons
Not universally compatible with non-Apple products
May be too large for some users' preference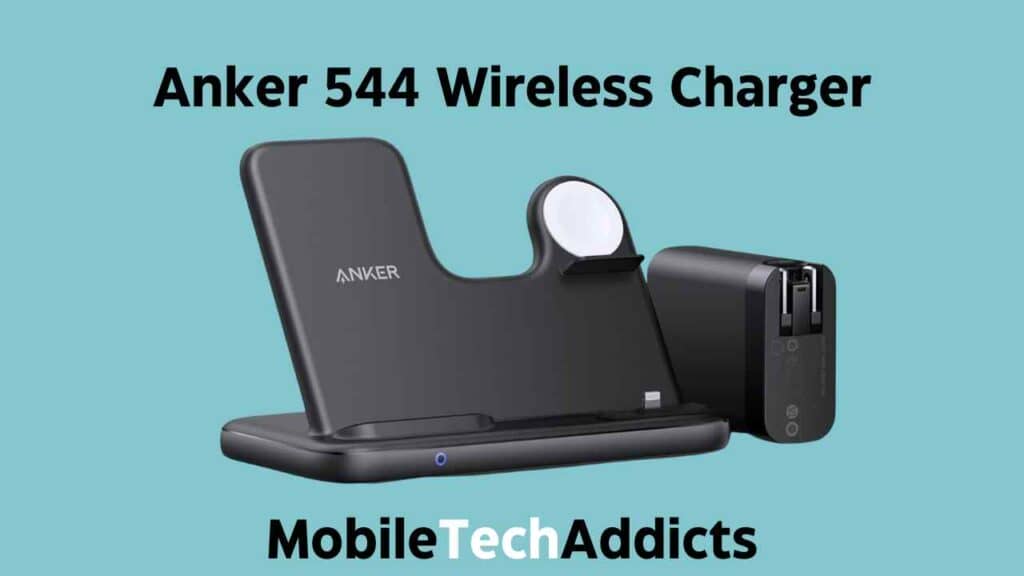 You're going to appreciate the convenience of Anker's 544 wireless charger, a useful device that powers up four devices at the same time. It offers you an effective and uncluttered solution for your charging needs.
This advanced charger is compatible with iPhones, Apple watches, AirPods Pro, and any other Qi-enabled phones. What's more, it allows you to charge your device even with a lightweight case up to 5 mm thick.
The MultiProtect Safety System is another great feature that this charger provides. It ensures your devices are secure during charging by detecting foreign objects, guarding against short circuits, and controlling temperature.
Pros
Charges four devices at the same time
Compatible with lightweight cases up to 5 mm thick
Includes safety features such as short circuit protection and temperature control
Cons
Not suitable for heavy-duty cases
Only one USB-C output port available
Can Dual-Charging Chargers Charge Both Devices At The Same Speed?
While it's tempting to think that dual-charging chargers can charge both your Apple Watch and iPhone at the same speed, it's not always the case. The charging speed can depend on several factors:
Power output of charger: Some chargers have different power outputs for each port.
Cable quality: High-quality cables tend to support faster charging.
Device battery size: Larger batteries take longer to charge.
Device's power draw: Devices with higher power consumption might charge slower.
Charger efficiency: Not all energy from the charger is converted into battery power; some is lost as heat.
These points highlight that while a dual-charging charger can charge two devices simultaneously, the speed may vary depending on various aspects. Always verify these factors when considering charging speeds.
Can a Dual-Charging Charger Damage My Devices?
Have you ever wondered if your dual-charging gadget could potentially harm your devices? Let's find out!
Apple designs its chargers with a safety feature called 'power management.' It guarantees that each device gets only the amount of power it needs.
So, even when using a dual-charger, there is no risk of overcharging or overheating. Think of it like two lanes on a highway – each lane (or charging port) can safely handle its own traffic (or power).
In conclusion, there is no need to worry about damaging your iPhone or Apple Watch when using a dual charger.
Your devices are designed to protect themselves from any potential harm. Charging them together is not only convenient, but also safe!
Conclusion
So, can an Apple Watch charger power your iPhone? Unfortunately, no. Even though they're similar, they're still different.
Don't worry, though! Get a dual-charging charger to juice up both devices at the same time without any danger. Keep in mind that they might charge at different speeds.
Keep it straightforward and keep it safe!